*Only 17 Percent of Americans Think They're Benefiting From Trump's
2017 Tax Cut:
Despite the fact that about 80 percent of Americans are expected to receive tax cuts this year under Trump's 2017 tax bill, only 17 percent believe they're benefitting financially, according to a new poll cited Monday by CNBC. The poll, conducted by NBC and The Wall Street Journal, found that 28 percent expect to pay more taxes, 27 percent think they'll pay the same, and 28 percent aren't sure.
For most Americans, the tax cuts will be relatively minor, CNBC reports—the lowest-earning 60 percent of households, for example, will receive less than $1,000. The poll could in part explain why the plan is still unpopular: Another poll found that only 36 percent approve of the plan, while 49 percent disapprove. Expected tax cuts largely fell along partisan lines: While 33 percent of Republicans thought they'd pay fewer taxes, only 7 percent of Democrats felt the same.

*Twitter CEO Jack Dorsey Eats Only One Meal Per Day:
Jack Dorsey must have missed the "everything in moderation" memo. The Twitter and Square CEO recently opened up on Ben Greenfield's "Fitness: Diet, Fat Loss and Performance" podcast about how he does it all and revealed it comes down to his extremely limited diet. It's so limited, in fact, that Dorsey barely consumes any food at all.
Dorsey, 42, explained that he eats just one meal every day at dinnertime between the hours of 6:30 p.m. and 9 p.m. Experts typically recommended three solid meals per day or six smaller meals throughout the day. Dorsey's dishes usually consist of a protein (chicken, steak or fish) with vegetables (salad, spinach, asparagus, or brussels sprouts). When the executive treats himself to dessert, it's only mixed berries or dark chocolate. He'll dabble with a glass of red wine, too.
"During the day, I feel so much more focused," Dorsey shared. "You have this very focused point of mind in terms of this drive…" The weekends, however, are a different story. Dorsey completely fasts from Friday evening to Sunday and only drinks water throughout these days."The first time I did it, like day three, I felt like I was hallucinating. It was a weird state to be in," he recalled to Greenfield. "But as I did it the next two times, it just became so apparent to me how much of our days are centered around meals and how — the experience I had was when I was fasting for much longer, how time really slowed down."
Dorsey's extreme lifestyle doesn't stop at food; he also uses a hydrotherapy routine that involves sitting in a sauna for 15 minutes at 220 degrees before jumping into a 37-degree ice bath for three minutes. He does this cycle three times in a row.

*Animal 'Culture' Rejects Unique Status Humans Have as Created
in God's Image:
A recent article in the national magazine of the Sierra Clubasked the question, "Does a Bear Think in the Woods?" Beyond the clever play on the old rhetorical question, the article made the remarkable claim that the intelligence of bears, chimpanzees, and other great apes shares "many properties with our own." What prompted the article was a study of black bears in the northeast. A researcher, who has spent twenty-two years observing these animals in New Hampshire, told the author that bears are "like us. They judge. They punish. They have gratitude and friendship."
The article also cited the example of a black bear in Upstate New York who figured out how to open the "latest in bear-proof canisters." Soon afterwards, "other local bears soon followed suit," which prompted the question; "Did she teach them?" Of course, no one who has owned a dog would find any of this all that surprising. That animals have what might be called feelings is undeniable, and animals are often smarter than we expect them to be. One of my friends successfully trained his Portuguese water dog to open a refrigerator and bring him a beverage. And many nature documentaries teach us that most animals spend the first part of their lives learning by emulating their mothers. All of this can be amazing to watch, but it still leaves us a long way from saying that animals think like humans in any meaningful way. It certainly doesn't warrant calling the woods a "neighborhood" instead of a "habitat."
One of the things that's behind the tendency to anthropomorphize bears, dogs, and other animals is the belief that animals and people are locked in a kind of "zero sum" game, as if the only way to assure the continued survival of animals is to deny and/or diminish how distinctly different they are from humans. In the process, man's unique role as God's image bearer and steward in the created order is also denied.

These denials are especially obvious in all the talk about animal "culture." In humans, "culture" includes the "customs, arts, social institutions, and achievements of a particular nation, people, or other social group."

*Vitamin and Mineral Supplements Won't Help You Live Longer, Could Cause Harm, Study Says:
Getting the right amount of vitamins and minerals can lower your risk of an early death, but they should come from food instead of supplements, a new study published suggests. Researchers from Tufts University say they found no association between the use of dietary supplements and a lower risk of death.
The study analyzed data from a larger health and nutrition survey conducted from 1999 to 2010. More than 30,000 participants ages 20 and older answered questions about dietary supplement use. Results showed people who got adequate amounts of vitamin K and magnesium lowered their risk of early death, and those who got enough vitamin A, vitamin K and zinc had a lower risk of death from cardiovascular disease. Those benefits were earned only when those nutrients came from food, not supplements.
"While supplement use contributes to an increased level of total nutrient intake, there are beneficial associations with nutrients from foods that aren't seen with supplements," said Fang Fang Zhang, an author on the study and associate professor at the Friedman School of Nutrition Science and Policy at Tufts University, in a statement.

*BEWARE – 10 Babies Have Died in Fisher-Price Rock 'n Play Sleeper:
Federal regulators warned parents on Friday that a popular infant seat can be deadly. At least 10 infants have died since 2015 when they rolled from their back to their stomach or side while unrestrained in the Fisher-Price Rock 'n Play, according to the Consumer Product Safety Commission.
As a result, the agency is recommending that the sleeper not be used as soon as a baby can roll over or after 3 months of age. Parents have already been told not to use the seat without the three-point harness, but the CPSC said the deaths show that not everyone is heeding the advice. Fisher-Price joined in the warning but noted that the Rock 'n Play meets safety standards.

*Mulvaney: Mexico Has Done More in the Last Week to Combat Illegal Immigration Than Pelosi, Dems:
Acting White House Chief of Staff Mick Mulvaney told "Fox News Sunday" that Mexico has done more to crack down on the illegal immigration crisis during the past week than House Speaker Nancy Pelosi (D-Calif.) and House Democrats. "The president gave Mexico a one-year warning this past week, he also calls a crisis. Why wait a year?" Fox News's Bill Hemmerasked.
"Keep in mind, I think that word about waiting a year dealt with drugs. There's a couple of different things he said this week, which is we need help right away on the migrant crisis, on illegal immigration, folks coming across the Mexican border. We also have another longer-term issue with Mexico on drugs that I think if you go back and look at his statement, he said we need help within the next year on drugs," Mulvaney said. "The good news there is that in the last week, Mexico really has stepped it up for the very first time. They are preventing people from coming in on their own southern border down towards Guatemala and Honduras, and they are also accepting more of the folks that cross into the United States back into Mexico," he said.

*UNLOCK YOUR EYES–READ LBN EXAMINER:
An incredible 84% of LBN Examiner readers in all 50 of the United States and 26 foreign countries find the news in LBN Examiner —- "fearlessly independent" and "accurate".

*EXAMINER–INVESTIGATES:
Men and women tend to gravitate toward different stocks. For example, men favor stocks such as Tesla, Coca-Cola, Ford, Microsoft, Wal-Mart, and Gilead. Women tend to like less trendy stocks, such as Frontier Communication, JP Morgan, Pfizer, Kraft, Boeing, AbbVie, Merck, Amazon, and Google.

*EXAMINER–INVESTIGATES:
The average American eats approximately 222 pounds of meat per year. This does not include seafood.

*EXAMINER–A LOOK BACK:
Bob Dylan is ignored by John Lennon, 1965.

*EXAMINER- A LOOK BACK: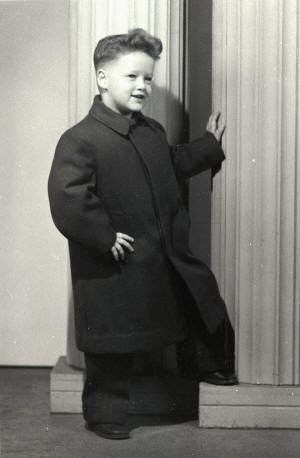 Bill Clinton at age 4, 1950.

*EXAMINER–VIDEO LINK:
Welcome to Episode #2 of the revealing TV show "Without Notes" with Eliad Moreh-Rosenberg, curator of the Holocaust Museum in Israel – Episode 2: The Art of the Holocaust: https://www.youtube.com/watch?v=22kagOZxQ4o

*EXAMINER–SPOTLIGHT:
Clay Clark, Host of the Popular Thrivetime Podcast, Speaks to CEO Superstar Carly Fiorina on How to "Find Your Way"
Clay Clark, founder of Thrive15 and creator of the "Thrivetime Show – Business School Without the BS," has been welcoming a fair number of popular guests to his podcast in the recent months, recently speaking to influencers such as Jason Khalipa, "The Fittest Man in the World," and John C. Maxwell, an acclaimed author and speaker. Now, he's had the chance to say that Carly Fiorina has spoken on his podcast.
"I am both honored and privileged to interview the woman who ran for President after completely obliterating the "glass ceiling" for women in business when she became CEO of the FORTUNE 20 Company, Hewlett Packard," explains Clark, "She's a best-selling author. She's a great American. She's a big deal."
Cara Carleton "Carly" Fiorina is an American businesswoman and political figure, known primarily for her tenure as CEO of Hewlett-Packard (HP). She subsequently served as Chair of the philanthropic organization Good360. As Chief Executive Officer of HP from 1999 to 2005, Fiorina was the first woman to lead a Top-20 company as ranked by Fortune Magazine.
In 2002, Fiorina oversaw what was then the largest technology sector merger in history, in which HP acquired rival personal computer manufacturer, Compaq. The transaction made HP the world's largest seller of personal computers.
Fiorina was also an adviser to Republican Senator John McCain's 2008 presidential campaign. In 2010, she won the Republican nomination for the United States Senate inCalifornia, but lost the general election to incumbent Democrat Barbara Boxer. Fiorina was a candidate in the 2016 Republican presidential primary, and was for seven days the vice-presidential running mate of Ted Cruz until he suspended his campaign.

*WHO READS LBN EXAMINER?:
Actress Glenda Jackson along with 12 members of the White House staff, 3 Nobel Prize winners, over 100 Academy Award winners, 6 U.S. Senators, and over 300 Grammy Award winners.

*WHO READS LBN EXAMINER?:
Actress and Philanthropist Gwyneth Paltrow.

*EXAMINER–A DIFFERENT VIEW:….