*SCARY! – Starbucks is Installing Needle-Disposal Boxes in Locations Across America Following OSHA Penalties and Worker Concerns about Drug Use in Bathrooms:
• Starbucks has installed needle-disposal boxes in its locations' bathrooms in at least 25 US markets as the chain works to address workers' safety concerns in recent months.
• By summer 2019, the coffee giant plans to have installed sharps boxes in bathrooms in all regions where such action was deemed necessary.
• The Oregon Occupational Safety and Health Administration (OSHA) investigated Starbucks' safety policies and practices in 2018 after two employees at a store in Eugene, Oregon, were stuck with hypodermic needles within a month of each other, according to documents obtained by Business Insider through a Freedom of Information Actrequest.
• Starbucks was fined $3,100 as a result of the investigation.
• Thousands of workers have called for Starbucks to install sharps boxes in its bathrooms as employees report finding blood and needles and being pricked by improperly discarded sharps, risking exposure to HIV and hepatitis.
Starbucks' efforts to address opioid use and improperly disposed needles in its bathrooms are expanding. Starbucks stores in at least 25 US markets have installed needle-disposal boxes in bathrooms in recent months. By this summer, the chain aims to have installed sharps boxes in bathrooms in all regions where such action has been deemed necessary. The coffee giant also allows local district managers or store managers to put in requests to have sharps-disposal boxes installed in their locations' bathrooms.
"We are always working and listening to our partners on ways we can better support them when it comes to issues like these," Reggie Borges, a Starbucks representative, said in an email to Business Insider. Starbucks has been testing solutions in recent months as workers' safety concerns have mounted, with thousands of employees signing a petition calling for Starbucks to place needle-disposal boxes in high-risk bathrooms.

*Texas Lt.-Gov. Says 1,671 Bodies Recovered at SW Border Since 2011:
Dan Patrick, the Republican lieutenant governor of Texas, says President Trump was stunned to learn this week that more than a thousand bodies have been recovered in Texas since 2011, at and near the border with Mexico. "You want to cover a story?" Patrick asked Fox News's Laura IngrahamThursday night. "This is the story." Patrick, who accompanied President Trump on his Wednesday visit to Texas, said a person in San Antonio told the president, we need to build the border barrier.
"And one rancher after the other rancher after the next property owner talked about finding dead bodies on their properties — seven last week, three last month," Patrick said: And I said to the president, Mr. President, we have recovered over 1,000 dead bodies in Texas since 2011 just out in nowhere, in the middle of nowhere. And let me tell you what the exact numbers are. We did the checking today, Laura. 1,671 dead bodies who have been recovered in Texas near or along the border. That's women, that's children, that's old people. These are the most vulnerable people.
And the Democrats say they care about people? These are the most vulnerable people that the drug cartels and the human smugglers have taken across the border, given them a little bit of water and left them to die. And that 1,671, Laura? That's the skeletal remains that we find. There are thousands and thousands of people.And so he called in the media. And we said, this is the story. You want to cover a story? Go down — I'll take them through the no-man's land. And we'll find some skeletons and we'll show them the photographs. Thousands of people have died coming to this country. And it really impacted the president.

*New Map Shows It's Not Safe To Wear New Shoes Anywhere In San Francisco: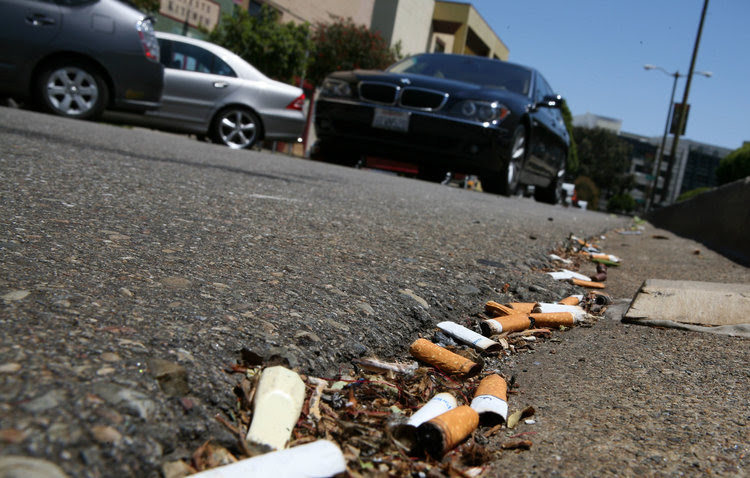 For those thinking of visiting San Francisco there is one item that is vital to take along, according to an interactive map of the city: a pair of old boots. The interactive map from the data company Open The Books shows every place in the city where human waste has been reported since 2011, placing brown pins to mark the spots, and the result is a steaming mess: the brown pins virtually cover every spot of the city.
Over the last eight years, 118,352 places with poop have been reported. As Forbes notes: There were 118 city neighborhoods affected. However, 72-percent of all cases since 2008 were reported in just ten neighborhoods: 1. Tenderloin (30,863); 2.South of Market (23,599); 3. Mission (19,150); 4. Civic Center (6,232); 5. Mission Dolores (4,096); 6. Lower Nob Hill(3,654); 7. Potrero Hill (2,489); 8. Showplace Square (2,022); 9. North Beach (1,826); and 10. Financial District (1,810).
Forbes described one area that featured the San Francisco Maritime National Park, Great American Music Hall, The Regency Ballroom, and the Liholiho Yacht Club, and noted the area had suffered 11,287 instances of human waste. Forbes added, "Neighborhoods affected include Tenderloin, Cathedral Hill, Lower Nob Hill, Polk Gulch, Russian Hill, and Pacific Heights." In 2018, 28,000 places were cited; in 2017, roughly 20,000. In 2011, that number was 5,547. In 2016, according to Fox News, one area of the city reported a 140% rise in feces. As Jay Caruso of RedState noted at the time, "Public urination is so widespread it has damaged subway elevators and escalators, building walls and power poles."

*Record High 70% of Russians Call Impact of Stalin's Rule 'Positive,' 46% Say Deaths 'Justified':
According to a recent survey from the Levada Center,Russia's foremost independent polling agency, 70 percent of Russians favorably regard the rule of Soviet leader Joseph Stalin. Moreover, the survey found that 46 percent believe that the loss of human life that occurred under Stalin was justifiable. The Levada Center asked 1,638 Russians, "What role do you think Stalin played in the history of our country?" Among the respondents, 70 percent stated that the Soviet strongman played an "entirely positive" or "rather positive" role. The represents a 16-point increase from three years ago, when 54 percent gave the same answer.
Asked about their personal feelings towards Stalin, 51 percent of Russians said that they either admired, respected, or sympathized with him. Russians now rate Stalin's performance higher than that of current Russian President Vladimir Putin. A different Levada Center poll conducted during the same time period found that 64 percent of Russians approve of Putin's job as president, a five-year low for the long-time Russian leader.

*P.C. TO THE MAX! Kate Smith's 'God Bless America' out at Yankee Stadium over Racist Songs:
The New York Yankees have decided to no longer run Kate Smith's version of "God Bless America" during their seventh-inning stretch because of Smith's affiliation with songs that carried racist lyrics. Most famously, Smith sang a 1931 song, "That's Why Darkies Were Born," which opened: "Someone had to pick the cotton, Someone had to pick the corn, Someone had to slave and be able to sing, That's why darkies were born."
The song, which has been called a satirical take on racism, was a big hit for Smith, and also was recorded by Paul Robeson. When the Yankees last month became aware of Smith's history, they switched to a keyboard version of "God Bless America."

*FDA Warns That Washington State Church Miracle Cure Is Just Bleach:
A Washington state church called the Genesis II Church of Health and Healing plans to hold a ceremony on Saturday using MMS, or "miracle mineral solution or supplement" they claim cures 95 percent of all illnesses. The group's Facebook page advertises the event, claiming that "Bishop Mark Grenon will be leading the seminar and introducing attendees to Chlorine Dioxide Therapy, otherwise known as MMS." The post asks participants for "donations" of $450 per person; $800 for couples; and $400 for returning seminar students.
The FDA has warned participants not to attend. "Consumers who have MMS should stop using it immediately and throw it away," a spokesman for the FDA told the Guardian. "The FDA continues to advise consumers about the dangers of Miracle Mineral Solution and the agency has issued warnings to consumers over the past decade." The FDA did not confirm whether they would alert law enforcement to stop the ceremony.

*HEAR THE FACTS–READ LBN EXAMINER:
An incredible 84% of LBN Examiner readers in all 50 of the United States and 26 foreign countries find the news in LBN Examiner —- "fearlessly independent" and "accurate".

*EXAMINER–INVESTIGATES:
A 150-pound woman would have to walk 4 mph for 48 minutes to burn off a 240-calorie donut. This would be equivalent to just over 3 miles.

*EXAMINER–A LOOK BACK:
Muhammad Ali talks down a man trying to commit suicide.

*EXAMINER–VIDEO LINK:
Welcome to Episode # 2 of the revealing TV show "Without Notes" with Eliad Moreh-Rosenberg, curator of the Holocaust Museum in Israel – Episode 2: The Art of the Holocaust: https://www.youtube.com/watch?v=22kagOZxQ4o

*EXAMINER–SPOTLIGHT:
Jeff Maxwell and Ryan Patrick cut deep into the bowels of the iconic CBS Mega-hit, M*A*S*H. Nine years in the role of Private Igor, the beleaguered cook at the 4077, Maxwell provides behind-the-scenes tidbits as only a cast member can. Patrick, an Illinois radio personality and marketing genius, offers the squishy, emotional component available only from a life-long, devoted fan. Along with the hosts' perspectives, M*A*S*H writers, producers, cast members, and even listeners drop in as featured guests to share their unique experiences and opinions.
Enlist today and explore with Jeff and Ryan why M*A*S*H did, does, and continues to matter in 2019. That's an order!
Love the podcast! Jeff is funny and not the Ninny I expected, and Ryan is a lot like me in our M*A*S*H fandom! —Scott Parsons
Insightful, entertaining, and inspirational. —Wes Henson
These guys are funny, smart, funny and also funny. Great podcast even if you're not a fan of MASH. —Travis Cook
I have listened to each episode, and find myself looking forward to the next one more and more! —Missy Smith
I love this pod cast so much! Please keep it up guys – you are amazing! —Kelly Tennyson-Seng

*EXAMINER–SPOTLIGHT:
Do you know a real life "Dirty John"?

Suspect your best friend is about to walk down the aisle with Mr. Wrong?

Or do you know someone who is living a double life?

If you've tried to talk sense into your loved one about their situation but can't seem to get through to him or her, we want to hear from you.

Large Production Company based in NYC is NOW CASTINGfriends and family who want to nominate a loved one they think is being conned. Often people in these scenarios don't even realize they're being taken advantage of so we need your help to bring these stories forward. In return, our Private Investigator will gather the necessary evidence and facts in order to prove to your loved one that he or she is being scammed. A relationship expert will help with the intervention so more than anything this is an opportunity to HELP someone.

If you have any leads, please email us (loveconscasting@jupiterent.com) your/their story, photos and contact info if possible. @juptierentertainment

*EXAMINER–SPOTLIGHT:
Bailey Hefley, Sensational New Country Artist, Debuts Single, "Dust on a Diamond"
Bailey Hefley is a hopeful romantic, but you can't blame her for believing in happy endings. She's living proof that they exist. The 27-year-old native of Little Rock, Arkansas, suffered debilitating seizures as a small child. The medication that saved her life also robbed her of her innocent enthusiasm for eight years and left her in a state of perpetual lethargy.
As a teenager, she overcame the condition and felt "awake" for the first time. Bailey was ready to tackle life as an active participant, not just an observer. That meant making up for lost time by developing real friendships, discovering boys, and riding horses, a passion that led to competitive barrel racing. Nothing, however, has made more of an impression on her than music. In 2016, Bailey developed a friendship/mentorship with Jamie O'Neal, who scored a number of hits on the country charts in the early 2000s, including "There Is No Arizona," "When I Think About Angels" and "Somebody's Hero."
Bailey will release her new EP, Hopeful Romantic, later this year. The six-song offering, all of which Bailey co-penned, is about finding love—and all the ups and downs that come with it. The EP's lead single, "Dust on a Diamond," produced by O'Neal, will be released on April 19. The single tackles a failed relationship that Bailey hopes can comfort other young women who have found themselves in similar circumstances.

*WHO READS THE LBN EXAMINER?:
Best-selling author Srini Pillay along with 12 members of the White House staff, 3 Nobel Prize winners, over 100 Academy Award winners, 6 U.S. Senators, and over 300 Grammy Award winners.

*EXAMINER–A DIFFERENT VIEW:….