*NY University Gender Studies Department Publishes Paper Saying Milking Cows Is Like Sexual Abuse:
The journal of one New York University's Women's and Gender Studies program has published a paper that insists that milking cows is comparable to "sexual abuse," "emotional trauma related to pregnancy," and "nonconsensual hormone treatments," according to Celine Ryan, writing for Campus Reform. The paper, "Readying the Rape Rack: Feminism and the Exploitation of Non-Human Reproductive Systems," was included in Dissenting Voices, published and edited by the Women's and Gender Studies program at the College at Brockport State University of New York.
Ryan notes that the author, an intern for Brockport's Women's Studies Department, asserts that she must discuss the "under-researched" "feminist aspects of animal agriculture," adding, "the same way women's health has been at stake for years, a dairy cow's reproductive system has been poked and prodded." The author writes, "Throughout our lives, we are offered an idealized image of dairy cows where these animals graze on beautiful pastures, have room to sow and play, and are comforted in spacious areas in which to sleep. We are presented with images of a life well lived, but when it comes to the deaths of those same animals, the picture perfect story comes to a grim reality."
The paper continues, "The outdated stereotype about women being caretakers and most importantly child bearers remains consistent in the dairy industry, especially when we take into account the means through which these animals are exploited. A few brief examples include rape or sexual assault, nonconsensual hormone treatments, and emotional trauma related to pregnancy. Dairy cows are forcibly impregnated, or raped, in order to constantly produce milk for humans to consume."

*OUT OF CONTROL SPENDING! – $3,727,014,000,000: Federal Spending Sets Record Through July; Treasury Runs $866,812,000,000 Deficit: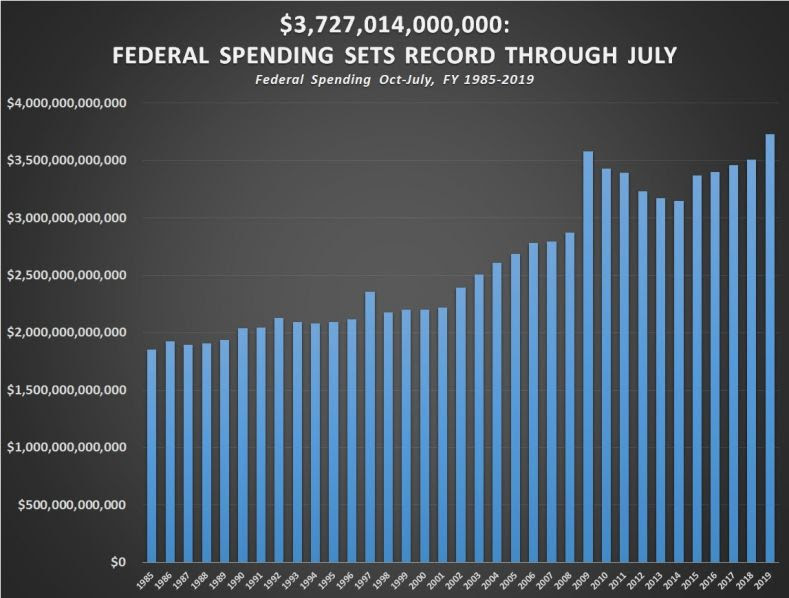 The federal government spent a record $3,727,014,000,000 in the first ten months of fiscal 2019 (October through July), according to the Monthly Treasury Statement released today. While spending that record $3,727,014,000,000, the government ran a deficit of $866,812,000,000. Before this year, the most that the federal government had ever spent in the first ten months of a fiscal year was in fiscal 2009, when the Treasury spent $3,576,745,930,000 (in constant June 2019 dollars, adjusted using the Bureau of Labor Statistics inflation calculator).
Federal spending was impacted in fiscal 2009 by the recession that was ongoing when that fiscal year began. At the beginning of fiscal 2009, President George W. Bush signed the Troubled Asset Relief Program to bailout failing banks. Later that fiscal year, President Barack Obama signed the American Recovery and Reinvestment Act, aimed at stimulating the economy. Total federal revenues in the first ten months of fiscal 2019 equaled $2,860,202,000,000. That was less than the total revenues the federal government collected in the first ten months of fiscal 2017 ($2,866,978,570,000 in constant June 2019 dollars) and fiscal 2015 ($2,868,253,370,000 in constant June 2019 dollars).
Federal individual income tax revenues in the first ten months of fiscal 2019 equaled $1,428,904,000,000. That was less than the individual income taxes the federal government collected ($1,438,381,490,000 in constant June 2019 dollars) in the first ten months of fiscal 2018. The difference between the $2,860,202,000,000 in total taxes the government collected and the $3,727,014,000,000 that it spent in the October through July period resulted in a deficit of $866,812,000,000. According to Table 3 in the Monthly Treasury Statement, the Department of Health and Human Services spent the most of any federal agency in the first ten months of fiscal 2019 ($1,005,897,000,000), the Social Security Administration spent the second most ($915,775,000,000), and the Department of Defense-Military Programs spent the third most ($540,435,000,000).

*China's High-Tech Tyranny?:
There are passages in the State Department's latest reports on human rights and religious freedom in the People's Republic of China that read as if they ought to be in some futuristic horror story — not in a federal agency's factual explanation of how freedom is curtailed in the world's most populous nation. First, there are the multitudinous surveillance cameras and the facial recognition software that makes them so useful to China's communist regime. "According to media reports, the Ministry of Public Security used tens of millions of surveillance cameras throughout the country to monitor the general public," said the State Department report.
These cameras are not deployed to preserve public safety and deter common criminals. "Human rights groups," said the State Department, "stated authorities increasingly relied on the cameras and other forms of surveillance to monitor and intimidate political dissidents, religious leaders and adherents,Tibetans and Uighurs." How would Chinese government officials identify the political and religious dissidents who showed up on these cameras? "These included facial recognition and 'gait recognition' video surveillance, allowing police not only to monitor a situation but also to quickly identify individuals in crowds," said the report.
The People's Republic, according to the State Department, is not satisfied with monitoring only the streets and other public places with its cameras. "The government installed surveillance cameras in monasteries in the TAR" — Tibet Autonomous Region — "and Tibetan areas outside the TAR," said the State Department. The report on religious freedom noted that China also placed cameras in Christian churches.

*Vast Majority of Porn Sites Track User Data, Often Without Telling You:
More than 9 in 10 pornography websites send user data to at least one third party, a new study has found. Google tracks users on nearly 75% of the porn sites studied by researchers at the University of Pennsylvania. And going incognito may not always help.
"Even if you're using a browser with an enhanced privacy setting, like Google Chrome's incognito mode, you're still susceptible to online tracking," according to a summary of the study. "People often assume that using private browsing modes protects them, but that primarily limits your browsing history from being stored on your personal computer," said one of the researchers, doctoral candidate Jennifer R. Henrichsen, in a university press release published July 24. "In reality, private browsing modes offer little to no protection against tracking more generally. The ecosystem for tracking is vast and ever-changing, so it is incredibly difficult to truly avoid being tracked online."
The researchers analyzed over 22,000 porn sites and found 93% of them sent user data to at least one third party. Many of the sites' privacy policies — if they even had them — don't say anything about third-party trackers.

 *Study Blames Disturbing Rise In Teens Who Need Glasses On Excessive Screen Time:
So many people, especially young people and teenagers, spend a significant period of time each day staring at a screen of some kind, whether that be a computer, smartphone, tablet, or the regular old TV. Now, a new study is warning parents that all that screen time may be behind a stunning rise in children who need prescription glasses.
According to the report released by United Kingdom-based eye care company Scrivens Opticians, the percentage of 13-16 year olds in the U.K. who need glasses has nearly doubled over the past seven years — from 20% in 2012 to 35% in 2018. Two-thirds of those teens were diagnosed as being myopic, or short-sighted.

*'Publicity Stunt': Girardi Calls Out Arizona Lender Who Targeted His Wife and Lifestyle in Lawsuit:
Prominent plaintiffs attorney Thomas Girardi has punched back against a lawsuit filed by an Arizona lender claiming that he used loan funds designated for his law firm to fund a "lavish lifestyle" for himself and his wife, "Real Housewives of Beverley Hills" cast member Erika Jayne. In court papers filed Aug. 7, Girardi, his wife and his firm, Girardi Keese, have asked a Phoenix federal judge to dismiss the suit and compel arbitration—something they say is called for in the firm's loan agreement with the lender, Stillwell Madison.
"The current action was filed as a publicity stunt," wrote the defendants' lawyer, Robert Baker of Baker, Keener & Nahra. Baker, who previously represented O.J. Simpson in civil suits following his acquittal on murder charges, added that the lawsuit was filed in court in an "attempt to embarrass the defendants" and "with the goal to try to use the Court system as a publicity campaign." "The Plaintiff surely knew there was an arbitration agreement in the contract for which they seek to enforce," Baker wrote.
*THINK FREELY–READ LBN EXAMINER:
An incredible 84% of LBN Examiner readers in all 50 of the United States and 26 foreign countries find the news in LBN Examiner —- "fearlessly independent" and "unbiased".

*EXAMINER–INVESTIGATES:
Here is a Complete List of Inconsistencies in Prison Policy Surrounding Jeffrey Epstein's Death Thus Far:
** Epstein said he was considering cooperating in "naming names" in his international sex ring
** He was found unconscious in his prison cell just three weeks earlier
** Two days prior to his death documents released for the first time implicated several top Democrats in his pedo sex ring
** He was taken off suicide watch after a failed attempt just two weeks earlier
** He was in isolation (unusual for a suicidal individual)
** The cameras malfunctioned — There is no video
** Even Mexico had video of El Chapo's escape from prison
** Then later we hear the cameras showed the guards did not do rounds? Which is it?
** The prison guards had worked several extra shifts last week
** One prison guard on his floor was not even a certified guard
** The prison guards "forgot" to check on Epstein
** The prison guards slept through their shift
** The guards did not check Epstein for several hours
** There were reports of screaming the morning Epstein died
** The MCC had not seen a successful suicide in 40 years
** Epstein said he was the victim of attempted murder three weeks ago
** Epstein's former roommate is facing mass murder charges
** Epstein had dirt on numerous globalist elites
** Epstein was not given paper sheets
** Epstein had sheets in his cell to hang himself
** Epstein was not suicidal according to medical professionals
** Epstein told his lawyers on Friday, a day before his death, "See you Sunday."
** Epstein's former roommate heard nothing
** Epstein reportedly had to get on his knees to hang himself from his bed
** Epstein autopsy showed broken bones in neck common in strangulation deaths

*EXAMINER–SEE IT: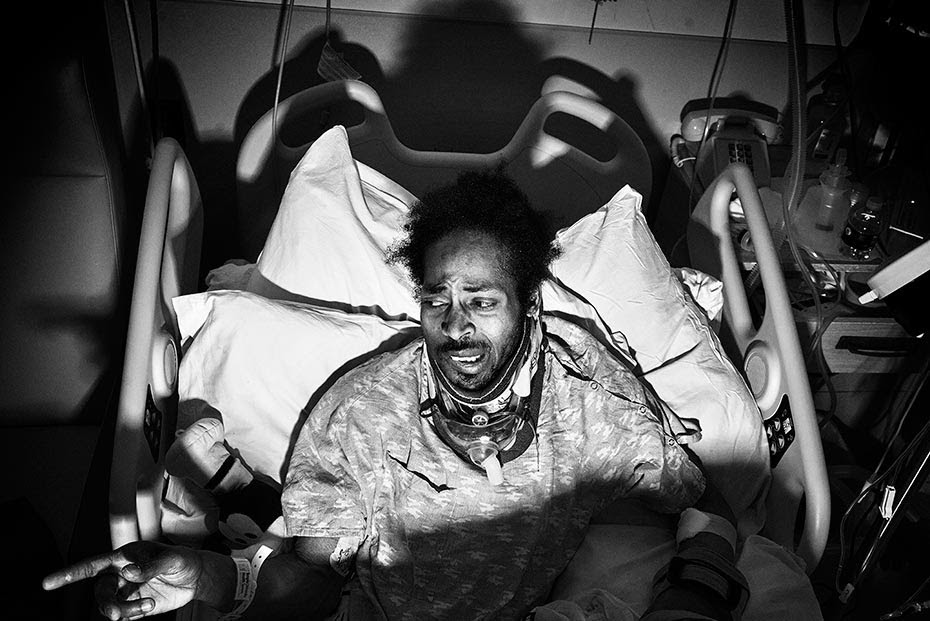 What bullets do to bodies: gunshot victim Lamont Randell, shot twice during a robbery, begins his long recovery process.

*EXAMINER–A LOOK BACK:
Jimi Hendrix (age 19) during his time as a paratrooper in the US Army, 1961.

*EXAMINER–VIDEO LINK:
Welcome to the "Best of Without Notes." Episode #1 of the revealing TV show "Without Notes" with Susan Estrich, an American lawyer, professor, and author  – Episode 1:https://www.youtube.com/watch?v=tlBBRnSATa8

*EXAMINER–SPOTLIGHT:

Don't mess with this guy. He'll tell you why MASH MATTERS. And don't you forget it.
I'm listening now and I love it! Such a wonderful two-part episode! Keep up the great work with my favorite podcast! —Scott Parsons
Wonderful podcast! Ryan and Jeff, thanks for bringing us the Mike Farrell interview and thank you to Mike for sharing his reflections. It's so refreshing to listen to such a talented and well-spoken actor with love and reverence for the people he once worked with. I could've used a tissue or two as well! —Dena Freidinger McDonald
It was amazing! Thank you Jeff and Ryan for this interview. Thank you to Mike, too! — Renie Sailer
I am loving this podcast. Jeff and Ryan are great and listening to Mike Farrell relive his days on set is awesome. — Darren Williams
This is the most bestest podcast I have ever listened to. I've been telling all my friends about it. Keep up the good work Jeff and Ryan!!!! — Tracy Colston
This is the biggest thing to happen to me since I did my first strangulated hernia. — Butch Newton

*WHO READS LBN EXAMINER?:
Actor Robert Pattinson along with 12 members of the White House staff, 3 Nobel Prize winners, over 100 Academy Award winners, 6 U.S. Senators, and over 300 Grammy Award winners.

*EXAMINER–COMMENTARY by Paul Clifford Escoll:
Last week's top two stories and headlines are stated as facts instead of opinion. The first piece claims that because of welfare, people utilize it to not work and families utilize it by choice so they do not have to stay together.
This is prejudiced in so many ways. This insensitive opinion is stated as fact. It supposes that poor families have tons of options and that they use welfare as an excuse to not stay in a family.
Rather, from GOP actions, such as taking children away from their families as they try to come to this country…. (filling the private for-profit prisons) can we conclude that they are anti-family? Well, I guess we can.
Paul Clifford Escoll
@pcescoll
http://instagram.com/pcescoll

*EXAMINER–A DIFFERENT VIEW:….