*DANGEROUS – Anti-Vaccination Propaganda Infiltrates Facebook and YouTube Results:
Facebook and YouTube users searching for information about vaccines are being steered toward unscientific, anti-vaccination propaganda designed to frighten parents, The Guardianreports. Facebook search results are dominated by anti-vaccination misinformation, while YouTube's search algorithm is leading users to propaganda, the newspaper found.
This misinformation has real world consequences. A public health emergency was recently declared in Washington state, where low rates of vaccination have led to a measles outbreak with 37 confirmed cases so far.
The World Health Organization named vaccine hesitancy as one of the top 10 threats to global health in 2019. Facebook and YouTube are reportedly moving toward taking steps to address anti-vaccination propaganda. "We are committed to accurate and useful information throughout Facebook," said a Facebook spokeswoman, Andrea Vallone, in a statement.
But anti-vaccine propaganda does not currently violate Facebook's rules, and the company accepts advertising from anti-vaccination groups, boosting the performance of their misinformation, according to the report.

*Shocking Scale of Children's Internet Obsession Revealed by New Study! – Generation of Child Web Addicts:
Children have become such screen addicts they are abandoning their friends and hobbies, a major report warns today. Researchers found under-fives spend an hour and 16 minutes a day online. Their screen time rises to four hours and 16 minutes when gaming and television are included.
Youngsters aged 12 to 15 average nearly three hours a day on the web – plus two more hours watching TV. The study said YouTube was 'a near permanent feature' of many young lives, and seven in ten of those aged 12 to 15 took smartphones to bed. It concluded: 'Children were watching people on YouTube pursuing hobbies that they did not do themselves or had recently given up offline.'
A growing number of parents admitted to researchers that they had lost control of their children's online habits.

*One-Third of Americans Don't Believe 6 Million Jews Were Murdered During the Holocaust: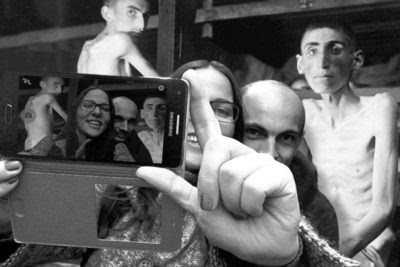 One-third of Americans think "substantially less" than 6 million Jews were murdered in the Holocaust, according to a new survey that highlights a worrying lack of basic knowledge about the World War II-era genocide. The Conference on Jewish Material Claims Against Germany, or Claims Conference, released the findings of its survey to coincide with Holocaust Remembrance Day. They show a notable lack of understanding among Americans, especially millennials, the group said.
The Claims Conference said there are "critical gaps both in awareness of basic facts as well as detailed knowledge of the Holocaust" in American society, stressing that U.S. schools must provide more comprehensive education on the crimes. The survey shows that 70 percent of Americans believe people care less about the Holocaust than they used to. A majority, 58 percent, said they believe something like the Holocaust could happen again.

*We'll Have a Cure for Cancer Within a Year, Scientists Claim:
A team of Israeli scientists claim they will likely develop a cure for cancer in the next year, The Jerusalem Post reported on Monday. The new treatment is being developed by Accelerated Evolution Biotechnologies under the leadership of CEO Dr. Ilan Morad, according to the report.
"We believe we will offer in a year's time a complete cure for cancer," said Dan Aridor, chairman of the company's board. "Our cancer cure will be effective from day one, will last a duration of a few weeks and will have no or minimal side-effects at a much lower cost than most other treatments on the market." The treatment, called MuTaTo, will use a combination of cancer-targeting peptides and a toxin that will specifically kill cancer cells.
The treatment will eventually be personalized and a specific cocktail of the drugs will be given to patients based on their type of cancer, Morad told the newspaper.
 *IRS: We Can't Accept Checks of $100 Million or More:
Imagine that! The federal government is happy to accept money from anyone, but billionaires beware: Page 65 of the instructions for IRS Form 1040 contains the following paragraph:
No checks of $100 million or more accepted. The IRS can't accept a single check (including a cashier's check) for amounts of $100,000,000 ($100 million) or more. If you are sending $100 million or more by check, you'll need to spread the payment over 2 or more checks with each check made out for an amount less than $100 million.
This limit doesn't apply to other methods of payment (such as electronic payments). Please consider a method of payment other than check if the amount of the payment is over $100 million.
Amusingly, the very next paragraph is titled, "What if You Can't Pay?" (Answer: You can request an installment agreement, or an extension of time to pay.)
*TELL THE WORLD YOUR EXCITING STORY:
Now you can tell your unique story to the "influential" Examinerreaders in all 50 of the United States and 26 foreign countries.

For the last 16 years, the LBN Examiner (www.LBNExaminer) has been read and trusted by some of the world's most important people —- ***3 Nobel Prize winners   ***12 members of the White House staff   ***Over 100 winners of the Academy Award   ***6 U.S. Senators    ***Over 300 winners of the Grammy Award.

Called "one of the best message bargains on the web", you can now tell YOUR story with a maximum of 200 words with one photo and your web link for the low cost of $200.

And the best part – it's simple! Send us your message (maximum 200 words) with your photo and web link. We will approve and run and you can pay via PayPal, Credit Card or check – your convenience.

Send your Examiner message to: 
Ms. Aurora DeRose, 
E-mail: Aurora411@TimeWire.net

*THINK FREELY–READ LBN EXAMINER:
Now you can invite your friends, family, and associates (if they've got the guts) by telling them to go to www.LBNExaminer.com

*EXAMINER–INVESTIGATES:
Under Article 6, Paragraph 1 of Saudi Arabia's Anti-Cyber Crime Law, the following is punishable by up to five years in prison: "Production, preparation, transmission, or storage of material impinging on public order, religious values, public morals, and privacy, through the information network or computers." Think "First Amendment." Then invert it.

*EXAMINER–INVESTIGATES:
Tapeworms can survive up to 25 years in humans. They are transmitted through infected food and attach themselves to the host's intestines with hooks on their "head" or scolex.

*EXAMINER – BUSINESS INSIDER:
*Facebook has removed 783 pages, groups, and accounts linked to Iran in its quest to stop the spread of misinformation. Twitter announced a similar purge.  
*Hulu is rolling out "pause ads," or ads that play when you stop your program in an effort to make them a) more relevant and b) less intrusive.
*President Trump is reportedly considering Herman Cain, a former pizza company exec and presidential candidate, for a seat on the Federal Reserve Board.
*Intel officially named Robert Swan as its CEO, removing the "interim" tag that had preceded his title for seven months.
*General Electric reported another quarter of weak profits… but execs did say it's making progress in its massive turnaround plan.

*EXAMINER-SPOTLIGHT:
THE 4TH ANNUAL ROGER NEAL OSCAR VIEWING DINNER & AFTER PARTY
Roger and Lynn Neal, Founder and Chairman of the annualOscar night event, announces along with their partnersMaryanne and Thomas Lai, the 4th Annual ROGER NEAL OSCAR VIEWING DINNER, SUITE AND AFTER PARTYwhich will take place on Oscar Sunday Feb 24th, 2019.

For the past three years this event was held at the Hollywood Museum, however the party has grown beyond the museum's capacity. Neal and his associates are moving into their new home THE HOLLYWOOD PALLADIUM, operated by Live Nation, http://www.rogernealsh.net/
The Roger Neal Oscar Viewing Dinner will once again honor stars with the ICON AWARD during the pre-show to the Academy Awards. This year's honorees include: For Television, award winning actress Loretta Swit star of Mash (presented by Jamie Farr…) Oscar nominees Robert Forster, Margaret Avery (Oscar Nominee) and Lainie Kazan for Motion pictures.  Ernie Hudson for Motion Pictures, Bernie Kopell (Love Boat), for TV and Walton's star Ms. Michael Learned, for TV. The Music Icon Award will go to Grammy and Golden Globe nominee Frank Stallone. Woman in Philanthropy Icon award goes to actress/philanthropist/ 2 time Daytime Emmy Award Winner Kira Reed Lorsch (The Bay).  Also George Popodoupolous, Trump's former foreign policy advisor.
The Academy Awards viewing dinner will be a sit down, black tie white glove service experience for the stars, their guests, sponsors and ticket buyers. Over 100 Stars are expected. 600 Guests in total are expected for dinner. The RN Oscar Viewing Dinner and After Party is by invitation only. Public may purchase limited available dinner seats for $1,000. For After Party call 323-366-2796

*EXAMINER–VIDEO LINK:
Is Your Child Getting Enough Vitamin N? —https://youtu.be/j3cgUhtRUbE

*WHO READS LBN EXAMINER?:
Model Emily Ratajkowski along with 12 members of the White House staff, 3 Nobel Prize winners, over 100 Academy Award winners, 6 U.S. Senators, and over 300 Grammy Award winners.

*EXAMINER–COMMENTARY by Dennis Prager:
Because lies are effective in achieving left-wing goals. There are people in every political, social and religious group who lie. And there are people within every one of those groups who are truth tellers. But — and this is a "but" whose significance cannot be overstated — while truth is a liberal value and truth is a conservative value, truth has never been a leftist value.

For the left, there is always something more important. In this case, it is the humiliation of the president of the United States.

*EXAMINER–COMMENTARY by Austin Frakt:
Another toll of horrible traffic is to psychological well-being, stemming from the sense of helplessness we experience in traffic, and its unpredictability. This, too, can be quantified. One study found that to save a minute of time spent in traffic, people would trade away five minutes of any other leisure activity. Another study found that we deal better with the commuting delays that we can anticipate. Stressed-out people can take out their frustration on others. We've probably all experienced or seen road rage, but aggressive behavior can carry over beyond a commute.
A recent analysis of Los Angeles traffic, published in the Journal of Public Economics, documented a link between congestion and domestic violence. From 2011 to 2015, the study found, extreme evening traffic on two major highways —I-5 and I-10 — increased the incidence of nighttime domestic violence by about 9 percent. What the researchers, Louis-Philippe Beland, an economist at Louisiana State University, and Daniel Brent, an economist at Penn State, mean by "extreme traffic" in their study is best explained with an example: The average evening commute along I-10 for residents of Santa Monica in their study was 45 minutes. Extreme traffic would increase this to 87 minutes.

*EXAMINER–A DIFFERENT VIEW:….
*INVESTOR LOOKING FOR RESTAURANT ON WESTSIDE OF L.A. FOR GROWTH AND EXPANSION:
Prominent investor looking for a restaurant with excellent growth potential. Must be already in business. Investors has national proven success over 30 years. Send confidential overview of restaurant along with completely contact details to: SunsetMerch@TimeWire.net