*HOLY P.C. – Petition to Change Halloween Date Gets Over 70,000 Signatures:
Depending on who you ask, this is no treat: Some are trying to alter Halloween tradition. A Change.org petition — yeah, another one of those — is pushing to move the official date of Halloween from Oct. 31 to Oct. 26. All Hallow's Eve falls on on Thursday this year, and the Halloween & Costume Association — which launched the campaign — isn't happy about it. The trade organization's "Join the Saturday Halloween Movement" petition is closing in on its goal of goal of 75,000 signatures demanding that it be moved to Saturday. If they reach that milestone, the Mount Lauren, New Jersey-based group created to "promote and build the celebration of Halloween in the United States" plans to take the results straight to the top: President Donald Trump.
"It's time for a Safer, Longer, Stress-Free Celebration!" the organization hypes in its petition. "[After all], 51% of millennials say Halloween is their favorite holiday, why cram it into 2 rushed evening weekday hours when it deserves a full day!?!" Social media justice warriors are already expressing displeasure.

*Study Finds Transgender People More Politically Conservative than
Straight Men:
A couple years ago one of the most famous transgender women in the world, Caitlyn Jenner, shocked many observers when she spoke about voting for Donald Trump and identifying as a Republican. Turns out, that might not have been as far-fetched as it first seemed, even if she has since revoked her support of Trump. A recently published large-scale study on LGBTQ political identities has produced some surprising results, finding transgender men and women tend to be "significantly less liberal" than cisgender men, straight men, and others in the LGBTQ community.
The study, "A Rainbow Wave? LGBTQ Liberal Political Perspectives During Trump's Presidency: an Exploration of Sexual, Gender, and Queer Identity Gaps," surveyed a nationally representative sample of U.S. adults. It was funded by the University of Oklahoma and conducted by Meredith Worthen, a sociology professor in OU's College of Arts and Sciences.

*WOW – New Oregon Law Gives Students 20 'Mental Health Days' Annually:
A new Oregon law allows students to take up to five "mental health days" per quarter, or 20 a year. The allotted absences do not require a written excuse be provided to the principal of the student's school, the Associated Press (AP) reported Sunday: "Under state law, students can have up to five absences excused in a three month period. Anything more requires a written excuse to the principal."
The goal of the law is to treat mental health the same as physical health. "Oregon will allow students to take 'mental health days' just as they would sick days, expanding the reasons for excused school absences to include mental or behavioral health under a new law that experts say is one of the first of its kind in the U.S."
"Previously, schools were obliged to excuse only absences related to physical illnesses. At many schools, absences must be excused to make up missed tests or avoid detention." Absenteeism is already a problem in Oregon, as state data show that one in six students miss at least ten percent of school days.

*Man Convicted of Rape on DNA Evidence Released After Victim
Realizes He's Her Ex:
A Michigan man convicted of rape on DNA evidence has been freed from prison after the victim belatedly realized she had dated him in high school. James Chad-Lewis Clay always maintained his innocence, but investigators working on the decades of backlogged test kits said DNA found inside the victim matched him, leading to the guilty verdict in 2017. When the victim testified, she didn't recognize him and said she never had consensual sex with him.
However, according to a report from Detroit Free Press, this year a private investigator showed her a picture of what Clay looked like when he was younger and she identified him as a young man she dated and had consensual sex with as a teen—around the time she was raped in 1997. Clay was convicted and sentenced to 25-50 years in prison in 2017, but has now been freed. His case goes back to Wayne County Circuit Court for a hearing and decision on whether he'll get a new trial, the Free Press reported. "It took for the media to get involved to get this case resolved," he said. "If it wasn't for the media, I would've still been in prison."

*Fat Cats, Literally: New Study Finds Felines Are Getting Chubbier: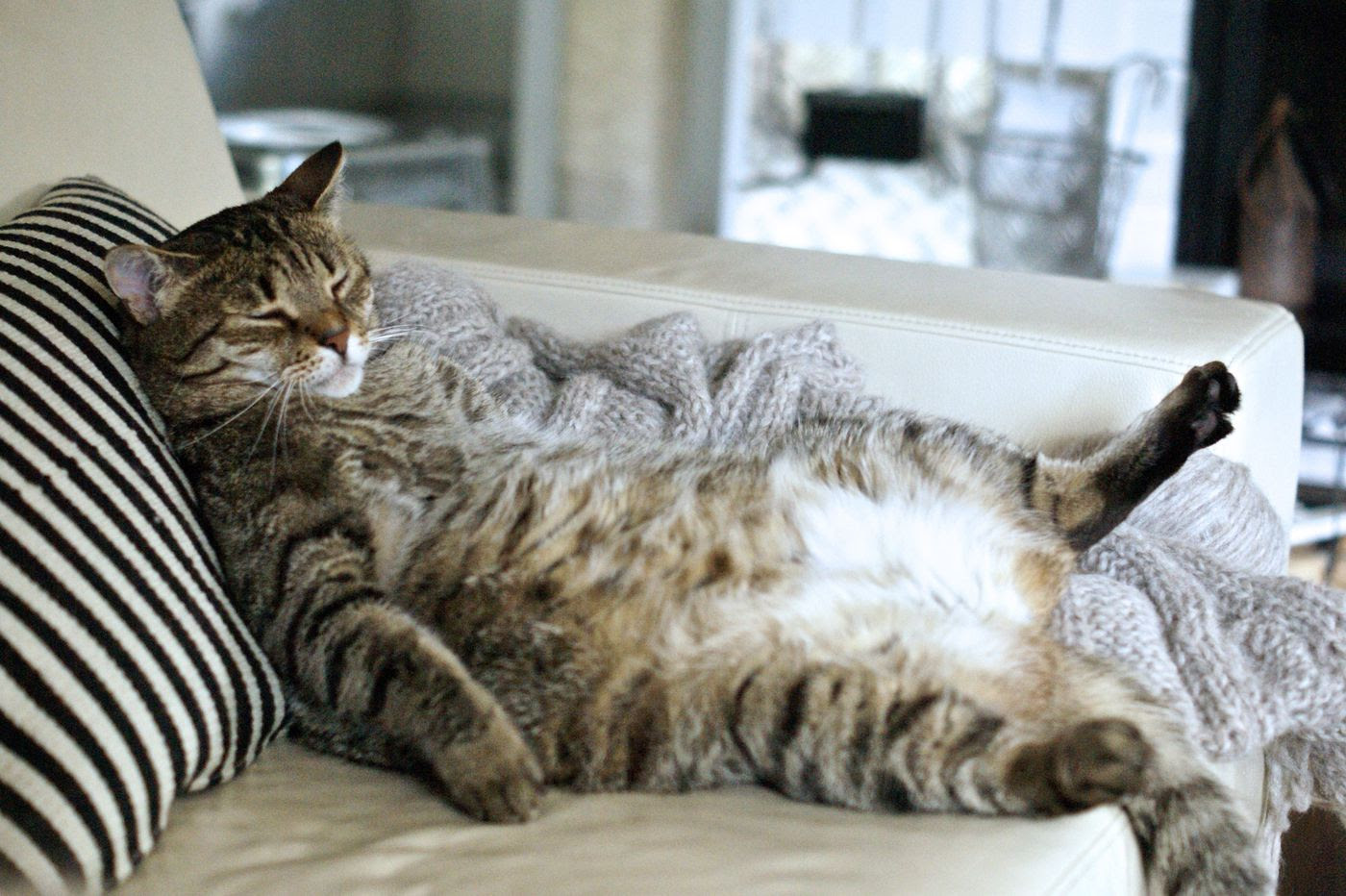 The term "fat cat" is thrown around quite frequently, but usually not to describe actual cats. Well, a new study out of the University of Guelph finds that cats are indeed getting fatter. According to researchers, cats continue gaining weight well into adulthood, and the average weight of a neutered, adult domestic cat has increased over the past twenty years or so. Most people assume that cats, on average, maintain a steady weight after maturing out of their kitten phase, but this new research indicates that cats' weights continue to rise until they are around eight years old.
The authors analyzed data on 54 million weight measurements taken from over 19 million cats, the largest feline data pool ever used in a study, to try and produce some more definitive baseline information on what a healthy cat's weight projection throughout life should look like."As humans, we know we need to strive to maintain a healthy weight, but for cats, there has not been a clear definition of what that is. We simply didn't have the data," explains Prof. Theresa Bernardo in a statement. "Establishing the pattern of cat weights over their lifetimes provides us with important clues about their health.

*FILTH DISASTER – Nearly Entire Bay Area Sees Homelessness Surge:
San Francisco recently released the results of its 2019 point-in-time homeless census conducted in January, and the news appeared nothing less than disastrous, as SF's homeless headcount increased by the hundreds despite the city's seemingly ceaseless efforts to provide relief. However, the San Francisco count alone does not provide the whole story. The 2019 homelessness spike in SF came amid a tide of similar baleful results across the Bay Area.
Five out of nine Bay Area Counties—i.e., all of those not located in the North Bay—saw their homeless counts spike during the same period, with each other county showing worse homelessness surges than SF:
• To review, San Francisco's report to the federal Department of Housing and Urban Development cited a count of 8,011 homeless persons, an increase of 6.8 percent from 7,499 in 2017. Note that the city's own internal count is higher (at more than 9.700 persons) because SF uses a broader definition of who counts as homeless. Since that standard is unique to San Francisco, it's hard to compare the figure with other counties. [Correction: The count submitted to HUD for 2017 count was 6,858, making for a 16.8 percent increase over two years. The 7,499 figure was the local count.]
• San Mateo County's homeless count spiked up to 1,512, more than 20 percent more than the 1,253 count from two years ago, and up from 1,483 in 2015.
• Santa Clara County reported a count of 9,706 for 2019. In 2017, the count was 7,394, making for an increase of more than 31 percent. But in 2015, the homelessness estimate was 6,556. Note that although Santa Clara County has a higher homeless population than SF it also has about double the general population of SF County, at more than 1.9 million.
• Alameda County's figure came in at 8,022, up 42.5-plus percent from 2017's figure of 5,629. On a slighter longer timeline, the increase is even worse, as this latest count is nearly double that of the 4,040 in 2015. Like Santa Clara County, Alameda has a larger homeless population but also more people in general, meaning that SF's per capita homelessness rate remains the highest in the Bay Area.
• Contra Costa County saw a similar surge, spiking up to 2,295. That's 42.8 percent more than the previous count of 1,607, although that count was down significantly from 2,030 in 2015. Since Contra Costa County conducts its counts annually, we see from the 2018 report that almost all of that rise happened between 2017 and 2018 when the figure was 2,234.

*FIGHT THE DEVIL OF MISINFORMATION–READ LBN EXAMINER:
An incredible 84% of LBN Examiner readers in all 50 of the United States and 26 foreign countries find the news in LBN Examiner —- "fearlessly independent" and "unbiased".

*EXAMINER–INVESTIGATES:
Helmets weren't mandatory for football players until 1939.

*EXAMINER–A LOOK BACK:
The late Steve Jobs – 2001.

*EXAMINER–VIDEO LINK:
Welcome to Episode #3 of the revealing TV show "Without Notes" with Judith Regan, an American editor, book publisher, and producer – Episode 3: https://youtu.be/PlHp2XPyDi0

*EXAMINER–SPOTLIGHT:
Elizabeth Stanton, Host of The CW's Big Stage, Travels Through Europe on Talent Tour
Elizabeth Stanton has been a world traveler her entire life, experiencing the culture of Europe, the wonders of the Far East, and the natural beauty of remote destinations. She started hosting "Elizabeth Stanton's Great Big World" at the age of 15, and it was watched in 90% of the United States at its peak and played on Fox Stations nationwide. The show featured stars like Bailee Madison, Jake T. Austin, Gregg Sulkin, and Anna Maria Perez de Tagle, and filmed in places all over the world, from the USA to Nicaragua to Paris toBeijing.
Now, Stanton is gearing up for her new project: hosting CW's "Big Stage," and she is taking a trip throughout Europe in order to shoot episodes of the exciting new show as well as scouting talent. She's travelling with a few of her celebrity friends, including Maiara Walsh (Desperate Housewives), Garrett Clayton (Star of Hairspray Live & Disney's Teen Beach Movie), Jennifer Veal (Disney's Jessie & Descendants), andNoah Mathews (True Blood). The trip will take the group throughout the United Kingdom, Spain, France, Italy, and even Monaco.
"I have never seen as many types of amazing, new talent as I have on this trip, and cannot wait to include them in The Big Stage," states Stanton, "I am so lucky to be able to travel and work on my shows with my friends who are able to experience it with me. It makes such incredible memories."

*WHO READS LBN EXAMINER?:
British actress and writer Phoebe Waller-Bridge along with 12 members of the White House staff, 3 Nobel Prize winners, over 100 Academy Award winners, 6 U.S. Senators, and over 300 Grammy Award winners.
*EXAMINER–CORRECTION:
Upon further legal review, the lead story of July 24th, 2019 "Did a Woman Sue Samsung After Her Cellphone Got Stuck in Her Vagina?" proved inaccurate. It is true that people are increasing suing over the oddest things, but this scenario is probably not legal actionable.

*EXAMINER–A DIFFERENT VIEW:….