*MAYHEM – Mexico Murder Bloodbath Spirals out of Control Reaching All-Time High with 94 Killings Every DAY:
Mexico is experiencing its worst ever murder rate with 94 killings each day amid a massive surge in violence between cartels. The number of homicides has rocketed over the past four years with more than 3,000 people slaughtered in June alone — and over 17,000 in the first six months of this year.
If the current trend continues 2019 will beat the previous year's record of 33,341 murders, which was 33 per cent more than three years ago. Compare this to the total recorded last year in the UK, which has half Mexico's population but only has 726 murder victims. Crime levels are so dire the government has called the army in.
The rising death toll is the result of many cartels splintering into factions, which in turn are engaging in increasingly bloody battles over control of lucrative drug, theft, extortion and kidnapping rackets. Security specialist Ricardo Márquez Blastold Mexico News Daily: "The last year of [the administration of] former president Enrique Peña Nieto was bad in terms of the crime rate but 2019 is on the path to being even worse. "It's important to understand that we're doing worse in security than the worst year on record."

*Cockroaches are Becoming 'Nearly Impossible' to Kill: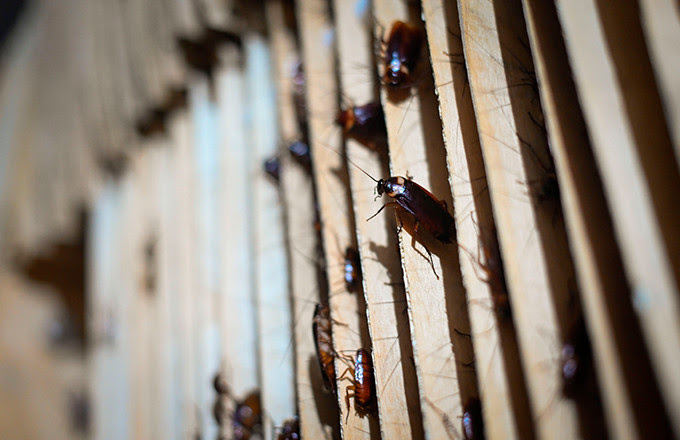 Cockroaches are quickly evolving to be resistant to pesticides and could soon be impossible to kill with chemicals alone, according to a new study. Researchers from Purdue University found that some German roaches, which are one of the most common types of cockroach in the UK, could pass down their resistant genes to their offspring. The findings were published in the journal of Scientific Reports. The study's co-author Michael Scharf said: "We didn't have a clue that something like that could happen this fast."
"Cockroaches developing resistance to multiple classes of insecticides at once will make controlling these pests almost impossible with chemicals alone." The bugs are so dangerous because they are carriers of dozens of bacteria, including E. coli and salmonella, which can make people very sick. They leave behind feces, saliva and body parts that can trigger asthma and allergies or even cause children to develop these issues.

*Gallup: Americans Radically Overestimate LGBT Population:
Although U.S. adults think LGBT persons make up nearly 24% of the U.S. population, this is a dramatic overestimation, according to Gallup, which asserts that the LGBT population is in reality closer to 4.5%. Gallup also reports that the percentage of Americans identifying as LGBT is most prevelant among millenials. In its survey, Gallup asked, "Just your best guess, what percent of Americans today would you say are gay or lesbian?" From the respondents' answers, the average was 23.6%. In other words, American adults think LGBT people make up nearly 24% of the population, which is more than 5 times the real percentage of 4.5%.
In May 2015, Gallup found that Americans thought LGBTs were 23.2% of the population, and in May 2011, they thought the percentage was 24.6%. "Americans' estimate of the proportion of gay people in the U.S. is more than five times Gallup's more encompassing 2017 estimate that 4.5% of Americans are LGBT, based on respondents' self-identification as being lesbian, gay, bisexual or transgender," reported the survey firm.

*Effects of 'Secondhand Drinking' Hurt 53 Million Americans:
Forget secondhand smoke. Now you have to worry about the secondhand drinking. One fifth of adults — or an estimated 53 million people in the United States — suffer from other people's boozing annually, making this "a significant public health issue," according to a new study published in the Journal of Studies on Alcohol and Drugs. "One thing to think about with the 1 in 5 number is that it is only limited to a snapshot in time of about a year. So, probably more people have actually been harmed by someone else's drinking at other times in their life," study author Katherine Karriker-Jaffe, a senior scientist with the Alcohol Research Group at the Public Health Institute in Emeryville, Calif., tells CNN.
Researchers analyzed responses from 8,750 adults interviewed in 2015 for the National Alcohol's Harm to Others Survey and the National Alcohol Survey. Subjects were asked whether they experienced any of the 10 types of harms — caused by someone who had been drinking alcohol — in a 12-month period. The damages included everything from traffic accidents, physical abuse, marital problems, property damage and financial issues. The current research, funded by the National Institute on Alcohol Abuse and Alcoholism, analyzed the data to provide insight for potential alcohol control policies, such as taxation and pricing to reduce alcohol's harm to persons other than the drinker.

*Arizona Gov Makes Major Announcement After Nike Pulls American Flag Shoe At Colin Kaepernick's Behest:
On Tuesday, Arizona Governor Doug Ducey, a Republican, announced that the state would be withdrawing financial incentives promised to Nike over the company dropping an American flag-style shoe reportedly at the behest of former NFL quarterback Colin Kaepernick. "The Betsy Ross Flag" edition shoe was kicked to the curb by the athletic gear giant after Kaepernick complained about the new sneakers, allegedly calling them "offensive." The former QB, who famously took a knee during the playing of the national anthem before NFL games, claiming to protest police brutality and racial injustices, signed a multi-million dollar sponsorship deal with Nike last year.
"Words cannot express my disappointment at this terrible decision. I am embarrassed for Nike," Gov. Ducey posted in a string of tweets on Tuesday morning. "Nike is an iconic American brand and American company. This country, our system of government and free enterprise have allowed them to prosper and flourish."

*Alaska Heat Wave Could Bring Record Temperatures:
Alaska has been hit with record-high temperatures that have the arctic state packing heat. The unusual heat wave will have the northernmost state cooking in temperatures of 87 degrees or higher over the holiday weekend, starting July 4 through Monday, the National Weather Service said. "Expect record or near-record high temperatures each day," the agency said Wednesday.
Scorching temperatures could continue into next week and challenge the all-time high temperature at Anchorage International Airport of 85 degrees on June 14, 1969. "The most likely days for this to occur would be Thursday or Friday," the National Weather Service forecast said.

*SEEK WISDOM–READ LBN EXAMINER:
An incredible 84% of LBN Examiner readers in all 50 of the United States and 26 foreign countries find the news in LBN Examiner —- "fearlessly independent" and "unbiased".

*EXAMINER–INVESTIGATES:
Although child marriage is illegal in Ethiopia, 49% of girls marry before 18 and nearly 1 in 5 Ethiopian girls is married before 15. Almost half of 15- to 19- year-old girls in the Amhararegion have been or currently are married.

*A LOOK BACK:
How'd you like to do this tedious job? An operator in Chicagoannounces the time every 15 seconds in 1928.

*EXAMINER–VIDEO LINK:
Welcome to Episode #3 of the revealing TV show "Without Notes" with Judith Regan, an American editor, book publisher, and producer – Episode 3: https://youtu.be/PlHp2XPyDi0

*EXAMINER–SPOTLIGHT:
Paruresis is a condition that prevents people from urinating in public, sometimes even in their own homes if others are in adjacent rooms. The good news is that this anxiety disorder is highly treatable. The Secret Social Phobia: Shy Bladder Syndrome (Paruresis) offers strategies and easy-to-follow exercises to help you desensitize yourself to fear-producing situations and feel comfortable in public restrooms. Graduated exposure will help get you to the point where you can tolerate the anxiety of relieving yourself in a public washroom or other shared space.
"Dr. Soifer also recently presented a TedX Mississippi talk entitled "Do Public Restrooms Make You Nervous," which can be viewed here: https://www.youtube.com/watch?v=8l5IiK2Ly2g

*EXAMINER–SPOTLIGHT:
Jeff Maxwell and Ryan Patrick cut deep into the bowels of the iconic CBS Mega-hit, M*A*S*H. Nine years in the role of Private Igor, the beleaguered cook at the 4077, Maxwell provides behind-the-scenes tidbits as only a cast member can. Patrick, an Illinois radio personality and marketing genius, offers the squishy, emotional component available only from a life-long, devoted fan. Along with the hosts' perspectives, M*A*S*H writers, producers, cast members, and even listeners drop in as featured guests to share their unique experiences and opinions.

Enlist today and explore with Jeff and Ryan why M*A*S*H did, does, and continues to matter in 2019. That's an order!
"OMG…never heard the MASH Matters podcast before. So much insight, backstage stories. I sat at my desk for an hour glued to my laptop." —Lee Heft
"The combination of Ryan's knowledge of the show and the inside first-hand experiences of Jeff; not to mention his great sense of humor, make for a perfect combination. Keep up the great work!" –"Muggs"
"Awesome!!! So glad to hear 'Nurse Kellye' say that she is officially in remission. Love her giggle. Great show, thank you!" —Lori Petruno Gorski
"I'm only halfway through the podcast, and I'm just loving it. What a delight!" —Stan Peal
"I recommend this podcast for anyone who even remotely likes M*A*S*H. Insightful, informative and FUN!" —John Hunt

*WHO READS LBN EXAMINER?:
Harper One Director of Publicity, Suzanne Wickham, along with 12 members of the White House staff, 3 Nobel Prizewinners, over 100 Academy Award winners, 6 U.S. Senators, and over 300 Grammy Award winners.

*EXAMINER–A DIFFERENT VIEW:….