*WTF? HALF OF AMERICANS FACE OBESITY, DIRE PROJECTIONS SHOW:


By 2030, nearly one in two adults will be obese, and nearly one in four will be severely obese. Climate change is not the only source of dire projections for the coming decade. Perhaps just as terrifying from both a health and an economic perspective is a predicted continued rise in obesity, including severe obesity, among American adults. A prestigious team of medical scientists has projected that by 2030, nearly one in two adults will be obese, and nearly one in four will be severely obese. The estimates are thought to be particularly reliable, as the team corrected for current underestimates of weight given by individuals in national surveys. In as many as 29 states, the prevalence of obesity will exceed 50 percent, with no state having less than 35 percent of residents who are obese, they predicted.

Likewise, the team projected, in 25 states the prevalence of severe obesity will be higher than one adult in four, and severe obesity will become the most common weight category among women, non-Hispanic black adults and low-income adults nationally. Given the role obesity plays in fostering many chronic, disabling and often fatal diseases, these are dire predictions indeed. Yet, as with climate change, the powers that be in this country are doing very little to head off the potentially disastrous results of expanding obesity, obesity specialists say
*GENDER PRONOUNS CAN BE TRICKY ON CAMPUS. HARVARD IS MAKING THEM STICK:


For generations of future diplomats and cabinet officials educated at Harvard's renowned John F. Kennedy School of Government, orientation day has come with a name placard that the students carry from class to class, so their professors can easily call on them. When Diego Garcia Blum, 30, got his placard last fall, the first-year graduate student immediately took a Sharpie to it, writing "He/Him" next to the big block letters of his name. Other students did the same thing, writing "She/Her" and "They/Them." "Yup! Day 1," Mr. Garcia Blum, recalled, adding, "That's when I thought, the students are ahead of the school. "But despite its reputation as a bastion of the establishment, the Kennedy School followed the students' lead, agreeing to provide clear plastic stickers this semester with four pronoun options that students could apply to their name cards: "He/Him," "She/Her," "They/Them" and "Ze/Hir."
*JORDAN PETERSON'S YEAR OF 'ABSOLUTE HELL' – PROFESSOR FORCED TO RETREAT FROM PUBLIC LIFE BECAUSE OF ADDICTION:


Jordan Peterson is recovering from a severe addiction to benzodiazepine tranquilizers and was recently near death in an induced coma, his daughter Mikhaila said. He is being treated at a clinic in Russia after being repeatedly misdiagnosed at several hospitals in North America, she said. The University of Toronto psychologist who became an intellectual hero to a global audience by aligning self-help theory with anti-progressive politics was first prescribed the medication a few years ago to treat anxiety after what Mikhaila described as an autoimmune reaction to food. His physical dependence on it became apparent to his family last April when his wife Tammy was diagnosed with cancer.

The last year, which saw him retreat from public life after swiftly becoming one of the most famous authors in the world, has been an "absolute hell," said Mikhaila, also a well-known speaker on diet, who advocates eating only beef. In November, he went to a rehabilitation center in New York. He has previously discussed his long history of depression. Jordan Peterson writes a column for the National Post, most recently in November. His conditioned worsened through the winter, Mikhaila said. He was driven to thoughts of suicide by a movement disorder called akathisia, a well-known side effect of various drugs for mental illnesses. It is a sense of restlessness and an inability to sit still.

"It became apparent that he was experiencing a paradoxical reaction to the medication, meaning the benzos did the opposite of what they're supposed to do. These reactions are rare but are not unheard of," Mikhaila said in the script for a video shared with the National Post. She said the family sought alternative treatment in Russia because they found North American hospitals had misdiagnosed him and were prescribing "more medications to cover the response he was experiencing from the benzodiazepines," Mikhaila said. "He nearly died several times." She and her husband took him to Moscow last month, where he was diagnosed with pneumonia and put into an induced coma for eight days. She said his withdrawal was "horrific," worse than anything she had ever heard about. She said Russian doctors are not influenced by pharmaceutical companies to treat the side-effects of one drug with more drugs, and that they "have the guts to medically detox someone from benzodiazepines."

Jordan Peterson has only just come out of an intensive care unit, Mikhaila said. He has neurological damage, and a long way to go to full recovery. He is taking anti-seizure medication and cannot type or walk unaided, but is "on the mend" and his sense of humor has returned. "He's smiling again for the first time in months," she said.
*METH IS BACK AND FLOODING THE STREETS OF OHIO AND KENTUCKY AND IT'S UGLIER THAN EVER:


This new wave of meth is causing police and parents of users and even government officials to shift their focus from opioids to this stimulant – a drug that used to be common, then faded, but is resurging. This time, with much more purity, coming directly from Mexico, not backyard cookeries or houses or sheds. The fresh attention to meth matters. After all, the rise in meth tested at law enforcement crime laboratories across Ohio and Kentucky is staggering.

Just one example of that rise: The 23 drug task forces (including Northern Kentucky's) that are funded through the Ohio High-Intensity Drug Trafficking Area agency saw a 1,600% jump in meth seized from 2015 to 2019 (and the 2019 numbers are incomplete). Read that again: 1,600%. But as shocking as that number is, some addiction experts say that we are missing the point behind the new meth wave. The point: Addiction. The United States has an addiction crisis.

*UNLIKE AIRLINES, 2019 AIR TRAVEL STATS WERE ON TIME:

Yesterday, the U.S. Department of Transportation released its annual report on air travel for 2019. Let's dive in.

On-time arrival rate: 79%, down from 79.2% in 2018. Despite operating on island time, Hawaiian Airlines was the most punctual carrier. Frontier was the least. Cancellations: Airlines canceled 1.9% of scheduled domestic flights last year, all of which interrupted an important family gathering. In 2016, the cancellation rate was 1.2%.

Animals: Carriers reported 11 animal deaths and eight injuries. The good news? Zero animals lost.

Tarmac delays: This is a fun one as long as you weren't on board one of the 302 domestic flights that waited on the tarmac for more than three hours last year. The longest tarmac delay was a United flight that spent 5 hours and 32 minutes on the Newark tarmac before taking off for Milan, Italy.
*EXAMINER – INVESTIGATES: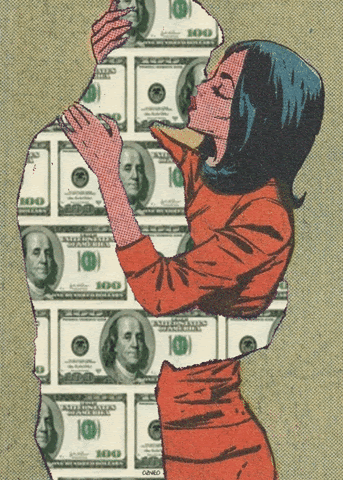 Most modern American millionaires today (about 80%) are first-generation millionaires. Usually, the fortune they build will dissipate by the second or third generation.
*EXAMINER–BUSINESS:


Groupon and Blue Apron shares tanked 44% and 18%, respectively, as investors questioned the sustainability of their business models.
Forever 21's new owners are hoping to keep as many U.S. stores open as possible when the retailer emerges from bankruptcy in the coming weeks.
Founders Fund, an investment firm led by Peter Thiel and other Silicon Valley heavyweights, has raised $3 billion across two new funds.
Larry Tesler, the influential computer scientist who coined the terms "cut," "copy," and "paste," died Monday.
*EXAMINER- DID YOU KNOW?: DEBATE MODERATOR, CHUCK TODD WAS AMY KLOBUCHAR'S LANDLORD IN ARLINGTON:


MSNBC host Chuck Todd — who helped moderate Wednesday night's Democratic debate — is likely more familiar with one candidate than any other. He was Sen. Amy Klobuchar's landlord. Klobuchar and her husband, lawyer John Bessler, rented a 3-bedroom home owned by Todd in Arlington, Virginia, sources said. The Minnesota Democrat and Bessler apparently began renting the house in 2008. Klobuchar and Bessler are not currently living at the home anymore — but it's unclear when they moved out. A 2008 report by the Star Tribune on where Minnesota reps live said at the time that Klobuchar and Bessler moved into a 3-bedroom Arlington rental home from a smaller apartment to accommodate family visitors. They were renting the house for "$3,200/month, plus utilities." The report added at the time that, "Before moving in May to provide more room for 'visiting grandparents,' Klobuchar and her family rented a two-bedroom apartment in northern Virginia for $2,800 a month." The article said that Klobuchar and Bessler still had a Minnesota home, but that her workweek consisted of, "Four to five days in D.C., with one family weekend each month in Arlington."
*READ LBN EXAMINER:


Did you know that for 18 years, since 2002, the LBN Examiner has been read in all 50 of the United States and 26 foreign countries by influencers everywhere from… Nobel Prize winners to US senators from Grammy Award winners from leading Professors at Harvard and Yale to Bank Presidents throughout the world to major media . an astonishing rate of 84% of all Examiner readers find it "fearlessly independent" and "unbiased".

The motto of the LBN Examiner remains the same —— "Intel for Influencers", consistently ranked one of the most influential weekly digital news sources.
*EXAMINER – CARTOON:

"Sorry, but once all that white entitlement permeates the fabric, you really can't get it out."
*THINK FREELY – BE INDEPENDENT – MAKE UP YOUR OWN (DAMN) MIND: READ LBN EXAMINER


*WHO READS LBN EXAMINER?:

Singer, Madonna, along with 12 members of the White House staff, 3 Nobel Prize winners, over 100 Academy Award winners, 6 U.S. Senators, and over 300 Grammy Award winners.
*EXAMINER–A DIFFERENT VIEW:….

LBN Examiner Edited By: Aurora DeRose
LBN Examiner Disclaimer: 1.) The LBN Examiner accepts no liability for the content of this email, or for the consequences of any actions taken on the basis of the information provided. The LBN Examiner is not associated with any commercial or political organization and is transmitted via the web for the sole benefit of its subscribers. 2.) Unfortunately, computer viruses can be transmitted via email. The recipient should check this mail and any attachments for the presence of viruses.