*SIGN OF THE TIMES: ORWELL'S DYSTOPIAN NOVEL '1984' SOARS TO THE TOP OF AMAZON'S LIST OF BEST-SELLING BOOKS:
"Every record has been destroyed or falsified, every book rewritten, every picture has been repainted, every statue and street building has been renamed, every date has been altered. And the process is continuing day by day and minute by minute. History has stopped. Nothing exists except an endless present in which the Party is always right." — GEORGE ORWELL, "1984"

Twitter has banned President Donald Trump. Google, Amazon, and Apple shut down Parler, a conservative social media site. No one knows what's true or false anymore. And the language police are running rampant, with lawmakers on Capitol Hill going so far as to ban words like "father, mother, son, daughter, brother, sister." So, it makes perfect sense that Orwell's famous book "1984" is once again the best-selling book on Amazon. Orwell, whose real name was Eric Arthur Blair, wrote the book in 1949, his last completed novel before his death. An opponent of totalitarianism, Orwell served in the Loyalist forces in the Spanish Civil War. And as fascism began to sweep the world, he was inspired to write a novel about what would happen should it win.

"The novel is set in Airstrip One, formerly Great Britain, a province of the superstate Oceania, whose residents are victims of perpetual war, omnipresent government surveillance, and public manipulation. Oceania's political ideology, euphemistically named English Socialism (shortened to 'Ingsoc' in Newspeak, the government's invented language that will replace English or Oldspeak) is enforced by the privileged, elite Inner Party," Audible says in its summary of the book. "Via the 'Thought Police,' the Inner Party persecutes individualism and independent thinking, which are regarded as 'thoughtcrimes.' The tyranny is ostensibly overseen by a mysterious leader known as Big Brother, who enjoys an intense cult of personality.

The Party 'seeks power entirely for its own sake. It is not interested in the good of others; it is interested solely in power."
The book's "Big Brother" is the omnipresent government that sees everything. "Always eyes watching you and the voice enveloping you. Asleep or awake, indoors or out of doors, in the bath or bed—no escape. Nothing was your own except the few cubic centimeters in your skull," Orwell wrote.And Orwell also created "Newspeak," a vocabulary limited by the government and replete with ironies, like the Ministry of Peace, which wages perpetual war, and the Ministry of Plenty, which rations food, not to mention the Ministry of Truth, which controls all information. "Don't you see that the whole aim of Newspeak is to narrow the range of thought? In the end we shall make thoughtcrime literally impossible, because there will be no words in which to express it," Orwell wrote.
*MORE THAN EIGHT-IN-TEN AMERICANS GET NEWS FROM DIGITAL DEVICES:
The transition of news from print, television and radio to digital spaces has caused huge disruptions in the traditional news industry, especially the print news industry. It is also reflected in the ways individual Americans say they are getting their news. A large majority of Americans get news at least sometimes from digital devices, according to a Pew Research Center survey conducted Aug. 31-Sept. 7, 2020. More than eight-in-ten U.S. adults (86%) say they get news from a smartphone, computer or tablet "often" or "sometimes," including 60% who say they do so often. This is higher than the portion who get news from television, though 68% get news from TV at least sometimes and 40% do so often. Americans turn to radio and print publications for news far less frequently, with half saying they turn to radio at least sometimes (16% do so often) and about a third (32%) saying the same of print (10% get news from print publications often).
*THE STATE OF ONLINE HARASSMENT: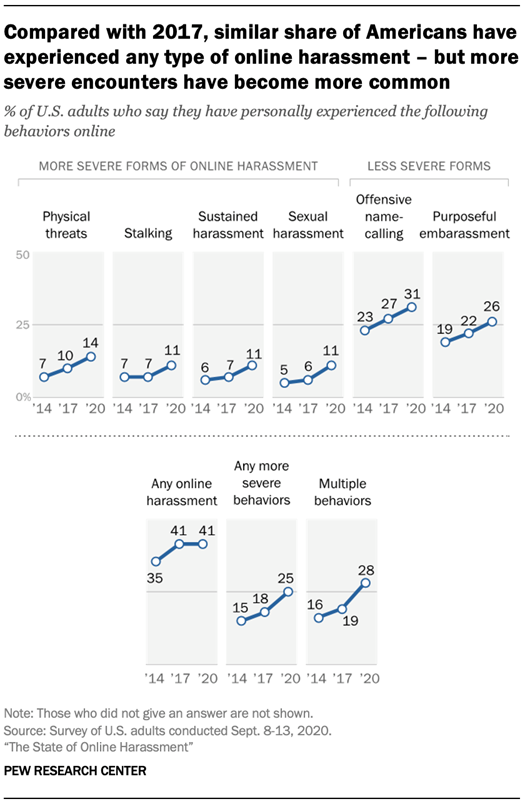 Stories about online harassment have captured headlines for years. Beyond the more severe cases of sustained, aggressive abuse that make the news, name-calling and belittling, derisive comments have come to characterize how many view discourse online – especially in the political realm. A Pew Research Center survey of U.S. adults in September finds that 41% of Americans have personally experienced some form of online harassment in at least one of the six key ways that were measured. And while the overall prevalence of this type of abuse is the same as it was in 2017, there is evidence that online harassment has intensified since then.

To begin with, growing shares of Americans report experiencing more severe forms of harassment, which encompasses physical threats, stalking, sexual harassment, and sustained harassment. Some 15% experienced such problems in 2014 and a slightly larger share (18%) said the same in 2017.1 That group has risen to 25% today. Additionally, those who have been the target of online abuse are more likely today than in 2017 to report that their most recent experience involved more varied types and more severe forms of online abuse. In a political environment where Americans are stressed and frustrated and antipathy has grown, online venues often serve as platforms for highly contentious or even extremely offensive political debate. And for those who have experienced online abuse, politics is cited as the top reason for why they think they were targeted.
*CHINA'S ECONOMY IS GROWING FASTER NOW THAN BEFORE PANDEMIC:

A year ago, the coronavirus began spreading rapidly in China. Today, China's economy is bouncing back hard, and expanding faster than it did before the pandemic. Economic data published Monday showed that China logged 2.3% growth for 2020, becoming the only major economy that grew during a year that exacted a generational toll on swaths of the world. As other major nations and geopolitical competitors, from the United States to Europe to India to Japan, struggle to beat back a winter wave, China's containment success has buoyed its economy and the ruling Communist Party's claims to global leadership in the post-pandemic world. In a sign of how quickly China has managed a turnaround, the National Statistics Bureau said gross domestic product rose 6.5% during the fourth quarter of 2020, exceeding the 6% pace at the end of 2019, before the pandemic took hold.

As President-elect Joe Biden enters office this week, he'll be confronted with a China that does not seem at all diminished in economic health or international stature. Xi Jinping, the Chinese leader, struck a bullish tone during his New Year's Eve address, when he told his countrymen that he was "proud of his great motherland" and the sacrifice and unity its people displayed to quickly beat back the coronavirus through lockdown measures and a mobilization of medical and manufacturing workers. In recent weeks, Chinese state media and the nation's globe-trotting foreign minister, Wang Yi, have told world leaders from Myanmar to the European Union, as well as global investors, that China's fast recovery could lift the rest of the world. Under Xi's leadership and through his diplomacy through online video calls, Wang claimed this month, China "has brought hope for the world economy to step out of the doldrums. "China's economy continues to power ahead with remarkable momentum, leaving other major economies, most of which are still struggling to register some semblance of growth, in the dust," said Eswar Prasad, a professor at Cornell University and former China director for the International Monetary Fund. "With its outstanding growth performance, China has cemented its position as the primary driver of what has so far been a dismal global economic recovery."


*ELIZABETH STANTON, HOST OF THE CW'S "WORLD'S FUNNIEST ANIMALS", REVEALS 10 WAYS TO HELP YOUR LOCAL RESCUE SHELTER:

Elizabeth Stanton, host of The CW's "World's Funniest Animals", wants to encourage of her TV fans to help local animal and rescue shelters. Animal shelters and rescues are amazing! Usually with limited resources and very little publicity, they help untold numbers of animals and people. Give back by choosing one or more of the following ways to show your appreciation for the groups that do so much for animals, people and your community.

1. Adopt a pet
If you've been thinking that it's time to add a pet to your family, consider adopting from a local shelter or rescue group. Search for available cats and dogs near you at the Shelter Pet Project. Be sure to find out from the group you are considering adopting from what their adoption process is like and, if it doesn't feel right to you, move on to another local group.

2. Donate
Every animal shelter and rescue organization has bills to pay and your generous monetary donation will be gratefully accepted. Donations may be used to help cover the costs of daily operations, supplies, staff training, animal housing upgrades, community outreach programs, animal enrichment and much more.

3. Volunteer
Even if you can't adopt a pet just now, you can help make life better for animals in your community by volunteering with your local shelter or rescue organization. Do you have experience as a carpenter or electrician? Are you a marketing or dog walking whiz? All of these skills are valuable! Or be open to learning something new that is needed, such as trap-neuter-return for unowned cats.

4. Say thanks
Take a minute to express your gratitude to the people who work at your local shelter or rescue groups. Did you adopt a pet from one of them? Did they provide affordable spay/neuter? Perhaps they helped reunite you with your lost pet or provided behavioral advice that made it possible for your pet to stay in your home. Give them a shout-out on social media, drop off lunch or cookies for the staff and/or mention to municipal leadership what a value they bring to your community.

5. Become a fan
Like and follow your local animal shelters and rescue groups on Facebook, then invite your friends and family to like and follow them too. Also like and follow the Shelter Pet Project, which directs people seeking to adopt a cat or dog to their local shelters and rescues. Engage by sharing and commenting on posts.

6. Get crafty
Combine fabric, recyclables and imagination to bring much needed fun into the lives of local shelter and rescue pets. You can fashion cage curtains to help shelter cats get some privacy (and stay healthy) or play matchmaker by creating attention-grabbing "Adopt-Me" vests to spotlight available pets at adoption events held by shelters and rescues.

7. Make wishes come true
Shelters and rescue groups always need towels, toys and other supplies. Check their websites for wishlists; if they don't have one, call them to find out what's in short supply and offer to create an online wishlist for them.

8. Become a foster
The value of fosters can't be overrated. They can be lifesavers for pets who can't adapt to shelter life, those who need to be nursed back to health and orphaned kittens who need someone to step in for their mom (or whose needs are beyond what busy shelter staff can often provide). Foster homes are the backbone of many rescue groups—without a strong network of foster providers, rescue groups simply could not take in as many animals. Foster homes can also become adoption ambassadors to friends, family and colleagues who otherwise may not visit the shelter. If you already have pets of your own, fostering is also often very fun for the resident pet.

9. Help at your own home
Make the jobs of shelters and rescues easier: Outfit your cats and dogs with collars and proper ID (a microchip and ID tags) at all times. As soon as you bring them into your family, have all of your pets spayed or neutered. Keep your cats indoors, where you can keep them safe (though it's great to take them on walks if they are comfortable on a harness and leash or provide them a catio for safe outdoor enrichment) and keep dogs on leashes when off your property.

10. Help your shelter make positive changes
The work your local shelter does may be hindered by an outdated animal control ordinance or, for municipal shelters, an inadequate budget. You can help by rallying support from your elected officials and working with shelter and rescue leaders to make necessary changes. If you see or hear anything at your local shelter that concerns you, follow our guidelines for addressing that concern in the most effective way.
*EXAMINER – A LOOK BACK:


The singer-songwriter Phil Ochs added a larger-than-life spirit of protest to the folk music of the late 60s and early 70s.
*EXAMINER – INVESTIGATES:
 Even when buying a single item from the pharmacy, customers have long received multi-foot long CVS receipts. Why? According to Vox, all that paper real estate is a way for CVS to target customers with ads, surveys, and instructions on how to use their rewards program. The company responded to the criticism by cutting down the length of the receipt by 25% in 2013 and using more digital receipts thereafter.


*EXAMINER – LENS:

A rioter attempts to smash a window of the Capitol Building with his fist.
*STOP THE NONSENSE – READ LBN EXAMINER:



A large portion of Americans continue to rely on social media sites for news, even as these companies struggle to deal with misleading information on their platforms about the election, the COVID-19 pandemic and more. About half of U.S. adults say they get news from social media often or sometimes. Since 2002, over 84% of LBN Examiner readers in all 50 of the United States and 26 foreign countries find it "fearlessly independent" and "unbiased".
  Now you can invite your friends and family to sign up to receive the LBN Examiner for free (if you've got the guts) —– www.LBNExaminer.com
*EXAMINER – CARTOON:




"No, I ordered the lifetime of doing whatever I want."


*EXAMINER – BUSINESS INSIDER: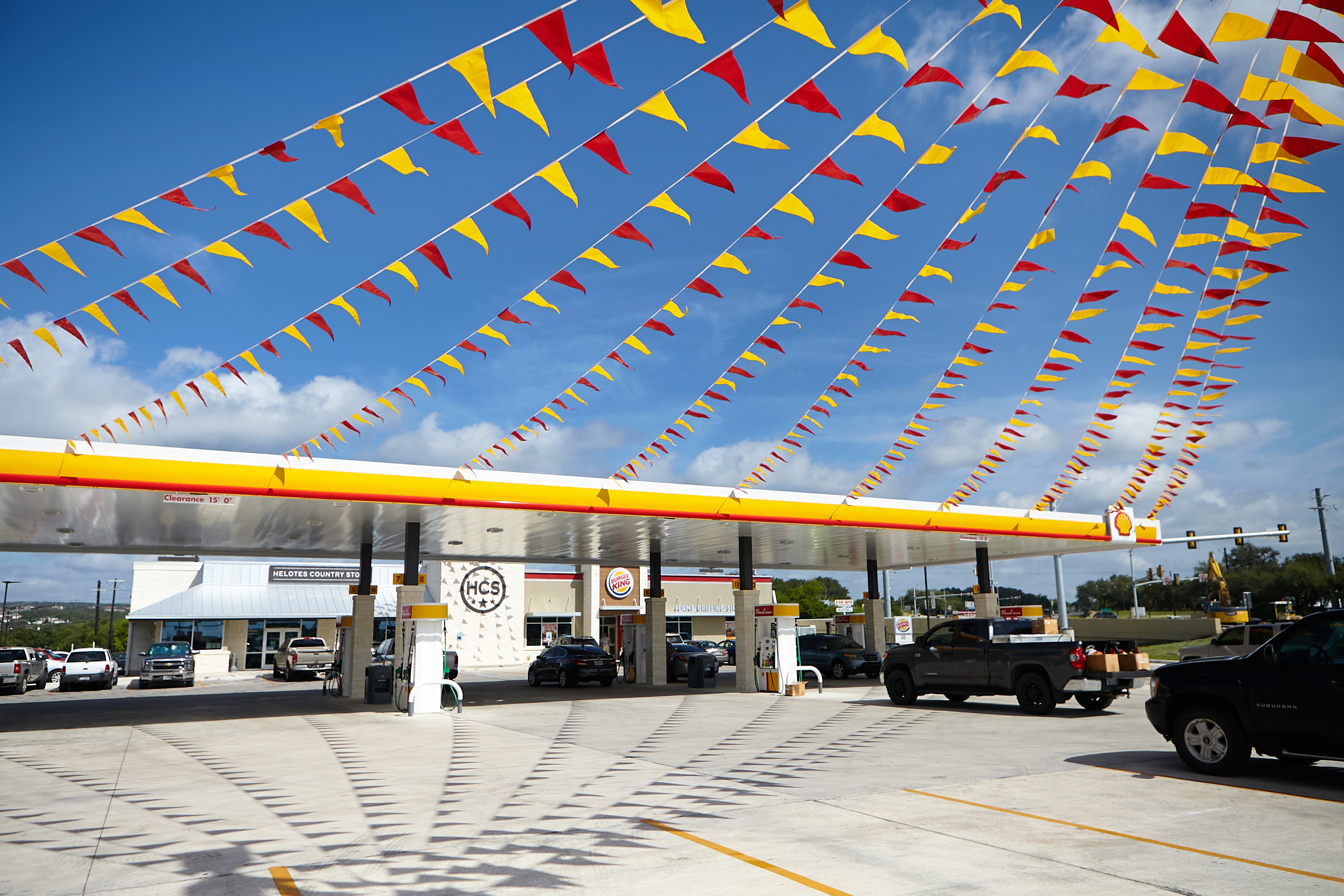 Shell's gas station network has 45k retail sites… that is more locations than either McDonald's (39k) or Starbucks (32k).  Incredibly, over the next 5 years, Shell wants to add 10k more branded retail sites. Why do this at a time when oil is on the downswing?  Well, the gas stations are very lucrative.  "Selling coffee, food and other household items at gas stations is an attractive business," writes the WSJ, "because profit margins are typically higher than the oil business and returns are more stable because they aren't linked to volatile energy prices." Each year, Shell sells 450m snacks, 350m cold beverages and 250m cups of coffee. These purchases flow to the bottom line, and Shell's marketing division — which includes retail sites — earned $1.6B last quarter (50%+ of the company's total profit). While that share may fluctuate if oil prices rise, the gross margins for gas station products won't stop being insane.
*THINK FREELY – BE INDEPENDENT – MAKE UP YOUR OWN (DAMN) MIND: READ LBN EXAMINER


Now you can invite your friends and family to sign up to receive the LBN Examiner for free (if you've got the guts) —– www.LBNExaminer.com


*EXAMINER – SPOTLIGHT:


 Actress, Drew Barrymore


*EXAMINER – HEALTH: TOTO WELLNESS TOILET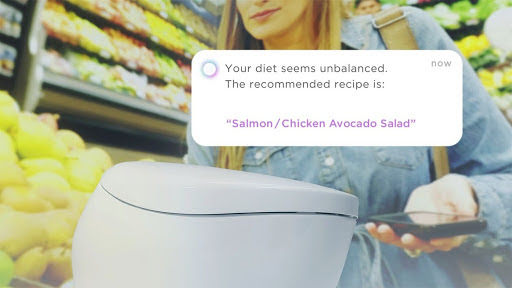 Toto Wellness is creating an internet-connected toilet that has sensors in the plumbing to examine your fecal matter… and provide you with a health analysis. This is apparently many years in the future.


*WHO READS LBN EXAMINER?:
Erika James, the Dean of the nation's oldest business school, the Wharton School of the University of Pennsylvania along with 12 members of the White House staff, 3 Nobel Prize winners, over 100 Academy Award winners, 6 U.S. Senators, and over 300 Grammy Award winners.


*LBN COMMENTARY:
Dr. John Aplin and I developed a model of organizational change a few years ago. We suggested that organizations go through three phases: entrepreneurial, followed by administrative, then creative/innovative. Transitions occur between phases and mature organizations cycle between periods of dominant administration (efficiency/cost control) and creativity/innovation (effectiveness and new products/services). This model, when operating in a free market spawns reasonably priced innovative new products and technologies. However, without free markets and competition, found in highly regulated and oligopolistic markets, organizations become lodged in the administrative phase and without needing to change become inefficient and overly bureaucratic.  
Richard Cosier, PhD
Dean Emeritus
The Krannert School of Management
Purdue University
*EXAMINER – A DIFFERENT VIEW:….
LBN Examiner Disclaimer: 1.) The LBN Examiner accepts no liability for the content of this email, or for the consequences of any actions taken on the basis of the information provided. The LBN Examiner is not associated with any commercial or political organization and is transmitted via the web for the sole benefit of its subscribers. 2.) Unfortunately, computer viruses can be transmitted via email. The recipient should check this mail and any attachments for the presence of viruses.