*HOLY CRAP! NEARLY 4 IN 10 AMERICAN WOULD BORROW MONEY TO COVER A $1K EMERGENCY


Many of us would be in trouble if we had to foot the bill for an unplanned expense. A new survey reveals that just four in 10 U.S. adults (41 percent) would cover the cost of a $1,000 car repair or emergency room visit using savings. The findings echo what previous Bankrate studies and others — including the Federal Reserve and the Pew Charitable Trusts — have found about Americans' lack of rainy-day savings. The higher your household income, the more likely you would be to use savings to pay for unanticipated costs. That's true for nearly six in 10 (59 percent) households earning $75,000 or more annually.

Men (45 percent) were more likely than women (38 percent) to say they would draw from savings when faced with the unexpected. And when their backs are against the wall, just 36 percent of younger millennials would turn to emergency funds to pay $1,000 (compared with 41 to 44 percent of older folks who would say the same).

Key findings:
Bankrate reports indicate that the percentage of U.S. adults who would use their savings to cover a $1,000 emergency room visit or car repair has remained within the range of 37 to 41 percent since 2014.
Nearly four in 10 Americans (37 percent) would borrow money in some capacity if hit with an unexpected bill.
Among respondents who reported that they or a close relative paid for a major unanticipated expense in the past year (28 percent), the average cost was $3,518.
*GALLUP: AMERICANS' IDEOLOGY, 37% CONSERVATIVE, 24% LIBERAL. 35% MODERATE

  Polling data from 2019 show that America is "center-right" politically, with 37% describing themselves as "conservative," 35% saying they are "moderate," and only 24% stating they are "liberal." Gallup reached its conclusions based on 21 telephone surveys encompassing over 29,000 interviews with U.S. adults.  Gallup asked, "How would you describe your political views — very conservative, conservative, moderate, liberal or very liberal?" In response, 37% said conservative, 35% said moderate, and 24% said liberal.  "The percentage identifying as conservative in 2019 was up two points from the 35% measured in 2018, while the percentage liberal was down two points from 26%," said Gallup. 

(Gallup)
"[C]onservatives and moderates remain closely matched in U.S. ideological preferences, as they have been since 2015," added the polling firm.  Gallup further reported that 73% of Republicans identified as conservative — 21% said they were moderate and 4% said they were liberal Republicans. Among Democrats, the survey showed that 49% identified as liberal and 36% said they were moderate — 14% of Democrats said they were conservative.
*IN LAWLESS STRETCH OF MEXICO, CHILD SOLDIERS AS YOUNG AS 6 ARE BEING DRAFTED TO FIGHT CRIME


In a lawless stretch of western Mexico, children as young as 6 years old are taking up arms against organized crime. On Wednesday, 19 children were inducted into a vigilante group that for years has been battling drug gangs in a restive Guerrero state. Local journalists published photographs and videos of the induction ceremony — in which uniformed, rifle-wielding children performed military-style exercises — that drew outrage across Mexico, with human rights officials condemning it as child abuse.

But the leader of the vigilante group said in a phone interview Thursday that a dramatic spike in violence in the region and an absence of government intervention have left the community no choice but to arm even its children. "They must be prepared," said Bernardino Sanchez Luna, the founder of the vigilante group known as the CRAC-PF. "If they are afraid, the criminals will kill them like little chickens." Two of the children who were trained were 6 years old, he said. The oldest members of the group were 15.
*ICE ISSUES LIST OF 'FUGITIVE' ILLEGAL IMMIGRANTS FREED BY NEW YORK CITY'S SANCTUARY CITY POLICIES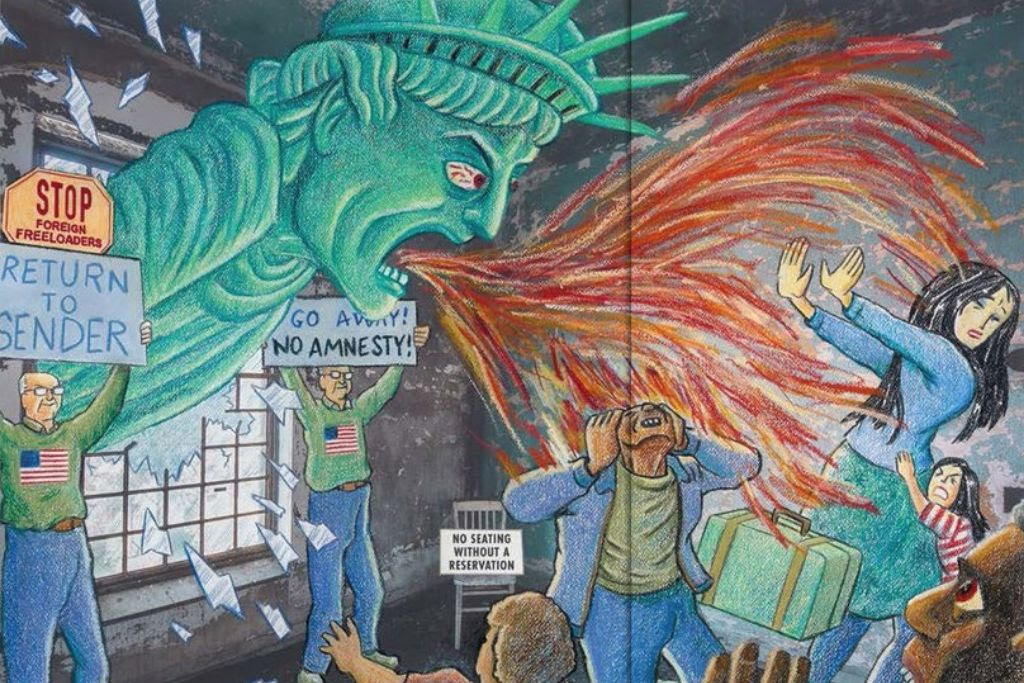 Art Spiegelman's "A Warm Welcome," 2015. Portrait by Phil Penman
Immigration and Customs Enforcement (ICE) on Friday increased the pressure on New York City's sanctuary policies — putting out a list of illegal immigrant fugitives who have been released into the city despite requests from ICE to hand them over for deportation. Acting ICE Director Matthew Albence presented the list to reporters at a press conference in New York where he spoke of the dangers of sanctuary cities — in which jurisdictions ignore detainers issued by ICE for arrested illegal immigrants.

Those detainers are requests that ICE be informed of an illegal immigrant's pending release from custody so they can be transferred to deportation proceedings. While the Trump administration has been warning of the dangers of such policies for months, it's a fight that has been brought into the spotlight by the murder of a 92-year-old woman, allegedly by an illegal immigrant sprung from custody in November after New York ignored an ICE detainer.

"Make no mistake – it is this city's sanctuary policies that are the sole reason this criminal was allowed to roam the streets freely and end an innocent woman's life," Albence said. The list of fugitives put out by ICE includes suspected illegal immigrants from Nigeria, Mexico, the Dominican Republic, Honduras, Guinea, Spain, and El Salvador. Those released have arrests for assault in the first, second and third degrees, attempted robbery, criminal possession of a weapon, gang assaults and other violent offenses.
*TIRED NATION: AMERICANS NOW AVERAGING LESS THAN 6 HOURS OF SLEEP PER NIGHT


As the years press forward, sleep is becoming a frustratingly harder challenge for many Americans. That's the main finding of a recent survey consisting of 2,000 adults that asked about sleeping habits, satisfaction, and frequency. Perhaps the most stunning result of all is the drop in total average sleep time for Americans. It seems logging six hours is a struggle for many. Consider this finding: In 2018, the average respondent reported about six hours and 17 minutes of sleep per night. By 2019, however, that average shrunk to only five-and-a-half hours each night. If the trend continues, 2020 will be even worse for many in search of some shuteye.

Those numbers are a far cry from the recommended eight full hours of sleep, but apparently these disturbing dips in sleep patterns aren't for a lack of trying; respondents said they do their best to attain the "perfect night's sleep" whenever possible. In fact, in 2019 the average respondent said they would pay $316.61 for just one night of perfect sleep. That's quite an increase over the $290 respondents said they would be willing to pay in 2018. All in all, the survey, which was commissioned by Mattress Firm, found that one in four Americans consistently slept poorly in 2019. Additionally, respondents had an average of 105 "terrible" nights of sleep last year, comparedto 99 in 2018. With these numbers in mind it also makes sense that Americans took more naps last year too, averaging 115 afternoon snoozes in comparison to 93 in 2018. Of course, many naps never actually get started either. Respondents reported roughly 102 failed naps in 2019.

*EXAMINER – CARTOON:
"Next, I will attempt to escape a sentence that begins 'I'm not racist, but…'"
*EXAMINER – INVESTIGATES:


Nonalcoholic spirits are bubbling up around town, satisfying a growing demand for alcohol alternatives. According to the World Health Organization, the number of booze drinkers has fallen by 5 percent since 2000. Wellness-obsessed millennials and Gen Zers are shying away.
*EXAMINER–BUSINESS INSIDER:

Dolittle has all the makings of a box office flop. It cost more than $180 million to make but is expected to gross only $22–$25 million in its opening weekend. U.S. safety regulators are looking into complaints that all three of Tesla's electric models can unintentionally accelerate on their own. Deutsche Bank is cutting the bonus pool at its investment bank by roughly 30%. Disney is dropping the "Fox" brand from the Fox assets it acquired last year. Get ready for 20th Century Studios and Searchlight Pictures.
*THINK FREELY – BE INDEPENDENT: (MAKE UP YOUR OWN DAMN MIND) – READ LBN EXAMINER


*EXAMINER—A LOOK BACK:


Five people were injured during an attack at Secretary of State William Seward's home on the night of the Lincoln assassination: Secretary Seward, his sons, Frederick and Gus, soldier Private George Robinson and State Dept. messenger Emerick Hansell. Miraculously, all survived. But, six weeks later, Secretary Seward's wife Francis died. Fanny Seward, who had protected her father during the attack, died of tuberculosis not long after. She was not yet 22. The Washington Republican noted, "Truly it may be said that the assassin's blow passed by the father and the son and fell fatally on the mother and daughter.
*WHO READS LBN EXAMINER?:

Actress, Keira Knightley, along with 12 members of the White House staff, 3 Nobel Prize winners, over 100 Academy Award winners, 6 U.S. Senators, and over 300 Grammy Award winners.
*EXAMINER–A DIFFERENT VIEW:….

HELP WANTED: AUTHOR SEEKS PART-TIME (FLEXIBLE HOURS) ENTRY LEVEL RESEARCHER:
Experienced author seeking smart, reliable, resourceful entry-level research assistant for part-time, flexible hours assignments. Must be available for occasional meetings on the Westside of L.A. Work mostly from home. A great opportunity for the right person. An extraordinary addition to your resume. Send resume (no attachment) with complete contact details including phone number. E-mail to: Aurora411@TimeWire.net

LBN Examiner Edited By: Aurora DeRose
LBN Examiner Disclaimer: 1.) The LBN Examiner accepts no liability for the content of this email, or for the consequences of any actions taken on the basis of the information provided. The LBN Examiner is not associated with any commercial or political organization and is transmitted via the web for the sole benefit of its subscribers. 2.) Unfortunately, computer viruses can be transmitted via email. The recipient should check this mail and any attachments for the presence of viruses.