*EXAMINER – FROM THE INDEPENDENCE CENTER:


If your politics lean right, you likely didn't hear that Facebook shut down over a hundred China-linked fake accounts posting about the US presidential election.

If your politics bend to the left, you probably didn't hear that the Senate investigation of Hunter Biden alleges he paid 'trafficked hookers'.
*MILITARY SUICIDES UP 20 PERCENT AMID CORONAVIRUS, WRS, NATURAL DISASTERS, AND CIVIL UNREST:

Military suicides have increased by as much as 20 percent in 2020 over the same period in 2019. Senior military leaders say there has also been an increase in violent behavior due to the stress caused by the coronavirus pandemic, war-zone deployments, natural disasters, and civil unrest. Some army officials say they have seen a 30 percent increase in active duty suicides and are considering shortening combat deployments to try to ease stressful situations. The Pentagon did not share official data, but the military officials interviewed by the AP say the timing of the increase and the pandemic and other disasters leaves little doubt that they are related. "I can't say scientifically, but what I can say is—I can read a chart and a graph, and the numbers have gone up in behavioral health related issues," Army Secretary Ryan McCarthy said. "We cannot say definitively it is because of COVID. But there is a direct correlation from when COVID started, the numbers actually went up."
*THREE TRAYS OF MAIL, INCLUDING ABSENTEE BALLOTS, FOUND IN WISCONSIN DITCH:
Three trays of mail which allegedly included absentee ballots were found in a Wisconsin ditch Tuesday, and police are now investigating how the mail ended up there. The mail was found around 8 a.m. Tuesday morning near a highway intersection in Greenville and was quickly brought to the United States Postal Service (USPS), the Outagamie County Sheriff's Office said. It is unclear how many absentee ballots were found and whether or not they were filled in. "The U.S. Postal Inspection Service is investigating this matter," a spokesman for the U.S. Postal Inspection Service said.
*NETFLIX SUBSCRIPTION CANCELLATIONS SOAR AFTER 'CUTIES' CONTROVERSY:
Forget Netflix and chill, more like Netflix, and cancel. The mega-streaming company has seen a slew of subscription cancellations after the release of "Cuties," amid charges that the film is tantamount to child pornography. Netflix released the movie on Sept. 9, followed quickly by a campaign by critics urging subscribers to #CancelNetflix. Three days later, cancellations increased to eight times the daily averages recorded in August. With the #CancelNetflix hashtag continuing to trend on social media, it is possible elevated churn could continue in the coming days, according to the firm," Variety wrote, citing data from research company YipitData.Things might get worse for Netflix. Sen. Ted Cruz (R-TX) is urging the Department of Justice to launch an investigation into Netflix's involvement with the movie.

"The film routinely fetishizes and sexualizes these pre-adolescent girls as they perform dances simulating sexual conduct in revealing clothing, including at least one scene with partial child nudity. These scenes in and of themselves are harmful. And it is likely that the filming of this movie created even more explicit and abusive scenes, and that pedophiles across the world in the future will manipulate and imitate this film in abusive ways," Cruz wrote to Attorney General William Barr.

*MINNEAPOLIS COUNCILLORS WHO VOTED TO DEFUND THE POLICE NOW REGRET IT:
Minneapolis shocked the country in June when the majority of its city council pledged to defund the police department in the wake of George Floyd's death. But some of the nine council members who supported the pledge told The New York Times they now regret it. Many activists and observers took the pledge to be literal but Councilor Andrew Johnson said he intended it to be "in spirit." Councilor Phillipe Cunningham said the language in the pledge was "up for interpretation" and had been understood differently by each councillor. Lisa Bender, the council president, said it had "created confusion."
A recent spike in crime in Minneapolis has led many residents to reevaluate their support for reducing police numbers, and some told the Times they never supported the idea to begin with. Mayor Jacob Frey, who was booed out of a protest for refusing to support defunding the police, said the pledge was confusing and vague.
*EXAMINER – INVESTIGATES: PUPPY LOVE- NEW DATING SITE 'PINDER' CONNECTS LONELY PETS

It's puppy love at first swipe. A new relationship Web site has hit the dating market, but there's a catch: All users must have four legs. The site, called Pinder, is a play on the widely popular dating app Tinder, but instead of swiping right or left on a potential human hookup, all of the eligible singles are pets. "We're just taking the effective format of Tinder and applying it to the pet community," said Pinder founder Kevin Botero. The site is new, but a quick scan of users shows a pooch named Max from Seattle dressed as a postman, a Brooklyn-based terrier named Charlie rocking a "Where's Waldo" suit, a pig named Lucy who's based in Austin and loves to snack on cabbage and more. While Pinder was created primarily for pet parents to hook up pals for their pooches, finding a human mate is also part of the fun.

"I personally know relationships that have come about through people walking their pets in the park, so it's definitely possible," said Botero, 26. "On Pinder, you're getting that level of pet-obsessed parent you're looking for, which in reality is somebody just like you."Pet parents aren't the only ones getting frisky: "Finding a dog to breed with is [also] possible." Users start by creating profiles for their furry friends — including a photo, location and favorite snack — and can get to swiping "yes" or "no" (signified with a heart or X icon) on the cutest pups and kitties.Once a match is made, the pet parents have the option to start privately communicating with one another via social media including Facebook, Instagram or TikTok.


*EXAMINER – A LOOK BACK:


Last know photo of killer Charles Manson, who died in jail at age 83.
* WAKE THE HELL UP! – READ LBN EXAMINER:
84% of Examiner readers in all 50 of the United States and 26 foreign countries find it "fearlessly independent" and "unbiased".
Now you can invite your friends and family to sign up to receive the LBN Examiner for free (if you've got the guts) —– www.LBNExaminer.com
*EXAMINER – THOUGHT FOR THE DAY:



  In the second and final volume of his biography of Hitler, author Volker Ullrich argues that the very qualities that accounted for the dictator's astonishing rise were also what brought about his ultimate ruin. "Hitler: Downfall, 1939-1945" arrives in English four years after the publication of "Hitler: Ascent, 1889-1939." It's a biographical project that consumed eight years of Ullrich's life and "took a definite psychological toll," he writes in his introduction to the second volume.

Like the British historian Ian Kershaw, who divided his own two-volume biography of Hitler into "Hubris" and "Nemesis," Ullrich suggests that the Hitlerian regime was capable of only two registers: euphoria and despair. Hitler was shrewd about seizing power, but he was too restless and reckless to govern. A Third Reich that cultivated peaceful stability was simply unfathomable.
*TELL YOUR STORY TO ALL "INFLUENTIAL" EXAMINER READERS:



Now you can tell your unique story to the "influential" Examiner readers in all 50 of the United States and 26 foreign countries.

For the last 16 years, the LBN Examiner has been read and trusted by some of the world's most important people —- ***3 Nobel Prize winners   ***12 members of the White House staff   ***Over 100 winners of the Academy Award   ***6 U.S. Senators    ***Over 300 winners of the Grammy Award.

Called "one of the best message bargains on the web", you can now tell YOUR story with a maximum of 200 words with one photo and your web link for the low cost of $200.

Bonus:
1. 1 message for $200.

2. 3 messages for $500.

3. 5 messages for $750.

And the best part – it's simple! Send us your message (maximum 200 words) with your photo and web link. We will approve and run and you can pay via PayPal, Credit Card or check – your convenience.


*EXAMINER – HISTORY: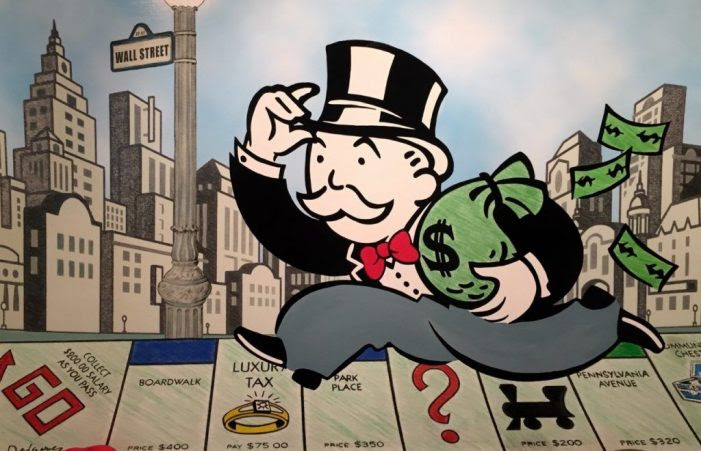 The Dow Jones Industrial Average often referred to as the Dow, is the best-known and most widely followed market indicator in the world. Tracking the performance of 30 blue-chip US stocks—which sometimes change—the Dow is thought to reflect the overall condition of the US economy. In 1932, the Dow reached its lowest point of the Great Depression, closing at 41.22—down almost 90 percent since 1929. It did not return to pre-1929 levels until 1954.
*THINK FREELY – BE INDEPENDENT – MAKE UP YOUR OWN (DAMN) MIND: READ LBN EXAMINER



 
*EXAMINER – BUSINESS INSIDER:

Around the world, people have been turning to swapping, trading and bartering during the coronavirus pandemic, whether to do their bit for the local community, save money or simply source hard-to-find baking ingredients. With economic uncertainty looming and anxiety levels soaring, barter is becoming an emerging alternative solution to getting by – and staying busy – amid Covid-19.


*WHO READS LBN EXAMINER?:
Tennis icon Serena Williams, along with 12 members of the White House staff, 3 Nobel Prize winners, over 100 Academy Award winners, 6 U.S. Senators, and over 300 Grammy Award winners.
*EXAMINER – A DIFFERENT VIEW:….
P.R. PRIME – The P.R. Revolution is underway…….

Witness here: www.PRPrime.net
 
Aurora DeRose
www.PRPrime.net
E-mail: Aurora411@TimeWire.net
 

LBN Examiner Edited By: Aurora DeRose    LBN Examiner Disclaimer: 1.) The LBN Examiner accepts no liability for the content of this email, or for the consequences of any actions taken on the basis of the information provided. The LBN Examiner is not associated with any commercial or political organization and is transmitted via the web for the sole benefit of its subscribers. 2.) Unfortunately, computer viruses can be transmitted via email. The recipient should check this mail and any attachments for the presence of viruses.