*EXAMINING FROM THE INDEPENDENT CENTER:
If your politics lean right, you likely didn't hear that the US government has reversed course to temporarily halt the deportation of women who allege abuse by a gynecologist in a Georgia detention center.

If your politics bend to the left, you probably didn't hear that a new poll of Republicans shows that 54% would vote for Trump in a potential 2024 run, and 8% would vote for Donald Trump Jr.
*WOKE ALERT – SAN DIEGO TEACHERS FORCED TO ATTEND ' WHITE PRIVILEGE' TRAINING, 'YOU ARE RACIST':
All San Diego teachers are being required to attend a "white privilege" training in which they are told, "you are racist" and must commit to becoming "anti-racist" in the classroom, according to a report. The San Diego Unified School District begins the sessions with instructors telling the faculty members that they will experience "guilt, anger, apathy [and] closed-mindedness" because of their "white fragility," according to leaked documents obtained by journalist Christopher F. Rufo. During the training, the teachers are taught about "land acknowledgment" and asked to accept that the US was established on stolen Native American land, the report said.

They also learn about the teachings of "White Fragility" author Robin DiAngelo and "Be Antiracist: A Journal for Awareness, Reflection and Action" author Ibram X. Kend. After watching clips of the two authors, the trainers tell the group that "you are racist" and "upholding racist ideas, structures, and policies." The group is challenged to become "anti-racist" in the classroom as well as "confront and examine [their] white privilege" and "teach others to see their privilege," according to the report. The school district didn't immediately respond to request for comment.
*VAN MORRISON SINGS FOR THE VOICELESS:
Van Morrison knows what censorship means even if Internet mobs don't. He has released three new songs, "No More Lockdown," "As I Walked Out," and "Born to Be Free," that movingly speak against the new autocratic culture that too many people — especially trusted media figures, particularly left-leaning pop artists — accept without flinching.The hysterical social-media response castigating Morrison's compassionate new music (a fourth song, "Stand and Deliver," is promised) only proves his point: We are deep into a second wave of undemocratic submission. It's taken such a strange turn that Twitter thugs set out to rewrite cultural history, denying Morrison's expressive genius in songs such as "Gloria," "Brown-Eyed Girl," "Domino," "Moondance," "Into the Mystic," and the masterpiece albums Astral Weeks and Irish Heartbeat. The hecklers are trashing his musical legend ("He was never any good!") merely to explain their own unease. Morrison's anti-lockdown songs — his freedom songs — disturb their willing obedience to political authority.

COVID conformity also overwhelms many people's instincts when politicians use fear as a tactic of mind control. Morrison, whose most fascinating work creates a musical vocabulary expressing his personal relation to Christianity and his ongoing spiritual search, sees pandemic panic for what it is and counters the fear of death that grips our secular society. It has become a weapon of the media elite, instilling a perverse desire for political domination, so Morrison makes the most political — and potentially popular — music of his career, hoping to spark his listeners' life-affirming instincts. "No more threats," Morrison proclaims on "No More Lockdowns." In the lost tradition of the Beatles' "Revolution," Morrison finds means to oppose status-quo quasi-liberalism: "No more celebrities / Telling us what we're supposed to feel."
*NYC'S ICONIC 21 CLUB TO SHUT DOWN FOR GOOD: 
New York City's iconic 21 Club restaurant is closing down after 90 years of good food and even better celebrity intrigue. The historic Midtown eatery — a favorite haunt for John Steinbeck, Ernest Hemingway and Frank Sinatra, and a dining spot for nearly every president since FDR — has shuttered its jockeys-guarded doors indefinitely, a rep told The Post. Its 148 employees have been told that they'll all be out of a job as of early March. "The company is exploring potential opportunities that will allow 21 Club to remain a viable operation in the long term, while retaining its distinctive character," a spokesperson told The Post.

"At this early stage, we are not ready to announce any final concept or timeframe, but the vision is that 21 Club will always remain an important social and cultural hub and icon of New York, one that is well positioned to fulfill its role in the City's exciting future when the time comes." News of 21's closing came just hours after Gov. Cuomo announced that indoor dining will shut down yet again throughout the state on Monday due to increasing COVID-19 cases, hospitalizations and deaths. The restaurant had already been shuttered since March, 2020 "to help reduce the spread of the coronavirus and protect its guests and employees," the rep said.
"In light of the ongoing global crisis and anticipated extended recovery period for the hospitality industry, the difficult decision has been made that it will not be feasible to reopen the 21 Club in its current form for the foreseeable future."

The eatery opened on January 1, 1930, quickly becoming one of America's most famous speakeasies from the Prohibition Era, a description from its Facebook page says.
The restaurant features 10 private dining rooms, including a Prohibition-era wine cellar, and is steeped in legend.
With the exception of George W. Bush, every president since Franklin Delano Roosevelt has dined at 21.
*NEWSMAX TV SCORES A RATINGS WIN OVER FOX NEWS FOR THE FIRST TIME EVER:

Newsmax TV has notched a ratings win over Fox News Channel for the very first time. The win, fueled by conservative viewers who are disappointed by the election results, happened Monday evening. In the key 25- to 54-year-old demographic prized by advertisers, "Greg Kelly Reports" on Newsmax out-rated "The Story with Martha MacCallum" on Fox. The margin was narrow — Kelly averaged 229,000 viewers in the demo and MacCallum averaged 203,000 — but it is still a milestone in the cable news industry.
*WORLD'S PREMIER PLANT-BASED MYLK (MILK), aMYLK, LAUNCHES NATIONAL SHIPPING IN TIME FOR THE HOLIDAYS: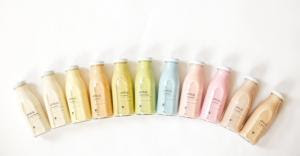 aMYLK has been surprising and delighting customers one sip at a time since the summer of 2017 when it launched through POP-UP markets at famed retailer Anthropologie's Locally Yours Marketplace. aMYLK soon after began distributing with an "old fashioned milkman" style delivery program and then launched full scale at Portland area farmers markets in the summer of 2019. Known to "sell out" regularly, aMYLK has developed a cult like following for its glass bottled, super creamy lineup of colorful, additive free almond and hazelnut based mylks. Particularly popular is the Super aMYLK line which includes superfoods and adaptogens like blue algae and crushed freshwater pearls with names like "I'm Special", "I'm Beautiful" and "I'm Joyful".
Beginning next week on Monday December 7th, aMYLK will be offering national shipping just in time for the holidays. aMYLK is the perfect holiday gift for the wellness minded foodie. aMYLK's Founder, Amy Colville, started aMYLK after years of struggle with food sensitivities caused by stress-related auto immune issues: "I created aMYLK as a pure plant-based dairy alternative to help inspire greater clarity, vitality, energy and joy for myself, my family and my community," states Amy Colvilile. "I couldn't find a nutrient dense, gum free alternative mylk product in the marketplace that actually tasted good, or didn't upset my stomach, so I decided to make my own."
Amy Colville continues, "I am incredibly excited to extend our reach beyond the Portland area so that we can meet the needs of a larger customer base. My goal is to make the best plant-based mylk in the world. I hope aMYLK will inspire you to live your healthiest, most joyful life. aMYLK is the purest plant-based dairy alternative in the marketplace. I never add any gums, emulsifiers, oils, or synthetic ingredients and each of my glass bottled mylks are made with at least 25% nuts compared to the 2-5% typically found in other products."
*GOOGLE ATTEMPTING TO HAMSTRING SM KIDS LAWSUIT:

SM Kids, LLC, a company that aims to provide safe, fun and educational multimedia content for children, is suing Google for violating a 2008 Settlement Agreement with SM Kids' predecessor, Googles. For its part, Google is doing everything it can to avoid having to reveal any information about its decision to make children's products–in violation of its agreement not to destroy the Googles business. The original slogan of Google was "Don't be evil." When Google changed its corporate name to Alphabet in 2015, it changed the slogan to "Do the right thing." "Google is failing to live up to the spirit of either slogan," said John Magliery, attorney for SM Kids.
SM Kids owns Googles, an online children's platform whose trademarks and domain preceded Google. In 2008, Google settled a trademark dispute with Googles that allowed Google to move forward with its search engine business as long as the company did not offer products similar to the Googles kids website, or create, develop, or publish children's content. Googles, in turn, agreed to not pursue providing internet search services.
Despite the fact that Google subsequently entered into the children's space in violation of the 2008 agreement, Google is now making every effort to avoid having the case litigated on its merits. While SM Kids is seeking to depose past and present Google employees who know about the Settlement Agreement, Google sought to prevent the depositions of all but two of the witnesses, either on the grounds that the witnesses are lawyers or high-level executives, or because Google would prefer a witness of its own choosing testify on the topic for which the targeted deponent is most knowledgeable. Google filed a letter motion for a protective order on November 20, 2020. SM Kids opposed and cross-moved for an order compelling the depositions.
At the same time, SM Kids moved for an order compelling Google's production of documents. Knowing that there is a short window for discovery permitted by the Court, Google has waited until the eleventh hour, just before depositions are to begin, to reveal that it will not produce any real documents about this case. This, in addition to Google's attempt to prevent the depositions of nearly all of the relevant witnesses. Ultimately, the Court ruled that SM Kids is entitled to take the depositions of the lawyers who negotiated and signed the 2008 settlement agreement, Adam Barea and Timothy Alger, and is entitled to take the deposition of at least one of the high-level executives who knows about Google's children's projects and services and why, apparently, Google ignored the 2008 settlement agreement when it decided to make those products. The depositions will occur over the next month.
"We wish this dispute could have been avoided, but SM Kids has been given no choice but to protect its rights. Therefore, we are forced to have our day in court against Google, and we will not be dissuaded by their strategy," said Magliery. "Children have a right to a safe space on the internet, where parents do not have to be concerned about compromising their children's safety or personal data. Google has a track record of failing to screen for unsafe content and collecting data on children for its own profits. Together with the antitrust case the government has brought, it's obvious that Google seeks to crush its competitors. Beyond that, Google has hampered SM Kids every step of the way as they have worked to create a modern, safe space for kids online. Now we are saying 'enough'."


*EXAMINER – INVESTIGATES:
Holiday retailers use music to attract potential shoppers. For example, if shoppers like the type of music retailers are playing, they will be more likely to enter the store and like the products. Additionally, the slower the tempo of the music, the slower people will walk through the store, and the more they will buy. A faster tempo will encourage shoppers to walk faster and, consequently, they won't buy as much.


*EXAMINER – SEE IT:
Ben Affleck and Ana de Armas got cozy in New Orleans behind the scenes of their latest project.
*EXAMINER – TECH: NO LONGER GOLDEN STATE – ELON MUSK MOVES TO TEXAS, ABANDONS CA



Texas has a new, very rich resident. Elon Musk, the founder of Tesla and SpaceX and the world's second richest man, has said he has quit California for the Lone Star State, where Tesla's new factory is being built, after a series of well-publicized run-ins with California authorities over his coronavirus strategy. Musk refused to obey orders to keep shuttered his factories in the early days of the pandemic. Musk revealed his move at an event organized by The Wall Street Journal. He said the San Francisco Bay Area "has too much influence on the world," but added that he believed the power locus was shifting, saying, "I think we'll see some reduction in the influence of Silicon Valley." Conveniently for Musk, who qualified this year for billions of dollars in stock-option compensation as part of a pay-package agreement, Texas doesn't collect state income or capital-gains taxes for individuals.

*BREAK FREE – BE INDEPENDENT:
READ LBN EXAMINER


Now more than ever influencers throughout the world are craving fearless independent, trusted, factual information. Since 2002, influencers in all 50 of the United States and 26 foreign countries has delivered which is exactly why it is read by *3 Nobel Prize winners, *12 members of the White House staff, *over 100 Academy Award winners, *6 US Senators, *over 300 Grammy Award winners, *hundreds of professors at Harvard, Yale, Oxford.

*EXAMINER – MUSIC:


Hey Smokey and Stevie the Greatest
Seeking collaborators for the production of 21st Century "We Are the World

Dad composed "Christmas Friends" years ago and it was never produced. Now let's rewrite and simplify with different messages.

Hip hop interlude is to go between verse 1 & 2. Master rap creators are welcome to submit their work via the posting of the demo on https://soundcloud.com/kuntarak/christmas-friends
Masterful vision — producers, management, songwriters, musicians, videographers. Join in with us to make the meaningful Christmas song of the ages
Best Holiday Wishes To All
 
SADA
Uplift social consciousness for the benefit of mankind
 https://www.youtube.com/watch?v=Ieieok-5czY&feature=youtu.be

Contact: bladestudioatl@gmail.com
*WHAT'S UP by Sarah Garcia:
***Liberals idea of "fairness" in relieving student debt is giving graduates of elite institutions a taxpayer-funded handout. What about the 64% of Americans who didn't go to college who are trying to make ends meet? What about those who worked hard to pay off their loans?

***The "kingmaker" looks more like a court jester. Billionaire former Big Apple Mayor Mike Bloomberg dumped about $100 million into a bid to help Joe Biden defeat President Trump in Florida, Ohio and Texas — but his candidate lost all three anyway.


*EXAMINER – LENS:
Ben Crump, attorney for George Floyd's family. "Justice for George would be that the police officers who tortured him to death be held fully accountable to the full extent of the law.


*EXAMINER – A LOOK BACK:
The Beatles before they were "The Beatles"
*THINK FREELY – BE INDEPENDENT – MAKE UP YOUR OWN (DAMN) MIND: READ LBN EXAMINER


*WHO READS LBN EXAMINER?:
Musician Lenny Kravitz, along with along with 12 members of the White House staff, 3 Nobel Prize winners, over 100 Academy Award winners, 6 U.S. Senators, and over 300 Grammy Award winners.


*TELL YOUR STORY IN THE LBN EXAMINER 
"The Best Promotional Deal On The Web" 


Now YOU can tell YOUR unique story in the world-famous LBN Examiner – www.LBNExaminer.com – and communicate directly with LBN readers in all 50 of the United States and 26 foreign countries.

Amazing coverage with YOUR story, YOUR headline, YOUR photo and YOUR website. And then, of course, you can share this LBN story on all YOUR Social Media! And it's really easy to do. Simply send your story (not to exceed 250 words) including a photo and link to: LBNExaminer@TimeWire.net. We will approve and run.

The cost is a mere $250 payable via PayPal or credit card. This is (by-far) one of the best deals in the world of digital promotion and only available to LBN subscribers.

*EXAMINER – A DIFFERENT VIEW:….

LBN Examiner Disclaimer: 1.) The LBN Examiner accepts no liability for the content of this email, or for the consequences of any actions taken on the basis of the information provided. The LBN Examiner is not associated with any commercial or political organization and is transmitted via the web for the sole benefit of its subscribers. 2.) Unfortunately, computer viruses can be transmitted via email. The recipient should check this mail and any attachments for the presence of viruses.