*EXAMINING FROM THE INDEPENDENT CENTER:
If your politics lean left, you likely didn't hear that a major leak of Chinese Communist Party members' database shows party members in executive positions at foreign institutions across the West.
If your politics bend to the right, you probably didn't hear that contractors on President Trump's border wall were allegedly bringing over Mexicans illegally to guard the wall construction sites.
*WOKE POLICE ALERT!-UNIVERSITY CLAIMS WORDS 'PICNIC' & 'BROWN BAG' ARE OFFENSIVE:



The University of Michigan has a "Words Matter Task Force." Seriously. Maybe that's why out-of-state tuition costs more than $66,000 a year. The WMTF, set up by the school's Information and Technology Services (ITS) department, has declared that it finds more than two dozen words and phrases possibly offensive to people, including "picnic," "brown bag" and "blacklist." "To effectively communicate with customers, it is important for ITS to evaluate the terms and language conventions that may hinder effective communication, harm morale, and deliberately or inadvertently exclude people from feeling accepted to foment a healthy and inclusive culture," the task force said in a memo. The WMTF offers alternative words to use, for instance urging people to say "gathering" instead of "picnic" and "lunch and learn" instead of "brown bag."

"The word 'picnic' appears to be banned because of false suggestions on the internet that it originates from the racist, extrajudicial killings of African Americans," The Daily Mail reported. "The word picnic actually comes from the 17th century French word 'pique-nique,' a term used to describe a social gathering in which attendees each contributed with a portion of food." In July, the Reuters News Agency published a piece headlined: "Fact check: The word picnic does not originate from racist lynchings.""Images circulating on social media make the claim that the word "picnic" originates from the racist, extrajudicial killings of African Americans. This claim is false." Among other banned words include "dummy," which should be replaced by "sample," and "crippled," which should be replaced with "weakened." And instead of saying "crazy," staff are encouraged to say "unthinkable."

The task force also said "off the reservation" should be replaced with "outside the norms" or "rogue." The language police have had a busy year in 2020. They killed the NFL team name of the Washington Redskins, which has so far been replaced only with "Washington Football Team" Then they went after "low-hanging fruit," which the Oxford Dictionary defines as "a thing or person that can be won, obtained, or persuaded with little effort." But a college professor said the term is racist. "For African-Americans, if you say 'low-hanging fruit,' we think lynching," said Mae Hicks-Jones, an adjunct faculty member of Elgin Community College in Illinois.

"Grandfathered" is also racist, she said, according to a report in the College Fix. To Hicks-Jones, the phrase is reminiscent of a grandfather clause, which privileged white people's right to vote over that of black people during the Jim Crow South. Then there was the "Masters" golf tournament. Rob Parker wrote a Deadspin headlined "We've Lived with 'The Masters' Name Long Enough." "Augusta National was built on grounds that were once a slave plantation and was the property of a slave owner. And according to a 2019 New Yorker piece about the course, it's believed that enslaved Blacks were housed on the property," he wrote. Oh, there's more. The largest cosmetics company in the world announced that it will remove words like "whitening," "fair" and "lightening" from the packaging of its products. "The L'Oreal Group has decided to remove the words white/whitening, fair/fairness, light/lightening from all its skin evening products," the French cosmetics giant said in statement, according to The Associated Press.

*CONGRESSMAN-ELECT SAYS CAPITALISM IS THE "NEW SLAVERY":

The Squad has a new member in Jamaal Bowman, a Democrat elected to represent New York's 16th district. The soon-to be sworn in freshman House member has called capitalism the new slavery. Bowman is openly against capitalism and preaching the gospel of government involvement and control in all aspects of our lives. "Bowman ran on a platform that included a 'reconstruction agenda' which supports taxing the rich and creating 'baby bonds' that would create an account for all newborn children with an initial deposit of $1,000 and every year until the child turns 18 an additional $2,000 would be deposited."
*WTF? – EX-BIN LADEN HENCHMAN FREED FROM NJ PRISON AFTER JUDGE DEEMS HIM TOO FAT FOR JAIL:
A former Osama bin Laden henchman convicted in two deadly 1998 bombings is free and living in the UK this week after being released early — thanks to a Manhattan federal judge who agreed the terrorist was way too obese to survive the coronavirus behind bars. Adel Abdel Bary, 60, had spent 21 years in a New Jersey prison for his role in the 1998 al Qaeda bombings of two US embassies in Africa that killed 224 people, including 12 Americans."Defendant's obesity and somewhat advanced age make COVID-19 significantly more risky to him than to the average person," US District Judge Lewis A. Kaplan wrote in granting the release.

Bary had been set to be freed on Oct. 28, but his attorneys asked that he be let out sooner, citing their ­client's age, girth and asthma. "Mr. Bary's continued incarceration now significantly increases his risk of infection, which could wreak disastrous health outcomes," his lawyer wrote in court documents. While prosecutors didn't agree that Bary's age made him more at risk to catch COVID-19, they did concede his body mass index of 36 did. "The defendant's obesity is an extraordinary and compelling reason that could justify a reduction of his sentence in light of the current pandemic," they wrote.

*BILL GATES MAKES BLEAK PREDICTION FOR WHEN CORONAVIRUS WILL FINALLY END:

Bill Gates has offered his prediction for when the coronavirus pandemic will finally be over. The billionaire Microsoft founder has made a number of guesses about key events of the global health crisis that has brought the world to a standstill, most of which have been proven correct. Sadly he doesn't think we'll be completely back to normal until halfway through 2022, although he believes things could start resuming in some countries over the spring of 2021. The Bill & Melinda Gates Foundation announced it's committing a further $250 million to "support the research, development, and equitable delivery of lifesaving tools" in the fight against Covid-19.

It brings the charity's total contributions to the pandemic to $1.75 billion. Gates says the recent groundbreaking developments in vaccines are a good sign that the end of the pandemic could be in sight, but it will be some time until the entire world sees its benefits. "By the summer of 2021, the rich countries will have more vaccine coverage than other countries," he said. "So, the rich countries will be going mostly back to normal. But I still think because the virus will be in the world, we still will be somewhat conservative about large public events, we will still have some mask-wearing.

*SUICIDES AMONG U.S. KIDS, YOUNG ADULTS JUMPED 57% IN PAST DECADE:
Increasing numbers of American children and young adults died by suicide in recent years, and the Covid-19 pandemic threatens to continue the trend. Suicide rates among youth ages 10 to 24 increased by 57% between 2007 and 2018, data released from the National Center for Health Statistics shows, rising from almost 7 per 100,000 population to nearly 11. Comparing three-year averages from 2007 to 2009 to the time period between 2016 and 2018 brought the increase down to 47%.
*SUBMITTED FOR YOUR APPROVAL – SEATTLE CONSIDERING 'POVERTY DEFENSE' EXEMPTING CRIMINALS BASED ON THEIR NEEDS:

The Seattle City Council is considering changing the criminal code so that criminals who have committed trespassing, theft, or even simple assault could be exempt from prosecution if they could prove that their survival depended on their criminal acts. Councilmember Lisa Herbold and Anita Khandelwal, the King County's director of the Department of Public Defense, introduced the idea of changing the criminal code. Herbold first brought the idea of what is nicknamed the "poverty defense" in October.

KOMO reported at the time:If approved, the ordinance would excuse and dismiss — essentially legalizing — almost all misdemeanor crimes committed in Seattle by offenders who could show either: Symptoms of addiction without being required to provide a medical diagnosis; Symptoms of a mental disorder; or Poverty and the crime was committed to meet an "immediate and basic need." For example, if a defendant argued they stole merchandise to sell for cash in order to purchase food, clothes or was trying to scrape together enough money for rent. The accused could not be convicted.

"The advocates' proposal covers all misdemeanor crimes, except DUIs and domestic violence cases," KIRO 7 noted. Khandelwal stated, "In a situation where you took that sandwich because you were hungry and you were trying to meet your basic need of satisfying your hunger; we as the community will know that we should not punish that. That conduct is excused," according to KOMO.
*HOW TO TELL IF YOUR HEART IS IN GOOD HEALTH: CAN YOU CLIMB 4 FLIGHTS OF STAIRS IN 90 SECONDS?:
Think you're in pretty good shape but don't use a Fitbit or other smart devices to keep track of your health? No problem, researchers with the European Society of Cardiology say all you need is a stopwatch and a few flights of stairs. Their study reveals the time it takes someone to climb four flights of stairs can reveal their overall heart health and risk for coronary artery disease. "The stairs test is an easy way to check your heart health," says study author Dr. Jesús Peteiro, a cardiologist at University Hospital A Coruña, in a media release. "If it takes you more than one-and-a-half minutes to ascend four flights of stairs, your health is suboptimal, and it would be a good idea to consult a doctor." The study examined 165 patients who displayed symptoms of coronary artery disease and had been referred for exercise testing on their hearts. Each of these patients had been dealing with issues including chest pain or shortness of breath while exerting themselves. Researchers wanted to study the link between regular daily activities (like climbing stairs) and lab exercises for heart patients. "The idea was to find a simple and inexpensive method of assessing heart health," Dr. Peteiro adds. "This can help physicians triage patients for more extensive examinations."

Participants first walked or ran on a treadmill, with the intensity gradually increasing, until they became exhausted. Researchers measured the results in metabolic equivalents (METs), which reveals a link to mortality rate. The more METs someone exercising can achieve, the lower their chances of premature death are. After resting for 15 to 20 minutes, the group then climbed up four flights of stairs (60 stairs) without stopping and without running. Patients who took between 40 and 45 seconds to go up the stairs averaged between nine and 10 METs during the exercise test. Study authors say reaching 10 METs during exercise has a connection to low mortality rates (less than one percent per year). On the other hand, patients who took 90 seconds to make it up the stairs averaged under eight METs. This translates to a mortality rate of two to four percent each year, or 30 percent over 10 years.
*EXAMINER – INVESTIGATES:
James Buchanan is the only bachelor president. He was virtually inseparable from William R. King (1786-1853), a senator from Alabama, earning the pair the nickname "Miss Nancy and Aunt Fancy" and "Mr. Buchanan and his wife."


EXAMINER – SEE IT:



Actress, Aubrey Plaza
*DON'T LOSE YOUR STING – READ LBN EXAMINER:



Now more than ever influencers throughout the world are craving fearless independent, trusted, factual information. Since 2002, influencers in all 50 of the United States and 26 foreign countries has delivered which is exactly why it is read by *3 Nobel Prize winners, *12 members of the White House staff, *over 100 Academy Award winners, *6 US Senators, *over 300 Grammy Award winners, *hundreds of professors at Harvard, Yale, Oxford.


*EXAMINER – ECONOMICS: FEDERAL GOV SPENDING NEARLY TWICE AS MUCH AS IT'S TAKING IN



  Two months into fiscal 2021, the federal government has spent nearly twice as much money as it has taken in through revenue after posting a 14th consecutive month of deficit spending. According to the Treasury Department spending data, the federal government ran a $145 billion deficit in November, driven heavily by spending on Social Security benefits, health care and national defense.

Combined with October's $284 billion deficit, the federal government has spent $887 billion in fiscal 2021—nearly twice the $457 billion it has captured thus far through taxes and other forms of revenue. The government's deficit spending follows a record-breaking fiscal 2020, wherein agencies combined to spend a record $6.5 trillion, with a total deficit of $3.1 trillion. A sizable portion of spending in late fiscal 2020 was driven by spending on coronavirus relief packages and some decreases in collected revenue. Congress is currently considering another COVID-19 relief bill worth more than $900 billion.

*EXAMINER – A LOOK BACK:



Hillary Rodham Clinton in 1970.
*THINK FREELY – BE INDEPENDENT – MAKE UP YOUR OWN (DAMN) MIND: READ LBN EXAMINER




*EXAMINER – MUSIC:



Taylor Swift surprised fans with a second album written and recorded during the coronavirus lockdown, "Evermore."


*EXAMINER – LENS:



A humpback whale surfaces near the Statue of Liberty in this photo taken from a boat on New York Harbor in New York City.


*WHO READS LBN EXAMINER?: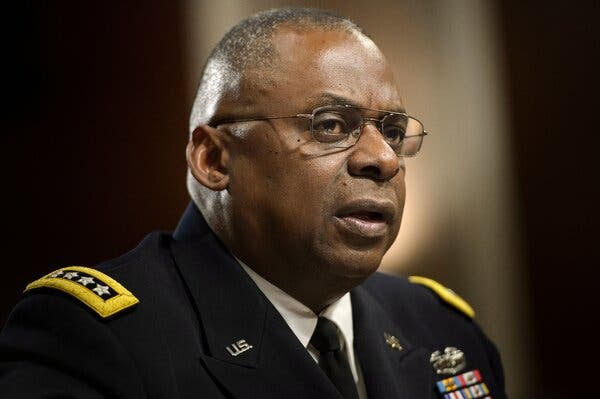 General Lloyd Austin, former head of Central Command along with 12 members of the White House staff, 3 Nobel Prize winners, over 100 Academy Award winners, 6 U.S. Senators, and over 300 Grammy Award winners.
*EXAMINER – A DIFFERENT VIEW:….
LBN Examiner Edited By: Aurora DeRose
LBN Examiner Disclaimer: 1.) The LBN Examiner accepts no liability for the content of this email, or for the consequences of any actions taken on the basis of the information provided. The LBN Examiner is not associated with any commercial or political organization and is transmitted via the web for the sole benefit of its subscribers. 2.) Unfortunately, computer viruses can be transmitted via email. The recipient should check this mail and any attachments for the presence of viruses.