*EXAMINER – READER QUESTION: 
How would the world have reacted differently if the Coronavirus had started in either America or Israel instead of China?

Please send your reply to: LBNExaminer@TimeWire.net


*TWILIGHT ZONE? – 'SAN FRANCISCO CAN'T FIGURE OUT HOW TO SAFELY OPEN SCHOOLS BUT THEY HAVE TIME TO CANCEL LINCOLN': FURY AS BOARD VOTES TO RENAME 44 SCHOOLS HONORING 'RACIST' SUCH AS WASHINGTON AND JEFFERSON:

The San Francisco school board has voted to strike the names of George Washington, Thomas Jefferson and Abraham Lincoln from the district's institutions, it was revealed. The former presidents were among the historical figures deemed by the board members to have ties to racism or have 'dishonorable legacies' in a 6-1 vote, which will see 44 local public schools forced to change their names. The controversial move follows a wave of anti-racism protests that swept the country last summer in the wake of the deaths of George Floyd and Breonna Taylor, resulting in statues of Confederate leaders, in particular, being torn down.

The decision in San Francisco resulted in anger from some policy makers, including Arkansas senator Tom Cotton, who believe the school board should instead be concentrating on how to bring students back to in-person learning during the pandemic. Among the other names on the newly banned list are Francis Scott Key, who wrote the words to the national anthem; former presidents William McKinley, James Garfield, James Monroe and Herbert Hoover;Revolutionary War hero Paul Revere; and author Robert Louis Stevenson. Even current senator Dianne Feinstein's name did not escape the chopping block, as the first female mayor of San Francisco and lifelong Democrat became the only living person whose name was noted for removal.
*WILD SCENE – DOCS VACCINATED PEOPLE ON SEATTLE SIDEWALK IN MAD DASH TO USE 1,600 EXPIRING DOSES:
Medical professionals in Seattle have described insane scenes as they scrambled to give out 1,600 coronavirus vaccine doses that were at risk of going to waste after a freezer broke down late Thursday evening. "We were literally like … who can get people here?" Kevin Brooks, the COO of Swedish Health Services told The Washington Post. "People started texting and calling and we were just counting down." Well-past 3 a.m. they still had dozens of vaccines that needed to be used. With minutes to go before the doses were set to expire, staff ran out onto the streets to find people and offer them vaccines; an old woman in flip-flops got hers on the sidewalk and some people received theirs through their car windows. Earlier this week, Oregon health-care workers who were stranded in a snowstorm vaccinated nearby drivers in order to salvage soon-to-expire vaccine doses. "When I got the call they're like, 'it's kind of like our snow moment,'" Jennifer Brackett, a hospital administrator at UW Medicine in Seattle said.
*AVERAGE HUMANS ARE FATTER THAN AN ELEPHANT, UNIQUE OBESITY STUDY FINDS:
How are those New Year's weight loss resolutions going so far? For people who need more motivation to cut the fat out of their diet, a new study finds your average elephant is probably in better shape than most humans. An international research team says, despite their massive size, zoo elephants actually carry less body fat than the average person. The team, led by Daniella Chusyd of Indiana University, wanted to understand why Asian elephants (Elephas maximus) living in zoos had lower birth rates than their peers in the wild. Researchers say it was thought these captive elephants were overweight and this was leading to a fertility crisis among the zoo population. Such a connection is similar to what health experts see happening in overweight people. "I was interested in discovering whether methods predominantly used in human health research could help us learn more about elephants," says Chusyd, formerly from the University of Alabama at Birmingham (UAB), in a media release. "Obesity is not clearly defined in humans, let alone elephants."
*THE PANDEMIC IS BAD NEWS FOR SUPER CITIES. HERE'S WHY:

Is remote work here to stay? But many believe that we'll see a permanent transition from "spatial proximity" (work where you live) to "cloud-based connectivity" (work anywhere)… and this will be no bueno for superstar cities.

The key pandemic change isn't technological; it's social
Citing work from economist David Autor, Thompson says that the slow adoption of remote work can be explained by the "telephone problem. "While the telephone was patented in the 1860s, fewer than half of Americans had one 7 decades later. The behavioral changes required to put a ringing box in your house moved a lot slower than the tech itself. The same happened with remote work. Skype was founded in 2003, but telling your co-worker, "Hey, can we just hop on a vid call instead of meeting in person 'cause I don't want to put on pants?" was founded only in 2020.

There's no going back from the Zoom-i-fication of society
As a result of this new normal, Thompson makes 4 predictions:

· Supercommuting: Per Apartment List, rental prices for downtown metro areas are falling (while prices in nearby cities and suburbs are ticking up). Thompson expects this trend to continue.

· Leaving the coast: Superstar cities like SF and NYC have seen major out-migration during the pandemic. Municipal services in these cities rely on property taxes, sales taxes, and transit fees. If services lag due to lower revenues, more people will leave, meaning even less revenue, and so on.

· Rise of the rest: Superstar cities have priced out regular families. Cities in the Midwest (Cincinnati, Cleveland) and the Sun Belt (Phoenix, Austin, Nashville) offer more affordable — and larger — homes.

· All in the cloud: One survey from investor Kim-Mai Cutler found that 42% of founders she spoke to now favor a remote-first firm over a physical HQ (vs. 6% pre-pandemic).


*HOLY SMOKES – CATHOLIC CHURCH RAKED IN $3 BILLION FROM U.S PANDEMIC PAYCHECK PROGRAMS, REPORT FINDS: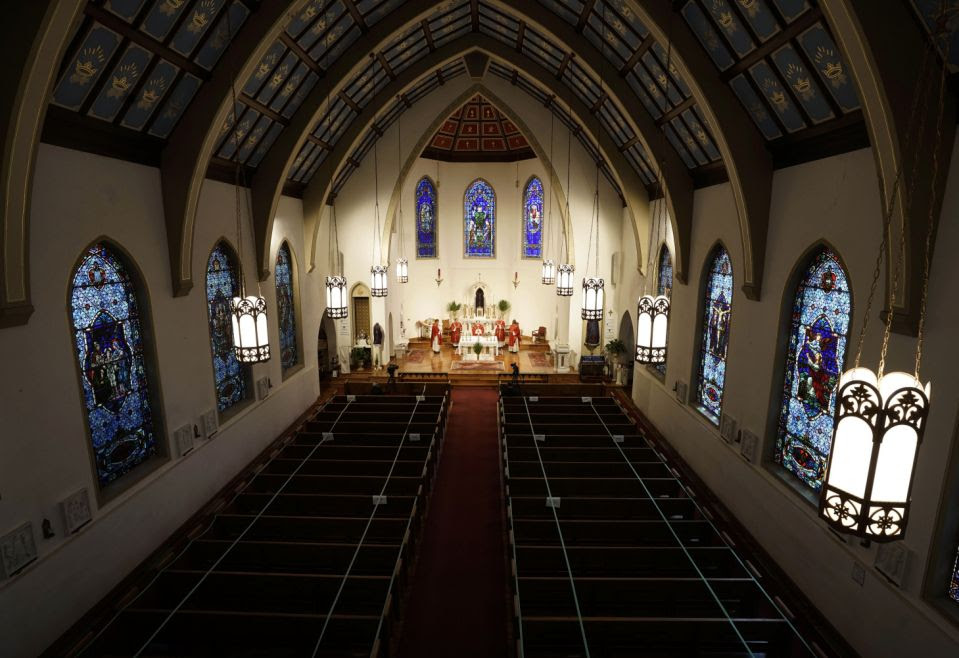 The Catholic Church may have been the single biggest beneficiary of the U.S. Paycheck Protection Program during the COVID-19 crisis, raking in a reported $3 billion in taxpayer-funded business relief. The staggering figure comes from an analysis of the payouts from the Associated Press, which states that $3 billion has been dished out to the nation's dioceses and other Catholic institutions. That money came in despite many dioceses being in good financial health—for example, the Diocese of Charlotte requested $8 million in aid despite having a reported $100 million of their own cash and short-term investments in the bank last spring, when the pandemic hit. Those assets were valued at $110 million by the summer, according to the AP. A spokeswoman for the United States Conference of Catholic Bishops, Chieko Noguchi, said the federal program was designed to help all types of business, "faith-based or secular."
*EXAMINER – THOUGHT OF THE DAY:



"We are not the same persons this year as last; nor are those we love. It is a happy chance if we, changing, continue to love a changed person." –William Somerset Maugham.
*EXAMINER – INVESTIGATES:
Net Worth Before Presidency:
Trump: 3.75 Billion
Obama: 1.3 Million
Clinton: 700K
Carter: 150K

2018-2019 Estimated Net Worth:
Trump: 3 Billion
Obama: 134 Million
Clinton: 243 Million
Carter: 8.5 Million


*EXAMINER – A LOOK BACK:



From a new photo book – The inimitable rebel energy of Madonna is on display in Adore Madonna, a new photo book by the Japanese photographer Kenji Wakasugi (out today on NJG). The monograph contains never-before-seen images from a 45-minute shoot in 1985 for Playboy Weekly Excite during her Madgesty's first visit to Japan, commemorating the success of her breakthrough album Like a Virgin.
*RUN AWAY FROM BIASED NEWS – READ LBN EXAMINER:


  Now you can invite your friends and family to sign up to receive the LBN Examiner for free (if you've got the guts) —– www.LBNExaminer.com


*WHAT'S UP? BY SARAH GARCIA:

  *** Murder rose 95% in Milwaukee, 78% in Louisville, 74% in Seattle, & 72% in Minneapolis. Violent criminals seize the opportunity, while law enforcement fears punishment for doing their job.

***Biden used the word "equity" 21 times in an exec order claiming his policies will unite our nation. Equity requires govt to choose winners & losers based on race, gender & identity. Policies that discriminate will only pit Americans against each other.

***There is a real decision to be made in America right now that will have lasting implications. Choosing between the teachers unions and our children.

*EXAMINER – LENS:

Singer Brittany Spears, 2020
*THINK FREELY – BE INDEPENDENT – MAKE UP YOUR OWN (DAMN) MIND: READ LBN EXAMINER



Now you can invite your friends and family to sign up to receive the LBN Examiner for free (if you've got the guts) —– www.LBNExaminer.com


*WHO READS LBN EXAMINER?:
 White House press secretary, Jen Psaki, along with along with 12 members of the White House staff, 3 Nobel Prize winners, over 100 Academy Award winners, 6 U.S. Senators, and over 300 Grammy Award winners.
*EXAMINER – A DIFFERENT VIEW:….
LBN Examiner Disclaimer: 1.) The LBN Examiner accepts no liability for the content of this email, or for the consequences of any actions taken on the basis of the information provided. The LBN Examiner is not associated with any commercial or political organization and is transmitted via the web for the sole benefit of its subscribers. 2.) Unfortunately, computer viruses can be transmitted via email. The recipient should check this mail and any attachments for the presence of viruses.