*IN DIVIDED AMERICA, MISERY IS LOOKING FOR COMPANY:

Right now, most Americans are simply fed up. The combination of myriad, simultaneous crises (coronavirus pandemic, the stock market free fall, election hacking and freakish weather events), a peevish hyperpartisan Congress that is stalled, and an increasingly politicized and hysterical opinion-based media have created a vicious and anxiety-ridden culture. And it doesn't stop there — internet algorithms on the three biggest social media platforms, Twitter, Facebook and Instagram, sort us into tribes and pit us against each other, adding further to our society's chaos.

In response, we are turning on each other. Most of us are feeling much colder toward, more fearful and contemptuous of those with opposing views, and these sentiments have more than doubled since 1994. We also believe that almost twice as many people on the other side of the political fence hold more extreme views than they actually do. And the more media we consume, the more our perceptions of them become distorted. These feelings are increasingly influencing who we date, marry, hire and hang out with. A recent survey even showed that almost 10 percent of both Democrats and Republicans feel that violence would be acceptable if the other side won the 2020 presidential election. Of course, this is making us all sick. Today, 69 percent of Americans find the future of the country to be a "significant source of stress," which leads to an increased likelihood of chronic health problems.

*JAW DROP! – ICE SAYS IT WILL TAKE 140 YEARS TO DEPORT ILLEGALS FROM BORDER SURGE:


ICE's chief said Wednesday that at current deportation rates it would take 140 years to remove all the illegal immigrants who came in during the border surge of the past two years. Matt Albence, acting director at U.S. Immigration and Customs Enforcement, said the border surge over the past two years added 900,000 more cases to ICE's non-detained docket, which now totals more than 3.3 million. That far outstrips ICE's ability to track down and deport people, he told the House Appropriations Committee. That's up dramatically from the 34,000 beds the Obama administration had for its final years, and nearly 15,000 more than Congress approved for this current year. "Without additional resources to actually effectuate a judge's removal orders, we will have an immigration enforcement and court system in which billions of dollars a year are spent to obtain orders, that are not worth the paper they are written on," Mr. Albence told the House Appropriations Committee.
*WOULD YOU WRITE A 5-STAR REVIEW IN RETURN FOR A $20 BRIBE?:


Amazon is very clear about the product reviews on its site — they're not allowed to be rigged or bogus. But that doesn't stop some merchants from trying. Pasadena resident Ben Shutman, 37, discovered this after receiving a wall stud finder he'd ordered from Amazon. A wall stud finder, for those who may not be do-it-yourselfers, is a hand-held electronic device that can detect studs, or vertical beams, hidden beneath the drywall. It's handy if you're hanging something heavy, such as a TV.

The $21.99 stud finder Shutman purchased, from a Chinese company called Homder, was accompanied by what appears at first glance to be a $20 Amazon gift card. It isn't. The card is, in fact, a blatant bribe for a stellar review. While the front of the card features the Amazon logo and presents itself as a $20 "amazon.com gift card," the back tells a different story. It says that to receive either an actual $20 gift card or a $20 PayPal payment, the customer must "write a positive 5 STARS product review," and email a link to the review to a Hotmail address.

"IMPORTANT NOTE," the card declares. "Please do not tale or post images about this rebate activity in your review content, otherwise it is invalid." I take "tale" in that sentence to mean you shouldn't mention that your palm was secretly greased to write a glowing review. Good reviews are a key component of product rankings on Amazon, which means sellers have a powerful incentive to generate the best reviews possible — either through customer satisfaction or more dubious methods. "Amazon reviews are very susceptible to manipulation and bias," said Russell Winer, a marketing professor at New York University. "This is particularly true for non-Amazon products sold by third parties." He estimated that up to 60% of such reviews "are fake or somehow influenced." It won't be a news flash to anyone that a significant percentage of online reviews are untrustworthy. For as long as reviews have been posted on websites, there have been attempts by consumers and businesses to game the system.

Nor will anyone be shocked to learn that a behemoth like Amazon has a hard time policing its own site. The company has been scrambling for years to battle both dubious reviews and counterfeit goods. But marketing experts say the gift-card ploy experienced by Shutman is particularly shameless, in effect paying off an actual customer to write a glowing review and thus making it almost impossible for Amazon to challenge the post. Merchants know that reviews can make or break a product sold online, said Dina Mayzlin, a marketing professor at USC. "The incentives are high for people to cheat," she said.
*SENIORS WHO WALK FOR 30 MINUTES DAILY CUT RISK OF DEATH FROM ANY CAUSE: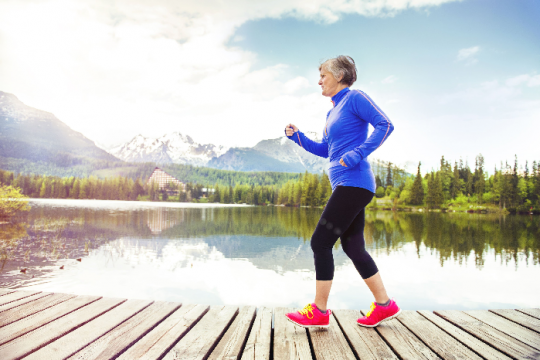 Two new studies are adding to the growing consensus in the medical community that staying active is perhaps the best way for older adults to live longer and stay happy and healthy well into their golden years. Best of all, no one is telling grandma or grandpa to hit the bench press; simple, leisurely activities like walking are enough to promote strong health in old age. First of all, researchers noted that older adults were 67% less likely to die of any cause if they were at least moderately physically active for a minimum of 150 minutes each week. Additionally, a second study found that older women (average age of 79) were 38% less likely to die from a heart attack, heart failure, stroke, etc if they were consistently walking 2,100 to 4,500 steps each day. "Finding a way to physically move more in an activity that suits your capabilities and is pleasurable is extremely important for all people, and especially for older people who may have risk factors for cardiovascular diseases. Physical activities such as brisk walking can help manage high blood pressure and high cholesterol, improve glucose control among many benefits," explains Barry A. Franklin, a professor of internal medicine at Oakland University William Beaumont School of Medicine in Rochester, Michigan, in a release by the American Heart Association.

Regarding the first study's findings, the average age of the participants was 69. Researchers noted that just 30 minutes of light-intensity activity (household chores, walking) was associated with a 20% lower risk of dying from any cause. On the other hand, though, just 30-minutes of sedentary behavior was associated with a 32% higher chance of dying from any cause.


*DANNY BROWN, LUXURY REAL ESTATE BROKER, ON THE ASTONISHING KARDASHIAN EFFECT IN CALABASAS, CALIFORNIA:
The fictitious Clampett clan left their shack in the Ozarks after finding oil a half-century ago and moved to Beverly Hills. "The Beverly Hillbillies" aired on CBS for nine years, cementing the California town as the go-to-place for the affluent. Now, it seems history is repeating itself and it appears that the popularity of a reality TV show has made a population surge in the area in which it takes place. "Keeping up with the Kardashians," with next month's 18th season on the The E! Network, has put the spotlight on another region of the metro area of Los Angeles since its release: Calabasas.

This year, for the first time, the community of about 24,300 people has eclipsed Beverly Hills in Bloomberg's annual ranking of the richest cities in the U.S. The average household income in Calabasas is $194,010, more than twice the national average and about $4,000 higher than Beverly Hills, which has 34,600 residents. Luxury real estate broker, Danny Brown also recognizes such trend and believes this mass surge in population is a direct result of the TV show.

"The Kardashian effect is real! There's been a massive migration of wealth from the westside of Los Angeles to The Valley with many celebrities, athletes, and ultra-high net worth families taking up residences in the Oaks in Calabasas and Hidden Hills," states Danny Brown. It appears there are also a few more factors of why the wealthy have moved to Calabasas, such as a comfortability factor for residents. Calabasas is located about 25 miles west of downtown Los Angeles and owes some of its prosperity to the usual reasons: good schools, low crime, and open space. But, the reality TV show of the Kardashians has had its own influence, showing that the rich and famous can live normal lives in Calabasas without the need to avoid paparazzi and tour buses whenever they leave home.

Danny Brown states that "There's a much better lifestyle for those who seek privacy and security of a gated community, open space, great schools and a truly family-friendly vibe that you can't find on the westside. For those looking for an estate with acreage, you're looking at a 50 percent discount compared to Brentwood or Beverly Hills," states Danny Brown. The appeal in living in Calabasas seems even greater now since it is cheaper compared to Beverly Hills and has much more security and privacy compared to the latter. The median home price in Calabasas is $1.19 million, while it's $2.7 million in Beverly Hills, according to Zillow. In addition, Calabasas doesn't have a business tax, which is also a magnet for investment. The Kardashian effect has truly changed Calabasas and it seems realistic for ones to live there due to the best amenities and it being cheaper on the high-end market.
*EXAMINER–INVESTIGATES:


India, with a population of over 1 billion, eats the least amount of meat in the world with just 7 pounds of meat annually per person. Bangladesh comes in second, with 9 pounds, while the Democratic Republic of the Congo eats about 10 pounds of meat per person.
*EXAMINER – BUSINESS:


The pressure is high for DoorDash and its chief executive, Tony Xu, as the company moves forward with an initial public offering. DoorDash, the leading food delivery app in the United States, has its fans. Hungry people. Busy people. Lazy people. It also has its share of enemies: Regulators who have poked holes in the start-up'spricing and employment practices. Drivers who sued over their tips. Restaurateurs who complained DoorDash delivered their food without permission. Competitors who can't keep up with its aggressive growth. Soon, a new group — Wall Street investors — will pick a side.

DoorDash said last week that it had confidentially filed to go public, setting itself up as a test for whether highly valued money-losing start-ups can make it onto the stock market at a time when Wall Street is deeply skeptical of such companies and the coronavirus outbreak has caused market turbulence. The pressure is high for DoorDash, which private investors valued at $12.7 billion last year. The company lost around $450 million in 2019, according to two people with knowledge of the financials who requested anonymity because the information was private. And it is in talks to raise debt that would convert to equity when it goes public, said two people with knowledge of the discussions.
*EXAMINER – A LOOK BACK:

Actress Milla Jovovich, 1998:
– WITHOUT NOTES-



An in-depth interview with the Rabbi and the Rascal. Rabbi Asher Gottsman "The Rabbi" and Robert Sanchez "The Rascal" make up this fascinating real-life Odd Couple story. A reformed gang member and his spiritual mentor a Jewish Rabbi and how they have affected each other for the better. Part 1 we hear about the Rascal's background and how he got into the gang.

*EXAMINER – R.I.P. :


Former General Electric chairman Jack Welch, whose death at age 84 was announced recently, was the most celebrated executive of the latter half of the 20th Century—arguably the best corporate manager of the entire century, an accolade given to him by Fortune magazine. Jack was also a long-time LBN Examiner reader and we will miss him. Prayers to his family.
*DON'T DESPAIR – READ LBN EXAMINER:


The LBN Examiner is read in all 50 of the United States and in 26 foreign countries by influencers of all types — from Nobel Prize winners to billionaires from acclaimed journalists to professors at Harvard, Yale and Stanford from US Senators to winners of the Academy Award. 84% of our readers find the Examiner "fearlessly independent" and "unbiased: which is why it is so indispensable to read weekly – especially in the times in which we live.
*EXAMINER – INVESTIGATES:


Colonies of bacteria were discovered on the vast majority of healthcare workers' cellphones in one study; 93% of the phones studied were found to be crawling with germs. Most non-healthcare workers' phones were also dirty, with 58% of them home to microbes, said the study, published in the Iranian Journal of Microbiology. "Mobile phones are not only capable of transferring messages but also are disease-producing microbes," the study said.
  *THINK FREELY – BE INDEPENDENT – MAKE UP YOUR OWN (DAMN) MIND: READ LBN EXAMINER


*WHO READS LBN EXAMINER?:

Laurene Powell Jobs, widow of Steve Jobs, along with 12 members of the White House staff, 3 Nobel Prize winners, over 100 Academy Award winners, 6 U.S. Senators, and over 300 Grammy Award winners.
*EXAMINER–A DIFFERENT VIEW:….

CORRECTION: Due to a significant clerical error, a rough-draft (uncorrected) version of the Special Report edition of this LBN Examiner featuring an expose of the radically decayed state of San Francisco was sent out to readers. We sincerely regret the error.

LBN Examiner Edited By: Aurora DeRose
LBN Examiner Disclaimer: 1.) The LBN Examiner accepts no liability for the content of this email, or for the consequences of any actions taken on the basis of the information provided. The LBN Examiner is not associated with any commercial or political organization and is transmitted via the web for the sole benefit of its subscribers. 2.) Unfortunately, computer viruses can be transmitted via email. The recipient should check this mail and any attachments for the presence of viruses.