*SEATTLE PARENTS SHOCKED WILL RETURN TO SCHOOLS WITH HOMELESS ENCAMPMENT:
Seattle students will begin a return to in-classroom learning in April, but parents were left shocked after learning that homeless encampments, located on the grounds of two schools welcoming kids back, will likely remain even after the schools reopen. "As students at Seattle Public Schools start to return for in-person learning following the onset of the COVID-19 crisis, the district continues to grapple with the presence of two homeless encampments that have taken root on a pair of the district's campuses," Seattle's KOMO reported. 'The presence of the encampments at Broadview Thomson K-8, located at 13052 Greenwood Ave., and Edmond S. Meany Middle School, located at 201 21st Ave., has stirred concern among parents and residents who live in the area. They are outraged that students will be back in class Monday and the district has not yet resolved what they describe as a dangerous problem."

Parents and residents want the homeless encampment removed, they told local media, not simply because special education students are returning to in-person learning on the two campuses, but because the homeless encampments have become a frustrating problem."Neighbors have been calling on Seattle Public Schools for months to remove the camp that they say has brought increasing problems to their neighborhood," KOMO reported earlier this week. In February, they say, a woman died of an overdose in the camp, which, neighbors contend, has become a hotbed for illegal drug activity. The city of Seattle has so far refused to move the camp because, city officials say, the camp is on the grounds of Seattle Public Schools, which must tackle the problem for itself or officially request help from the city of Seattle.

"The City shares the community's concerns regarding the encampment at Broadview-Thomson, and has been open to working with Seattle Public Schools to help address encampments adjacent to SPS property and facilitate a safe return to the classroom for Seattle students," Seattle's Mayor Jenny Durkan said in a statement. "However, the decision of whether to address an encampment on school property is up to Seattle Public Schools." Durkan then went on to suggest that Seattle Public Schools may not want to fully address the problem. "Recently, the Seattle School Board President issued a statement decrying City outreach strategies that may eventually lead to a removal and demanding that removals should 'never be performed on school grounds, adjacent, or elsewhere in the City.'" Seattle Public Schools says it is aware of the issue, but that it believes the encampment is not dangerous.
*NY OFFERS $15,600 TO 'UNDOCUMENTED IMMIGRANTS WHO LOST WORK' DUE TO COVID: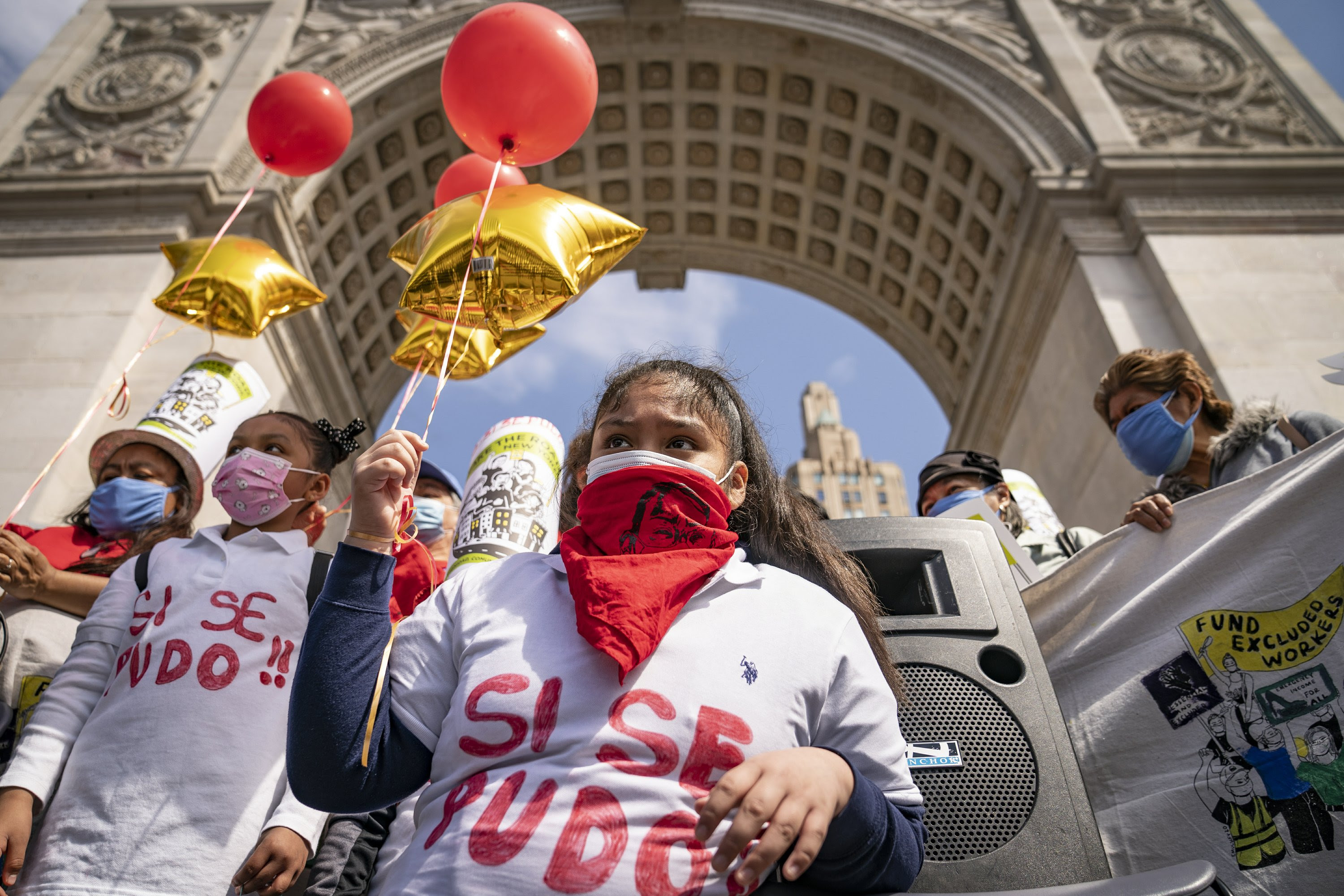 Legislators in New York approved checks of $15,600 for "undocumented immigrants" who lost work during the COVID-19 pandemic and are otherwise ineligible for relief from the federal government. "New York will offer one-time payments of up to $15,600 to undocumented immigrants who lost work during the pandemic. The effort — a $2.1 billion fund in the state budget — is by far the biggest of its kind in the U.S," posted the New York Times on Twitter.

*MARIJUANA LEGALIZATION LINKED TO RISE IN FATAL CAR ACCIDENTS:
For giant cities like New York, cars and traffic are just part of the urban landscape. New York is also one of the growing list of places across North America legalizing marijuana. Unfortunately for drivers (and even pedestrians) a new study finds those are two things that simply don't mix. Canadian researchers find legalizing cannabis leads to an increase in fatal auto accidents; potentially putting hundreds of drivers in danger each year. A team from McGill University analyzed legal recreational cannabis use and deadly motor vehicle collisions across the United States. They then applied the data to Canadian roads to find out how legalizing the drug may impact local roads.

"Analyses of data suggest that legalization of recreational cannabis in United States jurisdictions may be associated with a small but significant increase in fatal motor vehicle collisions and fatalities, which, if extrapolated to the Canadian context, could result in as many as 308 additional driving fatalities annually," writes researcher Sarah Windle and her co-authors in the Canadian Medical Association Journal.

In Canada, researchers find cannabis consumption increased by three percent between 2018 and 2019, when the country legalized its use. According to Canadians reporting their own usage, that raised the number of people using marijuana to 17 percent. Among cannabis users with a driver's license, the study finds 13 percent admit driving within two hours of using marijuana. The total number of people admitting to getting on the road after recent cannabis use jumped from 573,000 to 622,000. A 2012 analysis estimates cannabis-related auto collisions in Canada result in $1.1 billion worth of societal and economic damages annually. Drivers under the age of 34 are responsible for the majority of that damage.
*THE U.S SAW SIGNIFICANT CRIME RISE ACROSS MAJOR CITIES IN 2020… AND IT'S NOT LETTING UP:
Major American cities saw a 33% increase in homicides last year as a pandemic swept across the country, millions of people joined protests against racial injustice and police brutality, and the economy collapsed under the weight of the pandemic — a crime surge that has continued into the first quarter of this year. Sixty-three of the 66 largest police jurisdictions saw increases in at least one category of violent crimes in 2020, which include homicide, rape, robbery, and aggravated assault, according to a report produced by the Major Cities Chiefs Association. Baltimore City, Baltimore County and Raleigh, North Carolina, did not report increases in any of the violent crime categories.
*CHARLES BARKLEY SAYS THE 'SYSTEM' AND POLITICIANS WANT BLACK AND WHITE PEOPLE TO HATE EACH OTHER:



Charles Barkley shared some refreshing and blunt thoughts about the divisions in America, and everyone needs to hear his words. It's known that the retired NBA legend never holds back when he has something to say, and this time he touched on the chaos and carnage in America. Trust me, it's been a minute or two since we've heard something this wide. Barkley said the following Saturday afternoon prior the Final Four games starting:

Man, I think most white people and black people are great people. I really believe that in my heart, but I think our system is set up where our politicians, whether they're Republicans or Democrats, are designed to make us not like each other so they can keep their grasp of money and power. They divide and conquer. I truly believe in my heart most white people and black people are awesome people, but we're so stupid following our politicians, whether they're Republicans or Democrats, and their only job is, 'Hey, let's make these people not like each other. We don't live in their neighborhoods, we all got money, let's make the whites and blacks not like each other, let's make rich people and poor people not like each other, let's scramble the middle class. I truly believe that in my heart.


*MOST PEOPLE CAN'T TELL THE DIFFERENCE BETWEEN SCREAMS OF JOY AND SCREAMS OF TERROR:
Is your friend in a state of sheer delight, or intense fright? The ear-ringing sounds some people make apparently make it hard to tell. A new study finds most people can't tell the difference between screams of joy and screams of terror. Researchers from Emory University say screams of happiness are often interpreted as screams of fear because both have similar acoustic features. People use screams to express a range of emotions, from happiness, to excitement and surprise, to anger, frustration, and fear. Most of the time, it's pretty clear which one of these feelings a person is trying to communicate.

However, it appears screams of joy are much harder to decode if you don't have any additional context. Study authors suggest the confusion may stem from ancient times, when making the right call was the difference between life and death."T o a large extent, the study participants were quite good at judging the original context of a scream, simply by listening to it through headphones without any visual cues," says Professor Harold Gouzoules in a university release. "But when participants listened to screams of excited happiness they tended to judge the emotion as fear. That's an interesting, surprising finding."
*EXAMINER – INVESTIGATES:



The heart of a giraffe weighs 25 pounds (11.3 kilograms) and is about 2 feet long (0.6 meters).
*EXAMINER – BUSINESS: KETCHUP REPORTEDLY SUFFERING FROM LATEST COVID-ER SHORTAGE
The coronavirus pandemic has sparked a nationwide ketchup shortage that has restaurants scrambling to get ahold of America's most popular condiment, a new report says. In especially short supply are ketchup packets, a hot commodity for eateries that have relied on takeout orders over the past year as COVID-19 crimped their dining room capacity. Health officials have also helped drive up demand by pushing restaurants to ditch shared ketchup bottles for packets or other single-use containers, the paper reported. Prices for ketchup packets have spiked 13 percent since January 2020 amid that increased demand — and Heinz, the largest producer in the market, hasn't been able to keep up, the Monday story says. The iconic ketchup brand is urging restaurants to be patient while it works to increase its manufacturing capacity by 25 percent so it can churn out more than 12 billion "sachets" a year, according to the Journal.


*EXAMINER – SEE IT:
Acclaimed poet Nathaniel Mackey sees "society as a kind of poem, social ritual as a kind of poem," he said.
*DEMOCRACY NEEDS "FEARLESSLY INDEPENDENT" AND "UNBIASED" REPORTING ABOUT AS URGENCY AS HUMAN NEED OXYGEN – IF YOU CARE, READ LBN EXAMINER:


84% of our readers in all 50 of the United States and 26 foreign countries find the LBN Examiner "fearlessly independent" and "unbiased".

Now you can invite your friends and family to sign up to receive the LBN Examiner for free (if you've got the guts) —– www.LBNExaminer.com

*EXAMINER – CARTOON:



*EXAMINER – A LOOK BACK:
Dearborn, Michigan, 1946. "Ford Rouge B-Building. Cars leaving the assembly line.

*THINK FREELY – BE INDEPENDENT – MAKE UP YOUR OWN (DAMN) MIND: READ LBN EXAMINER

Now you can invite your friends and family to sign up to receive the LBN Examiner for free (if you've got the guts) —– www.LBNExaminer.com


*WHO READS LBN EXAMINER?:
Former actress Shelley Duvall along with 12 members of the White House staff, 3 Nobel Prize winners, over 100 Academy Award winners, 6 U.S. Senators, and over 300 Grammy Award winners.


*EXAMINER – MARKETS YEAR TO DATE PERFORMANCE – April, 2021
*EXAMINER – A DIFFERENT VIEW:….
LBN Examiner Disclaimer: 1.) The LBN Examiner accepts no liability for the content of this email, or for the consequences of any actions taken on the basis of the information provided. The LBN Examiner is not associated with any commercial or political organization and is transmitted via the web for the sole benefit of its subscribers. 2.) Unfortunately, computer viruses can be transmitted via email. The recipient should check this mail and any attachments for the presence of viruses.