*EXAMINER – READER POLL:
AS OF TODAY, WHAT ARE THE ODDS THAT DONALD TRUMP WILL BE RE-ELECTED?
Send your percentage answer to: LBNExaminer@TimeWire.net

*'DO AS THEY SAY': MINNEAPOLIS POLICE TELL RESIDENTS TO 'BE PREPARED TO GIVE UP' PERSONAL BELONGINGS TO ROBBERS:
Minneapolis Police informed residents of the city's embattled 3rd Precinct to prepare for the giving up of their personal belongings to potential robbers, and advised them to do as criminals say for their own safety. According to a July 28 email provided to Alpha News MN that was also forwarded to The Daily Wire, the Minneapolis Police Department offered "prevention tips" to residents hoping to avoid being a victim of the skyrocketing cases of robbery and carjacking that have plagued the city since George Floyd's death in May. "Robberies and Carjacking's [sic] have increased in our Precinct," the email begins. "Cell phones, purses, and vehicles are being targeted. Some victims have been maced, dragged, assaulted, and some threatened with a gun. Most of these crimes have occurred north of 42nd St. E. 100 Robberies and 20 Carjackings have been reported to 3rd Precinct Police in July alone. Downtown and Southwest Minneapolis have seen an increase as well. We want those who live and work here to be safe!"
*DATA LEAK REVEALS IRAN'S COVID-19 CRISIS IS THREE TIMES WORSE THAN GOVERNMENT ADMITTED:
Iran tried to cover up the extent of its coronavirus outbreak by keeping nearly two-thirds of the country's deaths secret, according to a data leak obtained by BBC News. Government records reportedly show that nearly 42,000 people have died with COVID-19 symptoms—but the health ministry has only reported around 14,000. The number of people confirmed to be infected is also almost double what the government said it was: 451,024 rather than 278,827. Even those dubious official numbers make Iran the worst-hit in the Middle East, but the leaked numbers show the outbreak was far worse than the government has tried to claim. The data also reportedly shows that first COVID-19 death in Iran was recorded on Jan. 22, a month before the first official case of the coronavirus was reported by the government. The BBC's unnamed source said they wanted to "shed light on truth" and end "political games" over the pandemic.
*'A VIOLENT INSTITUTION': THESE CELEBRITIES ARE FUNDING THE 'DEFUND THE POLICE' MOVEMENT:
More than a dozen of the world's most famous celebrities are financing left-wing organizations that openly seek the defunding of America's police departments. Actors, models and singers have donated large sums to left-wing organizations including Color of Change, Black Lives Matter Global Network and the Movement for Black Lives, all of which are open about their desire to defund police departments across the country. The Movement for Black Lives aims to abolish not only police departments, but America's prisons as well, the organization explains on its website.

"We believe that prisons, police and all other institutions that inflict violence on Black people must be abolished and replaced by institutions that value and affirm the flourishing of Black lives," the website states. Black Lives Matter Global Network, the national arm of Black Lives Matter, released a statement on May 30 calling for "a national defunding of police." The organization published a video on June 6 arguing that "defunding the police is the only way to stop pouring resources into a system that doesn't keep us safe."
*JERSEY SALES SOAR FOR ORLANDO MAGIC'S JONATHAN ISAAC AFTER HE STOOD ALONE FOR NATIONAL ANTHEM:
It turns out that bucking woke trends may be good for business, because jersey sales for Orlando Magic player Jonathan Isaac have been surging since he decided to stand alone for the national anthem last Friday, becoming the first NBA player to do so amid the current spate of Black Lives Matter activism. "Two days after the Magic's game on Friday, Isaac's jersey sales surged on the NBA's store," reports Fox News. "As of Sunday, Isaac's jersey is the second-best seller on the league's website behind only Los Angeles Lakers superstar LeBron James." Top Ball Coverage tweeted, "Jonathan Isaac's jersey sales have skyrocketed after he stood for the National Anthem. He is now number two in jerseys sales among players only behind LeBron James."
*DAVID MCKENZIE WINS EMMY FOR BEST DIRECTOR WITH THE CRITICALLY ACCLAIMED DOCUMENTARY FILM, "HATE AMONG US":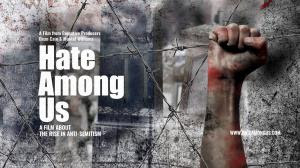 In a virtual ceremony Sunday night, the National Association of Television Arts and Sciences (NATAS) awarded David McKenzie the Emmy for Outstanding Directing Special Class for the critically acclaimed documentary film Hate Among Us. "We are very thankful that the Academy has given attention to this important subject that affects all of us," said McKenzie. "I am honored that they recognized this work so that hopefully it will bring more attention to this subject matter and shine a light on the terrible situation that hate generates among people."
Distributed by Associated Television International (ATI) and premiering on Popstar! TV, Hate Among Us from executive producers David McKenzie, Laura McKenzie, Dean Cain, Montel Williams and Sergey Sarkisov, tracks the origins of hate crimes against members of the Jewish faith as well as many others and the ultimate murder of an estimated 6 million European Jews by the Nazi regime and its collaborators that are still being exhibited by hate groups to this very day from Europe to the United States and throughout the world. The film follows the family members of Mireille Knoll, an 85-year-old Holocaust survivor who was murdered in her Paris apartment in 2018 in an anti-Semitic hate crime. The film also depicts unique perspectives on antisemitism from all cultures and all faiths, from within historic Jewish neighborhoods in Europe, to the streets of Charlottesville and Pittsburgh's Tree of Life Synagogue massacre. McKenzie's direction told real stories of current survivors of violent antisemitism to those of the Holocaust. Hate Among Us illustrates how renewed intolerance is taking root in our communities, institutions, and universities, with far-reaching consequences around the world.
"It helps us to achieve our goal," said Dean Cain, "which is to shine a light on hate and help educate people about the history and the current growth of hate and anti-Semitism. We are very excited about this recognition and hope this brings more awareness to this serious humanitarian crisis." Montel Williams agreed. "When we set out to make Hate Among Us, we knew it was an urgent project. In these divided times, we have to remember that hate and bigotry are never the answer."
"The response of the community from this inhumanity proves that this topic is very important to many people as well as being very relevant," states Sergey Sarkisov. "I do believe that Hate Among Us contributes to the proper understanding and empathy that any kind of national, racial or religious hate continues to be an existing danger and every human, including humanity itself, can be a target." Hate Among Us is the second film from the producing team of the McKenzie's, Cain, Williams and Sarkisov with their first being the also critically lauded documentary Architects of Denial which shed light on the Armenian Genocide that is still not fully recognized as of this day. That film was also produced and directed by McKenzie.
Hate Among Us will be re-released this fall to major outlets worldwide.
Hate Among Us Trailer: https://vimeo.com/358183811
*EXAMINER – INVESTIGATES:

In the last two months, police recruitment is down a staggering 65% nation-wide.
*EXAMINER – LENS:


Outside Cup Foods, at the intersection of 38th Street and Chicago Avenue in Minneapolis, the memorial for George Floyd is filled with flowers, signs, and messages.
*EXAMINER – HEALTH: CORONAVIRUS VACCINE LIKELY WON'T WORK IN OBESE PATIENTS


A coronavirus vaccine will likely be less effective in people who are obese, scientists say. Vaccines for other diseases including influenza, tetanus, rabies, and hepatitis B have been shown to be less effective among obese people, a pattern that researchers say will likely continue with the vaccine scientists around the world are scrambling to deliver. "Will we have a Covid vaccine next year tailored to the obese? No way," Raz Shaikh, a nutrition associate professor at the University of North Carolina Chapel Hill, said. "Will it still work in the obese? Our prediction is no." The issue is particularly of concern in the United States, where more than 107 million Americans are obese. Those with a body mass index over 30 are among those at the greatest risk of experiencing severe COVID-19 symptoms. This group encompasses about 42 percent of American adults
*BUCKLE UP AND FACE REALITY – READ LBN EXAMINER:


Now more than ever "information is power" and that's a big reason that smart people in all 50 of the United States in 26 foreign countries read the LBN Examiner each week.

Now you can invite your friends and family to sign up to receive the LBN Examiner for free (if you've got the guts) —– www.LBNExaminer.com
*WHAT'S UP by Sara Garcia:
Tesla and SpaceX CEO Elon Musk lamented the "entitled" and "complacent" character of people in the United States, and lauded the "smart" and "hard-working people" of China, in the first installment of a three-part interview with Automotive News'.
*THINK FREELY – BE INDEPENDENT – MAKE UP YOUR OWN (DAMN) MIND: READ LBN EXAMINER


*WHO READS LBN EXAMINER?:

Actress, Scarlett Johansson, along with 12 members of the White House staff, 3 Nobel Prize winners, over 100 Academy Award winners, 6 U.S. Senators, and over 300 Grammy Award winners.
*EXAMINER – A DIFFERENT VIEW:…

LBN Examiner Edited By: Aurora DeRose
LBN Examiner Disclaimer: 1.) The LBN Examiner accepts no liability for the content of this email, or for the consequences of any actions taken on the basis of the information provided. The LBN Examiner is not associated with any commercial or political organization and is transmitted via the web for the sole benefit of its subscribers. 2.) Unfortunately, computer viruses can be transmitted via email. The recipient should check this mail and any attachments for the presence of viruses.