*SHOCK- OVERWHELMING MAJORITY OF BLACK AMERICANS SUPPORT CURRENT OR INCREASED POLICE PRESENCE: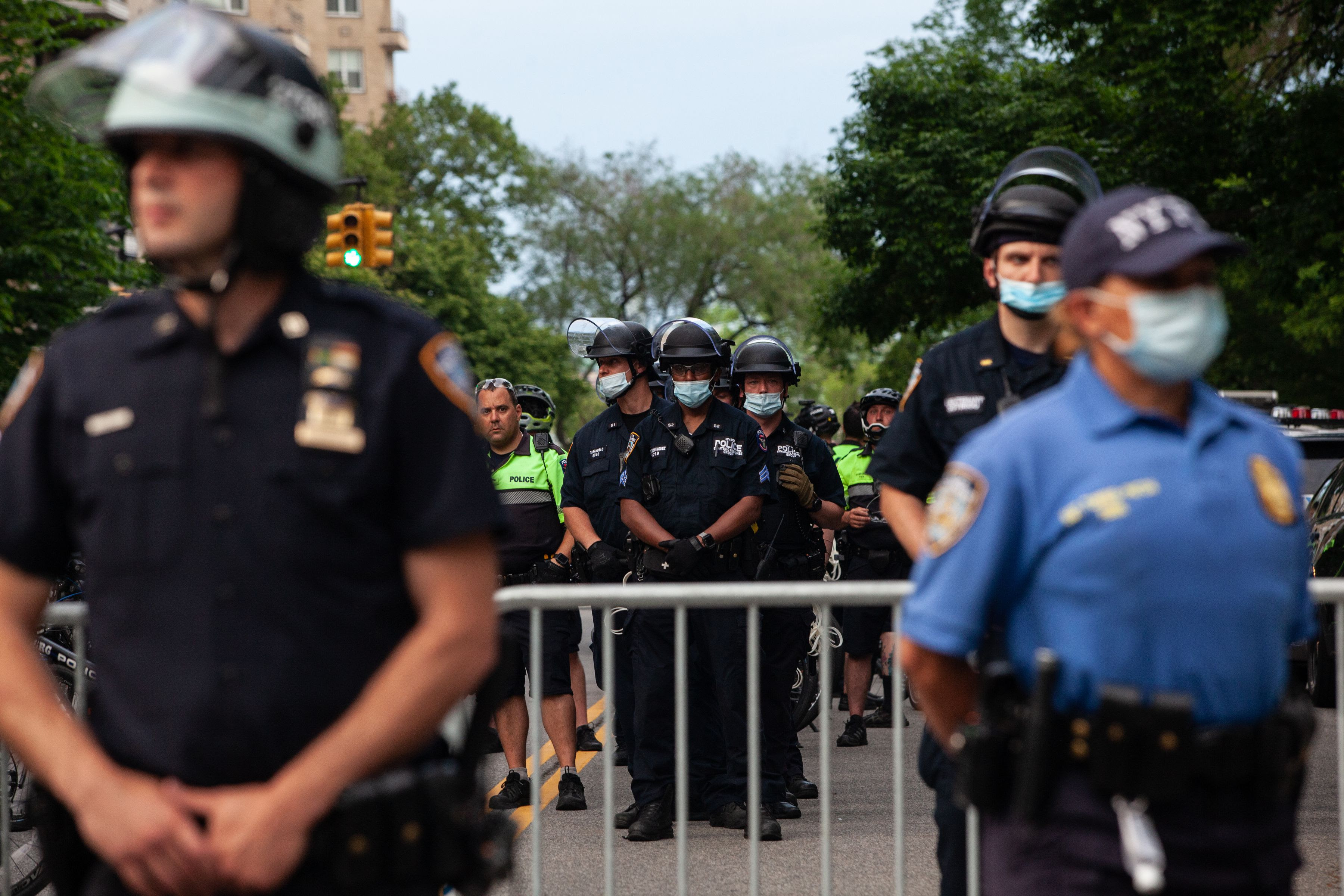 Eighty-one percent of black Americans said they would prefer if police spend the same amount of time or more time in their neighborhoods, according to a Gallup survey released Wednesday. The survey, which also includes responses from other racial and ethnic groups, indicates that 20% of black respondents said they want an increased police presence, 61% want the same presence, and 19% want less. The support for current policing levels was fairly consistent across racial lines, with an average of 67% of Americans saying the current level of time police spend in their area is adequate. Asian American respondents expressed the greatest preference for decreasing police presence, with 28% favoring this option, the survey shows.

When asked how frequently they interact with police, 32% of black respondents said very often or often, compared with 28% of Hispanic respondents, 22% of white respondents, and 21% of Asian respondents, according to Gallup. Among black respondents 39%, said that they were not too confident or not at all confident of receiving positive treatment, compared with 22% of Hispanic respondents, 22% of Asian respondents, and 9% of white respondents. The survey is part of the Gallup Center on Black Voices, which is "devoted to studying and highlighting the experiences of more than 40 million Black Americans: tracking and reporting on progress on life outcomes and a life well-lived."


*BILL GATES: AMERICA OFFERS THE MOST WORTHLESS COVID-19 TEST RESULTS IN THE WORLD:


Bill Gates continued his unbridled criticism of the United States' response to the coronavirus pandemic on Sunday, calling America's testing system "insanity" and stressing that the country was now facing "a pretty dramatic price" both in human death and wasted money. Gates said it takes far too long to receive coronavirus test results in the U.S. "You can't get the federal government to improve the testing because they just want to say how great it is," the Microsoft co-founder-turned-philanthropist said. "I've said to them, look, have a CDC website that prioritizes who gets tested. That's trivial to do. They won't pay attention to that. I've said don't reimburse any tests where the result goes back after three days. You're paying billions of dollars in this very inequitable way to get the most worthless test results of any country in the world."

On the topic of America's lockdowns, Gates pointed to countries in the European Union that faced the coronavirus outbreak earlier than the U.S. and instituted more coordinated lockdowns. "What's impressive is that Italy, France, Spain ― who had a wave before us ― managed as they fell off to keep even the parts of the country that hadn't had the intense epidemic from creating a second wave," Gates said. "In the case of the United States, they opened up their bars. They didn't do much in the way of wearing masks. And so those areas became this second wave," he added. Gates has pledged $1.6 billion to the Global Alliance for Vaccines and Immunization, with $100 million going towards coronavirus vaccines. Most recently, he argued that the CDC's COVID-19 response was "muzzled" by a White House that refused to offer proper leadership during a time of crisis.
*SURVEY PROVES LBN EXAMINER READERS, 18-29, IS MUCH BETTER INFORMED:
The rise of social media has changed the information landscape in myriad ways, including the manner in which many Americans keep up with current events. In fact, social media is now among the most common pathways where people – particularly young adults 18 – 29 – get their political news. A new Pew Research Center analysis of surveys conducted between October 2019 and June 2020 finds that those who rely most on social media for political news stand apart from other news consumers in a number of ways. These U.S. adults, for instance, tend to be less likely than other news consumers to closely follow major news stories, such as the coronavirus outbreak and the 2020 presidential election. And, perhaps tied to that, this group also tends to be less knowledgeable about these topics. In the same age range – 18 – 29 Examiner readers in all 50 of the United States and 26 foreign countries were "much better informed and much less likely to believe and share false narratives."

*DR. UMA NAIDOO, HARVARD PSYCHIATRISTS, WINS BEST OF LOS ANGELES AWARD "BEST MENTAL HEALTH BOOK-2020"
"This Is Your Brain on Food" is a groundbreaking book on what to eat to bolster your mental health. If you are depressed, anxious, distracted, cognitively foggy, or have a history of PTSD, this book will explain what you should eat, what you should avoid, and how this impacts your brain. Applauded by Drs. Walter Willet, Daniel Amen, William Li , and David Perlmutter, this book is like no other.

The book is written by Dr. Uma Naidoo, a Harvard psychiatrist who is the Director of Nutritional and Lifestyle Psychiatry at Massachusetts General Hospital, a nutrition specialist and a professional chef. It is a practical, realistic and research-based review of what we now understand about food and mental health, written in a simple and easy-to-grasp style by a world expert. Dr. Amen describes it as a "must-read', Dr. Perlmutter says that this book "provides everything you need to craft a nutritional program focused on optimizing brain health and performance and Dr. Walter Willet describes the book as "cutting edge" and Dr. Naidoo as an invaluable guide to one of the great frontiers of medicine: how your diet can affect how you think and feel.

If you or someone you love is looking for a way to feel less depressed and anxious and more emotionally stable, energized, and clear, "This Is Your Brain on Food"is the
the definitive guide to protecting your brain during these uncertain and stressful times.

CLICK HERE TO LEARN MORE
*EXAMINER – THOUGHT OF THE DAY:


"In America, you should always get a little suspicious when politicians suddenly start calling you a hero. It's a well-worn trick; they're buttering you up before sacrificing you to the gods of unconstrained capitalism and governmental neglect." —– Farhad Manjoo
*EXAMINER – LENS:


Margaret Sanger in 1916, when she was indicted for mailing materials advocating birth control, charges that were later dropped.
*EXAMINER – HISTORY: 75 YEARS SINCE HIROSHIMA


August marks 75 years since the U.S. dropped the world's first deployed atomic bomb on the Japanese city of Hiroshima. It killed 80,000 people immediately and tens of thousands more in the aftermath. The U.S. dropped another atomic bomb on Nagasaki three days later, Aug. 9. On Aug. 15, Japanese Emperor Hirohito announced his country's unconditional surrender for WWII. 75 years later…global non-proliferation efforts are "in jeopardy," GZERO Media writes. Russia and the U.S., which account for 90% of the world's nuclear arsenal, are modernizing their programs, and the New START Treaty (focused on arms reduction) is teetering on the brink of failure.
*BE AWAKE BUT NEVER "WOKE" – READ LBN EXAMINER

Be Independent. Fearlessly Independent. Unbiased. Think For Yourself

Now you can invite your friends and family to sign up to receive the LBN Examiner for free (if you've got the guts) —– www.LBNExaminer.com
*EXAMINER – CARTOON:

EXAMINER – A LOOK BACK:



Lindsay Lohan, 2009

*EXAMINER – INVESTIGATES:


A person's chance of a heart attack rises about 10% after daylight saving time begins. When daylight saving ends in the fall, heart attacks briefly become less frequent than usual.
*THINK FREELY – BE INDEPENDENT – MAKE UP YOUR OWN (DAMN) MIND: READ LBN EXAMINER


*WHO READS LBN EXAMINER?:

Best-selling author, Naoise Dolan, along with 12 members of the White House staff, 3 Nobel Prize winners, over 100 Academy Award winners, 6 U.S. Senators, and over 300 Grammy Award winners.
*EXAMINER – A DIFFERENT VIEW:….

LBN Examiner Edited By: Aurora DeRose
LBN Examiner Disclaimer: 1.) The LBN Examiner accepts no liability for the content of this email, or for the consequences of any actions taken on the basis of the information provided. The LBN Examiner is not associated with any commercial or political organization and is transmitted via the web for the sole benefit of its subscribers. 2.) Unfortunately, computer viruses can be tran