*YOUR WASTED TAX MONEY – U.S. Leaving Behind 75,000 Vehicles, 600,000 Weapons, 208 Aircraft In Afghanistan, Watchdog Says


A government watchdog group says the U.S. military is leaving behind 75,000 vehicles, 600,000 weapons and 208 aircraft in Afghanistan as forces evacuate the country after a 20-year war. We've made the Taliban into a major U.S. arms dealer for the next decade," said Adam Andrzejewski, CEO of Open the Books. "They now control 75,000 military vehicles. This is about 50,000 tactical vehicles, 20,000 Humvees they control about 1,000 mine-resistant vehicles, and even about 150 armored personnel carriers." Since 2001, the U.S. has spent $83 billion on Afghan security forces through training and equipment, he said. "We built them a pretty amazing war chest and now all of it is in the hands of the Taliban," said Andrzejewski. "We know that last month, as late as July, seven new helicopters were being delivered in the capital city of Kabul." While the watchdog was able to tally up equipment to be left behind, the group said the numbers are not complete.
*Oregon Suspends High School Graduation Standards To Make 'Equitable' Rules For 'Students Of Color'


Oregon Governor Kate Brown (D) signed a bill last month suspending proficiency requirements for high school graduates for the next five years. Brown quietly signed into a law a bill suspending her state's proficiency requirements on July 14. Oregon is expected to go without proficiency standards for high school graduates until new rules are crafted and implemented in 2024. Those new rules will likely not apply to high school graduates until 2027; however, as Oregon education officials are reluctant to change standards for students that have already entered high school, according to The Oregonian. The governor's office did not announce her signing of the bill in a signing ceremony nor in a press release. The signed bill did not appear in the legislative database as signed until July 29, an uncommon occurrence for a bill that was signed over two weeks prior. A spokesman for the governor said that suspending proficiency requirements would aid the state's minority students.
"Oregon's Black, Latino, Latina, Latinx, Indigenous, Asian, Pacific Islander, Tribal, and students of color" stand to benefit from the legislation, Brown's deputy communications director Charles Boyle told The Oregonian in a statement. "Leaders from those communities have advocated time and again for equitable graduation standards, along with expanded learning opportunities and supports." Oregon's proficiency requirements mandate that all high school graduates demonstrate a roughly 10th grade level competence in reading, writing, and math. Those standards were first suspended last year amid the COVID-19 pandemic as students were taken out of classrooms and school was moved almost entirely online.
*Socialist Who Said USA 'Deserved 9/11' Buys $2.7M West Hollywood Home


Hasan Piker, Twitch streamer and nephew of The Young Turks founder and failed Democrat congressional candidate Cenk Uygur, a strident socialist who once said the U.S. deserved 9/11, has bought a multi-million-dollar mansion in West Hollywood. Piker, who was raised in Turkey, got his start hosting a number of shows on The Young Turks before going independent at the start of 2020. Piker is a self-described socialist who has called for billionaires to be banned. Now, about one and a half years since he flew the TYT coop, he's hoovered up enough clout, audience, and revenue to shell out $2.74 million for a spacious home along a pretty, tree-lined street in West Hollywood's bustling and centrally located Beverly Grove neighborhood. A secured and tightly hedged if otherwise bland and featureless courtyard fronts the roughly 3,800-square-foot pan-Mediterranean style residence that was built in 2014 with white stucco walls and a red tile roof. Arguably, only the exposed wooden eaves give the five-bedroom and 5.5-bath home a smidgen of authentic architectural character. Piker was the subject of controversy in 2019 after he declared that the U.S. "deserved 9/11" and praised the "mujahideen" who caused Rep. Dan Crenshaw to lose his eye in Iraq as "brave."
*'How Did Your Audience Wind Up Believing Such A Lot Of Crap?': Bill Maher Rips Liberal Media For COVID 'Panic Porn'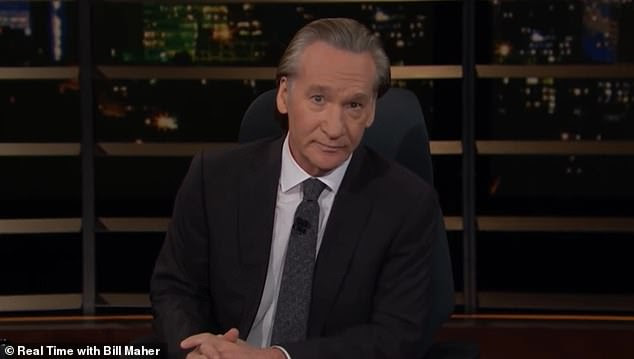 Comedian and HBO host Bill Maher lashed out at media during his Friday monologue, arguing that coronavirus "panic porn" has resulted in a badly misinformed public. Maher said that it wasn't fair to claim that only Republicans are surrounded by a "misinformation bubble" when Democrats, according to a Gallup survey, believe so much false information when it comes to the coronavirus pandemic. "Over the past year, the COVID pandemic has prompted the medical establishment, the media and the government to take a 'scared straight' approach to getting the public to comply with their recommendations," Maher began. "Well, I'm from a different school: Give it to me straight, Doc. Because in the long run that always works better than 'You can't handle the truth.'"
Maher said he understands why doctors might not always be straightforward with their patients, adding, "And media? Well, I think we all know if it bleeds, it leads. The more they can get you to stay inside and watch their panic porn, the higher their ratings." The U.S. media, Maher said, has consistently painted a more negative picture of the pandemic than other outlets around the world. While the coverage in other countries has mixed the positive news in with the negative, he noted that American media coverage has remained nearly 90% negative.
*YIKES – FedEx shooter had gun stripped from him but still managed to buy two new weapons legally: police

The former FedEx worker who murdered eight people in Indianapolis legally bought the two weapons he used, police said Saturday night — even though he should have been barred from doing so after a previous gun was seized due to mental health issues. Brandon Scott Hole, 19, purchased the two assault rifles in July and September, Indianapolis police said Saturday. Earlier Saturday, police declined to give any further details about the make and model of the weapons, citing the ongoing investigation. Authorities had seized a shotgun from Hole last year after his mother called police, saying she was worried he would try to commit suicide by cop, according to the FBI. The shotgun was not returned. But the seizure should have prevented Hole, who killed himself following the Thursday night rampage, from legally buying another weapon, Indianapolis Police Chief Randal Taylor.

*Elizabeth Stanton, Host of The CW's "World's Funniest Animals", on The 7 Easiest Dogs to Travel With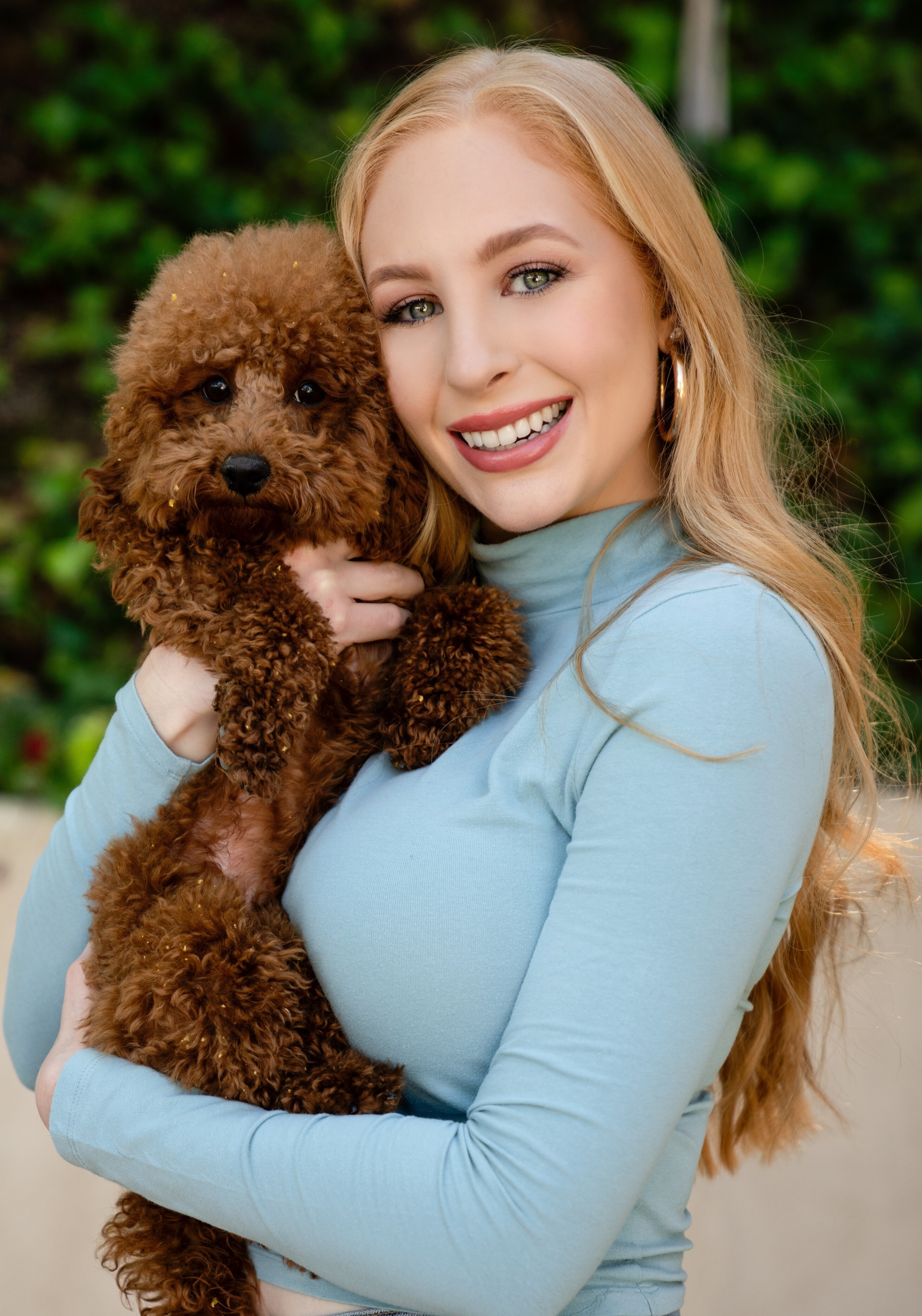 Dogs of all shapes and sizes can make the perfect traveling companions for people with a passion for travel, whether by land, sea or air. Globetrotting dog owners should not be restricted to choosing only the smallest breed—even when traveling by airplane—according to the American Kennel Club (AKC).

Chief Veterinary Officer Dr. Jerry Klein tells Newsweek: "Different airlines have their own specific pet policies, but, if your pet carrier (with your pet inside) can fit under the seat in front of you, your dog can ride in the cabin on flights that allow it. "This would be a dog weighing up to about 20 pounds. Always check with your airline to confirm specific requirements. "Dogs that exceed the 20 lb. requirement for in-cabin travel, must fly as cargo.

Here are the 7 easiest dogs to travel with in my opinion:

1. Chihuahua
These pint-sized purebred dogs originating from Mexico are recognized for their larger-than-life personalities. "Dog breeds that would typically fit in a carrier under the [airplane] seat are Toy breeds," Dr. Klein says.

2. Yorkshire Terrier
The Yorkie is one of the smallest dog breeds of the terrier type, making them one of the world's most portable pets. Yorkshire Terriers are also considered a particularly sociable dog breed, meaning they are often more than eager to accompany their owners on their travels.

3. Australian Terrier
These purebred dogs are considered delightful companions for frequent flyers—and not only for their compact size. This terrier's obedient nature strong personality means they are happy to be left alone for longer than average periods, while their low-maintenance coat is a bonus while traveling.

4. Bichon Frise
Known for their wonderful white coat and their doll-like dark eyes, the diminutive Bichon Frise has the perfect proportions for coping with the trials of traveling in small spaces. These dogs often have a genial and easy-going nature, meaning they are friends for those looking to hit the open road.

5. Portuguese Water Dog
These cute, curly-coated dogs are notable for how easy they are to train and their eagerness to please, meaning these dogs will soon learn to love traveling. In addition, the Portuguese Water Dog is a non-shedding breed, meaning prospective pet-owning travelers will not have to worry about their pet's hair covering their hire car.

6. Labrador Retriever
Medium-sized Labs are active dogs more than happy to jump in the car and go on an adventure with their owner. Gentle, intelligent and easy to train, the loyal Labrador Retriever will, however, be required to travel via crate for journeys in an airplane.

7. Dalmation
The medium-sized Dalmatian dog breed is best known for its distinctive white coat marked with black colored spots. Because Dalmatians were bred to travel beside horse-drawn coaches, these athletic and intelligent dogs are durable and can confidently handle long journeys.
—————————————————–
Elizabeth Stanton
*WHAT'S UP? BY SARAH GARCIA:

President Biden is failing in his first constitutional duty — to defend the United States from foreign invasion. We Americans no longer decide who comes into our national home and whom we shall adopt as new citizens… We defend the borders of scores of nations; we cannot, or Biden will not, defend our own."
*EXAMINER – INVESTIGATES:
A study found that orcas can learn to speak to dolphins.
*EXAMINER – LENS: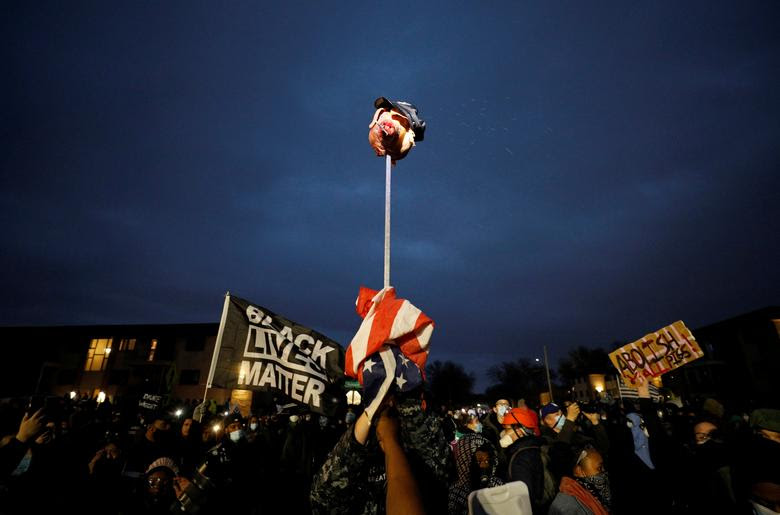 Protesters hold up a pig's head wearing a police cap on a stick outside the Brooklyn Center Police Department, as protests continue days after former police officer Kim Potter fatally shot Daunte Wright, in Brooklyn Center, Minnesota, April 14, 2021.
*DON'T BE A MENTAL APE – READ LBN EXAMINER: "Fearlessly Independent" and "Unbiased" since 2002
The LBN Examiner is read in all 50 of the United States and in 26 foreign countries by influencers of all types — from Nobel Prize winners to billionaires, acclaimed journalists to professors at Harvard, Yale and Stanford, US Senators to Academy Award winners. A whopping 84% of our readers find the Examiner "fearlessly independent" and "unbiased": which is why it is so indispensable to read weekly — especially in the times in which we live.
EXAMINER – CARTOON: *
Now that things are opening up, I'm learning that you either wear a bra as a top or you don't wear one at all."
*(NOTABLE) REMARKS:
For years, U.S. officials used a shorthand phrase to describe America's mission in Afghanistan. It always bothered me: We are there to train the Afghan Army to fight for its own government. That turned out to be shorthand for everything that was wrong with our mission – the idea that Afghans didn't know how to fight and that just one more course in counterinsurgency would do the trick. Really? Thinking you need to train Afghans how to fight is like thinking you need to train Pacific Islanders how to fish. Afghan men know how to fight. They've been fighting one another, the British, the Soviets or the Americans for a long, long time. —– Thomas L. Friedman.
*THINK FREELY – BE INDEPENDENT: READ LBN EXAMINER:
Now you can invite your friends and family to sign up to receive the LBN Examiner for free (if you've got the guts) —– www.LBNExaminer.com
*EXAMINER – LENS:
Lorde's third album, "Solar Power," was made after a break during which the singer and songwriter simply lived.
*"Intel for Influencers" —- WHO READS LBN EXAMINER?:
Four-time Olympic champion Simone Biles along with along with 12 members of the White House staff, 3 Nobel Prize winners, over 100 Academy Award winners, 6 US Senators, and over 300 Grammy Award winners.
*EXAMINER – A DIFFERENT VIEW:….
LBN Examiner Disclaimer: 1.) The LBN Examiner accepts no liability for the content of this email, or for the consequences of any actions taken on the basis of the information provided. The LBN Examiner is not associated with any commercial or political organization and is transmitted via the web for the sole benefit of its subscribers. 2.) Unfortunately, computer viruses can be transmitted via email. The recipient should check this mail and any attachments for the presence of viruses.