*CALIFORNIA LOOTERS INVADE WILDFIRE ZONE, STEAL FIREFIGHTER'S WALLET, & DRAIN BANK ACCOUNT AS HE BATTLES BLAZE:
California wildfires, which have so far torched more than a million acres of land, including parts of the state's historic redwood forest, have become a target for looters, and at least one firefighter had his bank account "drained" as he risked his life battling the historic blaze. "California's ongoing historic wildfires have forced tens of thousands of people from their homes, and police said looters are taking advantage of the empty houses," USA Today reported Monday. "In one case, a looter took advantage of an unoccupied car. Santa Cruz County Sheriff Jim Hart on Sunday told reporters that a California firefighter's marked vehicle was burglarized."

The looters apparently entered the firefighter's truck as he and his crew were fighting to control the Santa Cruz blaze sometime between Friday evening and Saturday morning. In a matter of hours, they'd taken his possessions and allegedly drained his bank account using a debit card, per the Santa Cruz sheriff's office. "That's the extent these people have gone," CaliforniaDepartment of Forestry and Fire Protection Battalion Chief Mark Brunton said at a press conference. "Again, this is why we've asked for people to evacuate. The sheriff's department has done a fantastic job in trying to wrangle this, but again, this is what we have as a result." The Santa Cruz sheriff's office did not comment extensively on the case except to say that an investigation had been opened, but the Santa Cruz County Sheriff Jim Hart did tell reporters that he "can't imagine a bigger lowlife."


*SAN FRANCISCO'S COPS AREN'T WAITING AROUND TO BE "DEFUNDED": THEY'RE LEAVING IN MASSES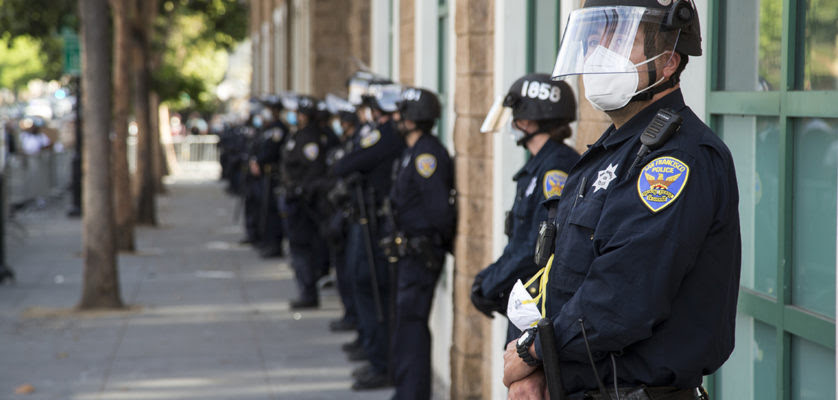 Police in San Francisco aren't waiting around for pandering politicians to "defund" the city's police department, which has already seen a mass exodus of officers following the passage of a state law called Prop 47, a statewide criminal-justice law passed back in 2014. It appears the pace of officer exits is picking up this year, and what's even more interesting: The acceleration started before the murder of George Floyd. According to the San Francisco Chronicle, 23 officers resigned during the first six months of the year, with many resigning even before Floyd's murder. Most expect that another wave of resignations spurred by the protests and widespread anti-police sentiment in the deep blue state will spur even more officers to leave.
*RUSSIA: HOW DARE THE U.S. QUESTION OUR UNTESTED COVID VACCINE:


Russia has said that the U.S. is waging "information warfare" about its purported COVID-19 vaccine and has rejected international criticism of its speedy rollout of the inoculation, saying that it's safe and that it works. Russia announced Tuesday that its vaccine, which Vladimir Putin said had been given to his daughter, had been approved by its health regulators. The news attracted widespread criticism as it has only undergone rapid Phase 1 and 2 clinical trials on a small number of people and no data from these has yet been published. However Kirill Dmitriev, the chief executive of Russia's sovereign-wealth fund RDIF, which is backing the vaccine dubbed "Sputnik V" in a nod to the world's first satellite that was launched by Russia in 1957 during the Cold War space race, told CNBC:

"It [the announcement] really divided the world into those countries that think it's great news… and some of the U.S. media and some U.S. people who actually wage major information warfare on the Russian vaccine." He added: "We were not expecting anything else, we are not trying to convince the U.S. Our point to the world is that we have this technology, it can be available in your country in November/December if that works with your regulator… (while) people who are very skeptical will not have this vaccine and we wish them good luck in developing theirs." He conceded that Russia needed to share the data behind the vaccine, saying it was "valid criticism" that it had not yet done so and that it would "all be published in August." Russia has the fourth highest number of confirmed coronavirus cases in the world, with over 900,000 cases as of Wednesday. Its official death toll stands at 15,600.
*JUSTICE? – ONE OF THE TWO MEN CONVICTED IN MURDER OF MICHAEL JORDAN'S FATHER IN 1993 IS GRANTED PAROLE AND WILL WALK FREE IN 2023:
Larry M. Demery, 45, was granted parole on Tuesday and will be freed on August 6, 2023, The N.C. Post-Release Supervision and Parole Commission announced One of the two men convicted in the 1993 murder of Michael Jordan's father will be released from prison after serving 27 years of a life sentence, officials announced on Tuesday. Larry M. Demery, 45, is due to walk free on August 6, 2023, after he was granted parole by the North Carolina Post-Release Supervision and Parole Commission this week. Demery was sentenced to life in prison in 1996 after pleading guilty to first-degree murder and robbery charges in the fatal shooting of James Jordan Sr. Jordan Sr was shot dead in July 1993 as he slept in his parked Lexus on the side of Highway 74 in Robeson County, North Carolina. In a statement released on Tuesday, the Post-Release Supervision and Parole Commission said Demery had been approved for a Mutual Agreement Parole Program (MAPP), a scholastic and vocational program for freed inmates.


*HONEY BETTER TREATMENT FOR COUGHS AND COLDS THAN ANTIBIOTICS:
Honey may be better than conventional treatments for coughs, blocked noses and sore throats, researchers have said. The substance is cheap, readily available, and has virtually no side-effects. Doctors can recommend it as a suitable alternative to antibiotics, which are often prescribed for such infections, even though they are not effective, scientists from the University of Oxford said. Upper respiratory tract infections (URTIs) affect the nose, throat, voice box and the large air passages (bronchi) that lead from the windpipe to the lungs. There is evidence for honey being used in children, and it has long been used as a home remedy to treat coughs and colds. But the evidence for its effectiveness for a range of upper respiratory tract symptoms in adults has not been systematically reviewed.
*ATLANTIC WRITER JEMELE HILL COMPARES UNITED STATES TO NAZI GERMANY:
Atlantic writer Jemele Hill compared America to Nazi Germany Sunday, tweeting that those who believe the latter was worse are "wrong." Hill cited the book "Caste: The Origins of Our Discontents" by Isabel Wilkerson, which aims to explore how people's lives and behaviors are influenced by "linking the caste systems of America, India, and Nazi Germany," according to a Barnes and Noble description. Hill claimed that "if you were of the opinion that the United States wasn't nearly as bad as Nazi Germany, how wrong you are."

The sports writer's tweet remains live as of the publication of this article, despite backlash from many. Editor-in-chief of Arc Digital Berny Belvedere tweeted that Hill's comments are "breathtakingly irresponsible." "How is anyone supposed to trust your judgment after this horror show of an opinion?"

*DOUBLE STANDARD TROPHY- CHICAGO MAYOR DEFENDS MAKING HER STREET A "PROTEST-FREE" ZONE:
The embattled streets of Chicago just got a little bit safer. Well, one street did. Mayor Lori Lightfoot's. The mayor banned protests from her street because of "safety." "'I think that residents of this city, understanding the nature of the threats that we are receiving on a daily basis … understand that I have a right to make sure that my home is secure,' the mayor told reporters Thursday" . Mayor Lightfoot (also known locally as "Mayor LOOTFOOT") has once again shown the people of Chicago that her safety is more important than anyone else. This should not be a surprise. In the early days of the lockdown, the mayor was caught breaking the rules and visiting a hair salon. Her response to the inquiring media, "I have to look good. I'm on television all the time." The mayors earn this weeks "Double Standard trophy."
*SAQUON BARKLEY, NEW YORK GIANTS RUNNING BACK, AND OTHER NFL STARS TEAMING WITH NIKE FOR FREE VIRTUAL FOOTBALL TRAINING:
Athletes will now be able to get training tips from professional football players like Odell Beckham Jr, Saquon Barkley, and Christian McCaffrey to keep in condition during the coronavirus pandemic. Nike has partnered with the NFL to deliver a free, 11-Online interactive training platform launching Friday. The lessons will stream at 11onfootball.com and can be found on Nike 's Train Club application. The platform was built as a way for athletes who are trying to keep in shape from home during the coronavirus pandemic to create a virtual practice camp. All 32 NFL teams took part in the program which provides guidance from NFL players for all 11 football positions. Other stars include Cooper Kupp, Aaron Donald, George Kittle, Denzel Perryman, Taylor Rapp, and Deshaun Watson to provide training.
Barkley takes you through his footwork and ball protection exercises to help you become a better ball carrier in the running back portion. The center also offers emotional workouts conducted by Seattle Seahawks psychologist Michael Gervais, in addition to the positional preparation. Some of the other content features NFL announcer Nate Burleson going through one-on-one drills with a series of pushups and planks in it. If you're a defensive lineman, Donald will give you his pass rushing secrets and ways in off season that he likes to practice. The NFL and Nike launched the 11-on initiative in 2019, and the launch on Friday is the first time that it will be available online and to everyone. The curriculum was created to help high school football and teach transferable life skills to student athletes.
"Nike's 11 Online gives you unprecedented access to your favorite athlete's training routines virtually so you can improve wherever you are," Carolina Panthers running back McCaffrey said. "While I was fortunate enough to attend the 11-On experience in-person, this digital training camp provides a similar experience in your home." The world of declining high school athletics is shifting dramatically because of the pandemic, with many states being forced to make difficult decisions regarding the upcoming season. According to High School Football America, 17 states are pushing back regular seasons for the beginning of 2020 high school football and 16 states plus the Columbia District are switching their seasons to next year. Nike announced yet another investment in high school football in January. At Nathaniel Traz-Powell Stadium, home to seven Miami-Dade area high schools that regularly produce NFL-caliber teams, the sports apparel corporation has invested $2 million in the gridiron for the future.
– WITHOUT NOTES –


Welcome to the latest venture of the revealing TV interview show, "Without Notes". This is the complete story of the political pioneer, Susan Estrich. Her successful career in politics spanning decades and as a best selling author is highlighted in this complete story and is one to not miss out.

"Politics isn't just about doing the right thing. It's also about winning." – Susan Estrich

Watch HERE
*EXAMINER – READER POLL


Are current K-12 schools, colleges, and universities doing enough to provide students with a proper understanding of American history and government—including an understanding of the purposes and principles of TheConstitution?
Send your vote to: LBNExaminer@TimeWire.net
*EXAMINER – INVESTIGATES:
Helmets weren't mandatory for football players until 1939.


TELL YOUR STORY IN THE LBN EXAMINER
"The Best Promotional Deal On The Web"


Now YOU can tell YOUR unique story in the world-famous LBN Examiner – www.LBNExaminer.com – and communicate directly with LBN readers in all 50 of the United States and 26 foreign countries.

Amazing coverage with YOUR story, YOUR headline, YOUR photo and YOUR website. And then, of course, you can share this LBN story on all YOUR Social Media! And it's really easy to do. Simply send your story (not to exceed 250 words) including a photo and link to: LBNExaminer@TimeWire.net. We will approve and run.

The cost is a mere $250 payable via PayPal or credit card. This is (by-far) one of the best deals in the world of digital promotion and only available to LBN subscribers.


*EXAMINER – SEE IT:


*READ LBN EXAMINER: "Whether you're left or right, we're centered and fearless independents"

Now you can invite your friends and family to sign up to receive the LBN Examiner for free (if you've got the guts) —– www.LBNExaminer.com

*EXAMINER – THOUGHT FOR TODAY:


"To fall in love is to create a religion that has a fallible god."
– Jorge Luis Borges, writer (24 Aug 1899-1986)
*THINK FREELY – BE INDEPENDENT – MAKE UP YOUR OWN (DAMN) MIND: READ LBN EXAMINER

*EXAMINER – BOOKS: BROKEN WINDOWS, BROKEN BUSINESS:
Once every decade a book comes along with an insight so penetrating, so powerful – and so simply, demonstrably true -that it instantly changes the way we think and do business. Such a book is Broken Windows, Broken Business, a breakthrough in management theory that can alter the destiny of countless companies striving to stay ahead of their competition. "In this vital work, the author offers compelling evidence that problems in business, large and small, typically stem from inattention to tiny details. Social psychologists and criminologists agree that if a window in a building is broken and left unrepaired, soon thereafter the rest of the windows will be broken – and the perception will build that crime in that neighborhood is out of control. The same principle applies to business." "Drawing on real-world corporate examples, from JetBlue's decision to give fliers what they really want – leather seats, personal televisions, online ticketing – to Google's customer-based strategy for breaking out of the pack of Internet search engines, to business-to-business firms' successes and failures, the author proves again and again how constant vigilance and an obsession with detail can make or break a business or a brand."

"With tips and advice on changing any business to one that dots its i's, crosses its t's, and attracts more clients, Broken Windows, Broken Business goes straight to the heart of what makes all enterprises successful – the little things that mean a lot."

Book Link Here


*WHO READS LBN EXAMINER?:
Comedian Bill Maher along with 12 members of the White House staff, 3 Nobel Prize winners, over 100 Academy Award winners, 6 U.S. Senators, and over 300 Grammy Award winners.
*EXAMINER – A DIFFERENT VIEW:….
WANTED: VIRTUAL (DIGITAL) INTERNSHIP FOR PROMINENT ENTERTAINMENT P.R. FIRM:

Prominent entertainment P.R. firm (representing *58 Academy Award winners *34 Grammy Award winners *43 New York Times best-sellers) seeks two virtual (digital) interns for summer 2020. Work from home. 20 flexible hours a week for 13 weeks. Must be smart, very reliable, resourceful, tech-savvy and hungry. Incredible opportunity to learn about the entertainment and media world.

*School Credit Available

Send resume (no attachment) and contact details including phone number: aurora411@timewire.net

LBN Examiner Edited By: Aurora DeRose
LBN Examiner Disclaimer: 1.) The LBN Examiner accepts no liability for the content of this email, or for the consequences of any actions taken on the basis of the information provided. The LBN Examiner is not associated with any commercial or political organization and is transmitted via the web for the sole benefit of its subscribers. 2.) Unfortunately, computer viruses can be transmitted via email. The recipient should check this mail and any attachments for the presence of viruses.