*Unvaccinated 11 Times More Likely To Die From COVID-19, New CDC Study Says

Unvaccinated people are 11 times more likely to die from COVID-19 than fully vaccinated people, a new study from the Centers for Disease Control and Prevention (CDC) shows. The study, which examined 600,000 COVID-19 cases, hospitalizations and deaths in 13 states from April 4 to June 19 and from June 20 to July 17, "found further evidence of the power of the vaccination," CDC director Rochelle Walensky said in a press briefing Friday, according to CNBC people were over 10 times more likely to be hospitalized due to COVID-19 and are four-and-a-half half times more likely to contract the virus, according to the study.
The results come just one day after President Biden announced new COVID-19 rules that require private companies with over 100 employees to mandate the vaccine, and federal employees, contractors and healthcare workers to get the shot. "As we have shown study after study, vaccination works," Walensky said during the press briefing, according to The Hil. "CDC will continue to do all we can do to increase vaccination rates across the country by working with local communities and trusted messengers and providing vaccine confidence consults to make sure that people have the information they need to make an informed decision," Walensky added. Currently, 75% of U.S. adults ages 18 and older have received at least one shot, while 53% of the nation is fully vaccinated, according to The New York Times.


*The Mastermind – Khalid Sheikh Mohammed and the making of 9/11: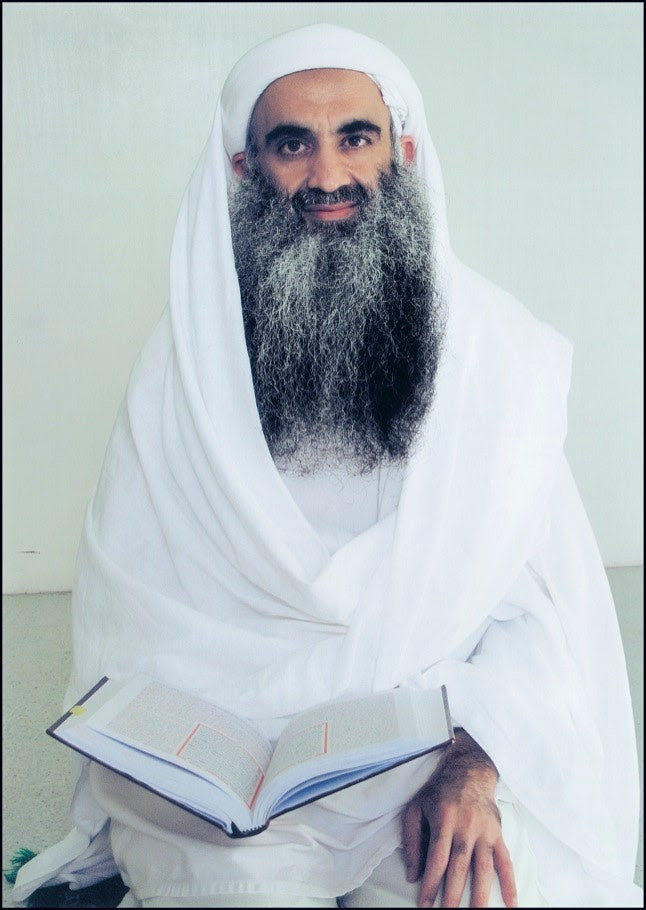 Khalid Sheikh Mohammed, photographed last year in Guantánamo, where he has been detained since 2006 and still awaits trial.
Since 2006, Khalid Sheikh Mohammed's family has periodically received letters from him, sent from his cell at the Guantánamo Bay detention center. According to rules established by the American military, the correspondence must fit on a five-inch-by-six-inch portion of a pre-printed form, and its content is restricted to the familial and personal; all else is stricken by censors. Mohammed, the self-proclaimed architect of the 9/11 attacks against America, mostly sends good wishes to his wife and children, who are now living in southeastern Iran, and to other relatives. He makes repeated references to his Islamic faith and the beneficence of Allah and his prophet.
In photographs that accompanied one of the letters, Mohammed appeared shrunken from the man in the famous image taken the day of his capture: a thickset, wild-haired figure, half-dressed in his nightclothes. The image must have infuriated Mohammed, who is vain enough to have complained during a military-court hearing that a sketch artist had drawn his nose too big. In the jailhouse photographs, he is almost forty pounds lighter. He stares directly at the camera, cloaked in long white robes, with a headdress framing a small, still face and a long black-and-white beard. A copy of the Koran lies open in his right hand.

*Marijuana use at 'historic high' among college-aged adults


You may soon be in the minority if you're of a college-age adult and not using marijuana, according to a new national poll. Marijuana has steadily become more and more socially accepted and popular in recent years. Now, a new study reveals weed use among college students and their peers reached historically high levels in 2020. In fact, researchers from the National Institute on Drug Abuse (NIDA) say marijuana use hasn't been this high since the 1980s. However, the report shows both marijuana vaping and nicotine vaping trends leveled off a bit last year after experiencing big increases starting in 2017 among college-aged adults. As for other drugs, use of hallucinogens among college students increased in 2020, while alcohol consumption actually dropped significantly between 2019 and 2020.
"The COVID-19 pandemic dramatically changed the way that young people interact with one another and offers us an opportunity to examine whether drug taking behavior has shifted through these changes," says NIDA Director Nora D. Volkow, M.D., in a media release. "Moving forward, it will be critical to investigate how and when different substances are used among this young population, and the impact of these shifts over time."
*UMich prof says math and science classes are racist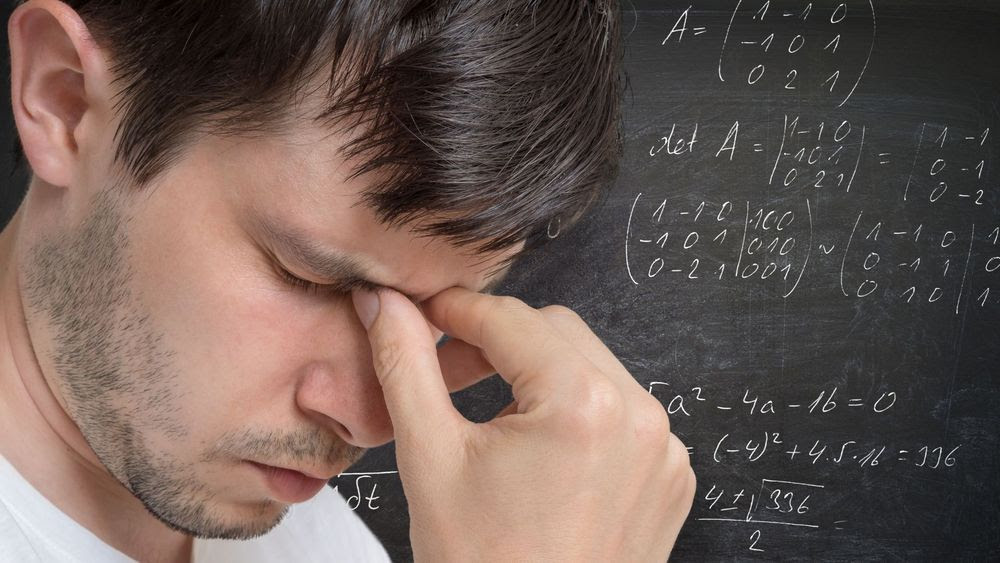 Deborah Ball, a mathematics professor at the University of Michigan, argued in a podcast that the discipline inflicts racism against Black and Latino students. On Jul 21, Ball appeared on an episode of the Ed Fix Podcast titled "Fighting Racism with Mathematics" to make her case. Ball said on the podcast that mathematics is "dominated by Whiteness and racism." She also expressed frustration at her mathematics and science colleagues. whom she described as resistant to her ideas that the disciplines are just as subjective in interpretation and analysis as the humanities. "It's difficult to figure out how to surface and unpack the ways that mathematics, for example is a harbor for whiteness," Ball stated. Last week, the University of Michigan's shared the podcast episode on its Twitter account. Deborah Ball, professor at @UMichEducation, was featured on an EdFix podcast discussing the power and possibility of mathematics teaching to disrupt patterns of racism and oppression. Listen to the podcast: https://t.co/zdBwARHBRE– University of Michigan (@UMich) August 11, 2021.
According to Ball, "Whiteness" plays an integral role in explaining the racial and ethnic disparities that exist in mathematics performance. She claimed that since White and Asian students are overrepresented in high-level mathematics, new pedagogy is required to increase access to underrepresented minority students. "Mathematics, despite the way we represent it, is something that many cultures and communities have created and there are people, scholars in our country, and teachers who have exploited opportunities to broaden kids' views of mathematics," Ball said in the podcast. More broadly, Ball views racial injustice as an issue that permeates the educational system. Writing for the Detroit Free Press on March 21, Ball stated, "As districts emerge from the quarantine of the last year, the plans for a safe return to school must take a fuller view of the safety needed to dismantle anti-Blackness and white supremacy in our educational systems.
*7,000 steps a day can dramatically cut risk of heart disease, premature death in middle-aged adults


Taking 7,000 steps a day during middle age can keep a person's arteries healthy and reduce their risk of death by up to 70 percent, a new study concludes. The findings by researchers from across the United States suggest that this lower number is still enough to protect against serious heart complications – rather than the common recommendation of 10,000 steps per day. The study examined a group of adults between 38 and 50 who took at least 7,000 steps daily – about three miles – and discovered that these individuals were much less likely to die over the next decade. Mortality rates among both White and Black participants fell by 63 and 70 percent respectively compared to their sedentary peers. Study authors also identified a difference among men and women raising their daily step count. Deaths among men fell by 58 percent however, that rate jumped to 72 percent among women. "This cohort study found that higher daily step volume was associated with a lower risk of premature all-cause mortality among Black and White middle-aged women and men," lead author Dr. Amanda Paluch of the University of Massachusetts-Amherst and her team writes in the journal JAMA Network Open. The 2,110 volunteers wore an accelerometer from 2005 to 2006 and researchers followed them for an average of nearly 11 years. The volunteers were all taking part in a program looking into the risks of coronary artery disease. "Participants taking at least 7,000 steps/d, compared with those taking fewer than 7,000 steps/d, had a 50% to 70% lower risk of mortality," the researchers write
*EXAMINER – NOTABLE REMARKS:

Of all the broken things the pandemic has revealed about our country, you can make a good case that the state of American education came out looking more battered than just about anything else. There's the stranglehold that the teacher's unions have over our public schools. (And the influence those unions seem to have over our public health organizations.) There's the war over masking our students – and the inability of the adults in charge to have an adult conversation about trade-offs and risks. There's the revelation, via Zoom, that students might not be learning much of anything. (Besides obsessing over race.) There's the decline of the American university, captured with love on Netflix's new series "The Chair." Colleges and universities have 1.5 million fewer students today than they did five years ago. Men, according to a story out today in The Wall Street Journal, account for more than 70% of that drop. Soon, university women will outnumber men by two to one. It's an astonishing gender gap that would perhaps generate more alarm if we weren't already focused on skyrocketing tuition and student debt. —- Bari Weiss
*THINK FREELY – BE INDEPENDENT: Make Up Your Own (Damn) Mind – READ LBN EXAMINER: "Fearlessly Independent" and "Unbiased" since 2002
The LBN Examiner is read in all 50 of the United States and in 26 foreign countries by influencers of all types — from Nobel Prize winners to billionaires, acclaimed journalists to professors at Harvard, Yale and Stanford, US Senators to Academy Award winners. A whopping 84% of our readers find the Examiner "fearlessly independent" and "unbiased": which is why it is so indispensable to read weekly — especially in the times in which we live.
*EXAMINER – A LOOK BACK:
Beloved poet Mary Oliver (September 10, 1935-January 17, 2019)


*WALK TOWARD "UNBIASED" TRUTH – READ LBN EXAMINER:
Now you can invite your friends and family to sign up to receive the LBN Examiner for free (if you've got the guts) —– www.LBNExaminer.com




*EXAMINER – CARTOON:
"It started out as a scarf, but it turned into an excuse to watch murder documentaries."
*We Are The West Releases New Album to Vast Critical Acclaim


We Are The West has been achieving one success after another. After a series of 4 site-specific EPs, performing with David Bowie's band in his 'Celebrating David Bowie' world tour, releasing their soulful and intricately crafted debut LP The Golden Shore, and providing the soundtrack for 2 Hearts (#1 movie on Netflix, June 2021), they've emerged from the pandemic into the warm sunlight with a brisk and immediate collection, 'Only One Us', their finest work yet. Only One Us has been receiving grand praise from critics and is sure to become a classic album. The record has been getting airplay on premier radio stations, KCSN in LA and WFUV in NYC.
List of critically acclaimed reviews about Only One Us:
"Beautiful, cinematic folk. Their live show is just a feast for the eyes and the ears." – NPR's Here & Now
"Beyond its well-crafted songs, the album's calling card is its great big heart. By the end, you might want to shout 'Hey God, I'm Alive!', too." – Buzz Bands LA
"We Are The West are the best of acoustic music that dabbles in ambient Psych-Folk." – The Alternate Root
"One of the most creative bands out there is out now with a beautiful new album. It will hypnotize you." – Vents Magazine
"Thoroughly original, one-of-a-kind performances." – Magnet Magazine
We Are The West began way out east in a shipping container on a sheep farm in Holland. Then, inside a haunted convent in Brooklyn, before growing underground in a parking garage in Santa Monica where founders Brett Hool (voice, guitar) and John Kibler (upright bass, voice) host their renowned monthly concert series ("Feels like the wave of the future." Los Angeles Magazine).
We Are The West website: http://wearethewest.com/
instagram: https://www.instagram.com/wearethewest/
Facebook: https://www.facebook.com/wearethewestmusic/
*EXAMINER – LENS: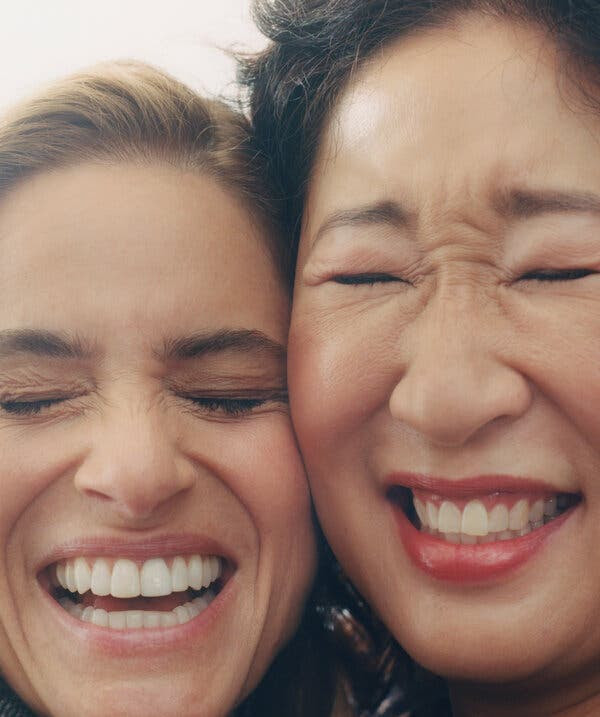 For "The Chair," Amanda Peet, left, needed a very specific kind of lead actress. Who else but Sandra Oh, right, could both "do a pratfall and also pass as someone with a Ph.D. in literature?" she asked.


*"Intel for Influencers" —- WHO READS LBN EXAMINER?:
Actress Kirsten Dunst, along with 12 members of the White House staff, 3 Nobel Prize winners, over 100 Academy Award winners, 6 US Senators, and over 300 Grammy Award winners.
*EXAMINER – A DIFFERENT VIEW:….
LBN Examiner Disclaimer: 1.) The LBN Examiner accepts no liability for the content of this email, or for the consequences of any actions taken on the basis of the information provided. The LBN Examiner is not associated with any commercial or political organization and is transmitted via the web for the sole benefit of its subscribers. 2.) Unfortunately, computer viruses can be transmitted via email. The recipient should check this mail and any attachments for the presence of viruses.