*In America, is it better not to be employed?
The latest jobs report for August was disappointing. Job growth fell by more than half and was one-third of expectations. This was partly because of COVID concerns. But we still don't have nearly enough adult Americans in the work force. Why? Government welfare policies are clearly keeping Americans – millions – from taking jobs. Here is what we know: Across the country, there are between 5 million and 6 million unemployed Americans, but also an all-time record 10.1 million job openings. These are in construction, warehousing, retail, manufacturing, trucking, business services and so on. These aren't "dead end" or even minimum-wage jobs in most cases. Open factory and truck driver jobs pay $50,000 to $100,000 a year with benefits. But economist Casey Mulligan of the University of Chicago has found that when counting all government benefits, a family of four in high welfare-benefit states like New York and Connecticut and with two unemployed parents can receive up to $100,000 in cash, food stamps, etc. Why work? In some cases, workers would see a cut in their income if they returned to their jobs


*Taliban Names FBI-Wanted Alleged Terror Leader As Afghan Interior Minister
The Taliban announced "the formation of a hardline interim government for Afghanistan" on Tuesday, per CNN, and among the top ministers is the FBI-wanted alleged terror leader Sirajuddin Haqqani, the head of the Taliban- and al Qaeda-aligned Haqqani network and a State Department "specially designated global terrorist." "Mullah Mohammad Hassan Akhund, a long-time Taliban member who has been [the] leader of the group's Shura or Leadership Council for about two decades, was named as prime minister. He is seen as an influential and respected on the religious side of the movement, rather than on its military side". Not a single female leader was among those appointed, despite the Taliban's reported newfound commitment to women's rights.
"Two senior figures in the Haqqani Network, a US-designated terror group aligned with the Taliban and al Qaeda, will be in in the interim government. Both have been sanctioned by the United Nations and the US," the outlet added. Sirajuddin Haqqani is the Haqqani Network's leader, CNN noted, and he is joined by his uncle, Khalil Haqqani, who was appointed "acting minister of refugees," though it is not clear whether that refers to incoming or outgoing Afghans. Sirajuddin Haqqani is wanted by both the FBI and the United States State Department, and he has a $5 million bounty from the U.S. State Department on his head, according to the FBI's "Most Wanted" page, which still lists his whereabouts as largely unknown.
*Wuhan lab documents show Fauci 'untruthful' about gain-of-function research: critics:

Dr. Anthony Fauci has been accused by critics of lying after newly released documents appear to contradict his claims that the National Institute of Health did not fund gain-of-function research at China's Wuhan lab. Senator Rand Paul led the criticism against Fauci on Tuesday after the documents, obtained by The Intercept, detailed grants given to EcoHealth Alliance – the nonprofit that funneled federal funds to the Wuhan Institute of Virology for bat coronavirus research. Included in the trove of documents is a previously unpublished grant proposal that EcoHealth Alliance, which is run by Peter Daszak, filed with Fauci's National Institute of Allergy and Infectious Disease. Fauci has repeatedly insisted that NIH funding of the Wuhan lab does not constitute as "gain-of-function" research. "Surprise surprise – Fauci lied again. And I was right about his agency funding novel Coronavirus research at Wuhan," Sen. Paul tweeted after the documents were made public.
*Nearly 90 Retired Generals, Admirals Demand Milley, Austin Resign: Focused On 'Wokeness' Vs. Winning Wars
Nearly 90 retired generals and admirals wrote a letter demanding that Secretary of Defense (SECDEF) Lloyd Austin and Chairman of the Joint Chiefs of Staff (CJCS) Mark Milley resign from their roles immediately over the "events surrounding the disastrous withdrawal from Afghanistan" that unfolded under their leadership in the Biden administration. "What should have happened upon learning of the Commander in Chief's (President Biden's) plan to quickly withdraw our forces and close the important power projection base Bagram, without adequate plans and forces in place to conduct the entire operation in an orderly fashion?" they wrote. "As principal military advisors to the CINC/President, the SECDEF and CJCS should have recommended against this dangerous withdrawal in the strongest possible terms. "If they did not do everything within their authority to stop the hasty withdrawal, they should resign. Conversely, if they did do everything within their ability to persuade the CINC/President to not hastily exit the country without ensuring the safety of our citizens and Afghans loyal to America, then they should have resigned in protest as a matter of conscience and public statement," they continued.
"The consequences of this disaster are enormous and will reverberate for decades beginning with the safety of Americans and Afghans who are unable to move safely to evacuation points; therefore, being de facto hostages of the Taliban at this time." The retired military commanders criticized the Biden administration for enabling the death and torture of Afghans that, they said, "has already begun and will result in a human tragedy of major proportions." "The loss of billions of dollars in advanced military equipment and supplies falling into the hands of our enemies is catastrophic," they continued. "The damage to the reputation of the United States is indescribable. We are now seen, and will be seen for many years, as an unreliable partner in any multinational agreement or operation. Trust in the United States is irreparably damaged."
*Newly Released Taliban Video Blames U.S. For 9/11

 In a newly-released video, the Taliban, which was associated with al Qaeda at the time al Qaeda murdered roughly 3,000 Americans in the terrorist attacks on September 11, 2001, blames America for the events of that day. The video, titled, "Victorious Force 3," as the Foundation for Defense of Democracies' Long War Journal reports, is one of a number of short films celebrating Taliban units that launched suicide attacks and was broadcast on Afghanistan's national RTA television station. The narrator for the film states that the United States is the true "terrorist" party while adding that the 9/11 "attacks were the result of the United States' policy of aggression against the Muslim world." He also claims that the U.S. and its allies "launched a military invasion without considering the reasonable stance of the Islamic Emirate on the issue." "The Taliban has never accepted responsibility for harboring and working with al Qaeda prior to 9/11. The two remain intertwined to this day," the Long War Journal points out. Only weeks after the 9/11 attacks, Taliban founder Mullah Omar, who would not hand over Osama Bin Laden to America, said in an interview, "America has created the evil that is attacking it," adding that this "evil will not disappear even if I die and Osama [bin Laden] dies and others die." 
*EXAMINER – INVESTIGATES: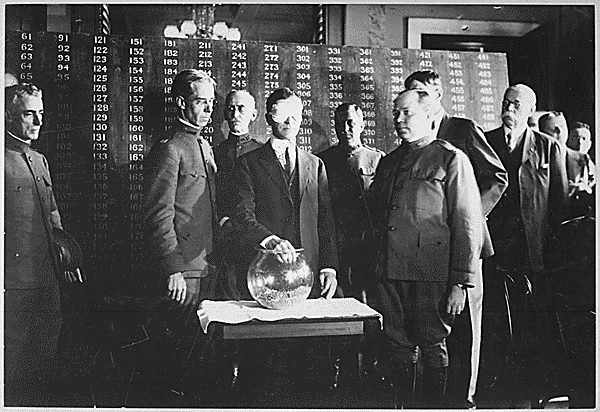 To increase the size of the U.S. Army during WWI, Congress passed the Selective Service Act, which was also known as the conscription or draft, in May 1917. By the end of the war, 2.7 million men were drafted. Another 1.3 million volunteered.
*EXAMINER – LENS:

Caitlyn Jenner's campaign has paid $35,000 to Como Ventures LLC, an entity registered by her personal manager and roommate, who has no apparent experience working in politics.
*THINK FREELY – BE INDEPENDENT: Make Up Your Own (Damn) Mind – READ LBN EXAMINER: 
"Fearlessly Independent" and "Unbiased" since 2002 
The LBN Examiner is read in all 50 of the United States and in 26 foreign countries by influencers of all types — from Nobel Prize winners to billionaires, acclaimed journalists to professors at Harvard, Yale and Stanford, US Senators to Academy Award winners. A whopping 84% of our readers find the Examiner "fearlessly independent" and "unbiased": which is why it is so indispensable to read weekly — especially in the times in which we live.
*EXAMINER – A LOOK BACK:
February 1942. "Meeker County, Minnesota. Mike McRaith and family. He farms eighty acres.

*YIKES – 6 in 10 say US has 'seriously gone off on the wrong track': poll:
 About 6 in 10 U.S. voters believe that the country has gone "pretty seriously" off "the wrong track" as President Biden faces a wave of criticism over his handling of the U.S. withdrawal from Afghanistan, according to a new Politico-Morning Consult poll released Wednesday.  The study, conducted from Saturday to Monday, found that 61 percent of respondents believe the country is on the wrong track, compared to just 39 percent who say the country is "going in the right direction."  The survey also found a record-low overall approval rating for Biden at 47 percent, with 49 percent saying they disapproved of the president's job performance overall.
*CLIMB THE TREE OF KNOWLEDGE – READ LBN EXAMINER:
Now you can invite your friends and family to sign up to receive the LBN Examiner for free (if you've got the guts) —– www.LBNExaminer.com

**AMAZON RECOMMENDS BUSINESS BOOK CLASSIC "BROKEN WINDOWS, BROKEN BUSINESS"



Amazon, the world's largest bookseller has recommended the revised edition of the business book classic "Broken Windows, Broken Business" —– Broken Windows, Broken Business: The Revolutionary Broken Windows Theory: How the Smallest Remedies Reap the Biggest Rewards.
*Former UK PM Blair warns West should prepare for bio-terrorism threat:



Islamism remains a "first order" security threat and the West should prepare for potential use of biological weapons by extremist groups, former British prime minister Tony Blair said. The Taliban swept to power in Afghanistan last month as the United States withdrew its troops after a 20-year war, and Britain fears the group's return and the vacuum left by the West's chaotic withdrawal will allow militants from al Qaeda and Islamic State to gain a foothold there. "Islamism, both the ideology and the violence, is a first order security threat and, unchecked, it will come to us, even if centered far from us, as 9/11 demonstrated," Blair said in a speech at the RUSI security think tank to mark the twentieth anniversary of Sept. 11, 2001 attacks on the United States. Blair said the West needed to assess its vulnerability. "COVID-19 has taught us about deadly pathogens. Bio-terror possibilities may seem like the realm of science fiction. But we would be wise now to prepare for their potential use by non-state actors," he said.
*EXAMINER – LENS:
The reporter Sonya Groysman has been labeled a "foreign agent" by Russia's justice ministry. The designation is often used to disrupt the work of news organizations that touch on sensitive political issues or which otherwise aggravate the Kremlin.
*"Intel for Influencers" —- WHO READS LBN EXAMINER?:
Afghan filmmaker Sahraa Karimi, along with 12 members of the White House staff, 3 Nobel Prize winners, over 100 Academy Award winners, 6 US Senators, and over 300 Grammy Award winners.
*EXAMINER – A DIFFERENT VIEW:….
LBN Examiner Disclaimer: 1.) The LBN Examiner accepts no liability for the content of this email, or for the consequences of any actions taken on the basis of the information provided. The LBN Examiner is not associated with any commercial or political organization and is transmitted via the web for the sole benefit of its subscribers. 2.) Unfortunately, computer viruses can be transmitted via email. The recipient should check this mail and any attachments for the presence of viruses.