*Pet Opioid Prescriptions Have Soared, Penn Study Finds:
A new study by Penn Medicine and Penn Vet has uncovered a 41 percent increase in opioids prescribed for pets over a 10-year period, but only a 13 percent bump in the number of pet hospital visits. The prescription spike could have been driven by the complex care offered at a veterinary hospital like Penn's, as well as the desire to spare beloved pets from pain, according to the study authors.
On the other hand, it might also mean all those prescriptions didn't go to Fido and Fluffy.

*Democrat House Votes In Favor Of Illegal Immigrant Voting, Report Says:
The Democrat-controlled House of Representatives voted on Friday to defend local governments that choose to allow illegal aliens to vote in their elections. "The vote marks a stunning reversal from just six months ago, when the chamber — then under GOP control — voted to decry illegal immigrant voting," The Washington Times reported. "The 228-197 vote came as part of a broader debate on Democrats' major legislative priority this year, HR 1, the 'For the People Act,' which includes historic expansions of voter registration and access, as well as a major rewrite of campaign finance laws."
"It sounds like I'm making it up," Rep. Dan Crenshaw (R-TX) said. "What kind of government would cancel the vote of its own citizens, and replace it with noncitizens?" "Today I offered a motion to recommit #HR1 reaffirming that only US citizensshould have the right to vote," Crenshaw added on Twitter. "Dems rejected it. Next time you go to the ballot box, keep that in mind. The future of their party is in cities like San Fran, where illegals can vote. Let that sink in."

*'Captain Marvel' TANKS On Rotten Tomatoes Hours After Premiere:
"Captain Marvel" was hit with tens of thousands of audience reviews just hours after the film opened in theaters on Friday, scoring a dismal audience rating on Rotten Tomatoes of 33%. "As of 8 a.m., the film had a 33 percent audience score from more than 58,000 reviews," reported The Hollywood Reporter. The outlet credited the low audience rating to "trolls" sandbagging the film, noting that the number of reviews in a matter of mere hours from "Captain Marvel's" opening is "more than the total of audience score reviews for Avengers: Infinity War for its entire theatrical run."
On mid-day Friday, the audience score peaked to 35%; the critics' score, however, held at a solid 81%..

*Michael Avenatti Law Firm Files for Bankruptcy—Again:
Michael Avenatti's law firm, Eagan Avenatti, filed for bankruptcy on Thursday. It's the second time in two years that the firm has sought court protection from its creditors. Avenatti told the Los Angeles Times he has moved on to a new firm. "Who cares? Old firm that we have not operated under for a very long time," Avenatti said in a statement. "We want to ensure the proper distribution of assets to creditors—it means nothing to our current law practice. Onward and upward."
Avenatti now identifies his practice as Avenatti & Associates, whose lawyers and office staff are largely the same people who worked at Eagan Avenatti. Avenatti & Associates owns Eagan Avenatti, according to court filings. The bankruptcy filing came on the eve of Avenatti's scheduled testimony on Eagan Avenatti's finances, and three weeks after Jason Frank, a former lawyer at the firm, filed court papers accusing Avenatti of hiding millions of dollars from the court.

*Majority of Likely Voters Agree with Trump: 'We Have People in Congress that Hate Our Country':
A majority of Americans agree with President Donald Trumpthat some members of Congress "hate our country," a new Rasmussen Reports survey of likely voters shows.
Speaking at the Conservative Political Action Conference(CPAC) last Saturday, March 2, Trump said: "We have people in Congress, right now, we have people in Congress that hate our country." "And, you know that, and we can name every one of them, they want. They hate our country. Sad. Very sad. When I see some of the statements they made. Very, very sad."
In its national survey of 1,000 likely voters, conducted March 5-6, Rasmussen asked: "Do you agree or disagree with the following statement – 'We have people in Congress, right now we have people in Congress, that hate our country'?" While slightly more than half of likely voters agreed with the statement, only about a third disagreed that some members of Congress hate America: Agree: 51% Disagree: 34% Undecided: 14%

*Whole Foods Adopts $15 Minimum Wage, Then Starts Slashing Workers' Hours 'Significantly':
The dream of the $15 minimum wage was finally realized among Amazon employees after the company caved to mounting pressure and implemented it company-wide on Nov. 1. But according to a new report, the improved wages aren't working out as many employees had hoped at Amazon's Whole Foods grocery store chain. The Guardian reported Wednesday that employees at Whole Foods, which Amazon purchased back in 2017, have experienced a dramatic drop in schedule shifts since the raised wages were introduced.
Along with the new $15 minimum wage for the entry-level positions, some higher-level Whole Foods employees have also enjoyed a $1 to $2 increase in hourly wages, the outlet notes. It all sounds good — until employees' schedules are taken into account. Since the wage increase in November, Whole Foods employees say they've experienced "widespread cuts that have reduced schedule shifts across many stores, often negating wage gains for employees," The Guardian reports. The employees, speaking on condition of anonymity "for fear of retaliation," revealed to the outlet that they've seen an average of about a 30% reduction in hours per week for part-timers and about a 10% reduction for full-timers.

*TELL YOUR STORY TO ALL "INFLUENTIAL"
EXAMINER READERS:
Now you can tell your unique story to the "influential" Examiner readers in all 50 of the United States and 26 foreign countries.

For the last 16 years, the LBN Examiner (www.LBNExaminer) has been read and trusted by some of the world's most important people —- ***3 Nobel Prize winners   ***12 members of the White House staff   ***Over 100 winners of the Academy Award   ***6 U.S. Senators    ***Over 300 winners of the Grammy Award.

Called "one of the best message bargains on the web", you can now tell YOUR story with a maximum of 200 words with one photo and your web link for the low cost of $200.
Bonus:

1. 1 message for $200.
2. 3 messages for $500.

3. 5 messages for $750.
And the best part – it's simple! Send us your message (maximum 200 words) with your photo and web link. We will approve and run and you can pay via PayPal, Credit Card or check – your convenience.

Send your Examiner message to:
Ms. Aurora DeRose,
E-mail: Aurora411@TimeWire.net

*DARE TO THINK BIG–READ LBN EXAMINER:
An incredible 84% of our readers in all 50 of the United Statesand 26 foreign countries find LBN Examiner "fearlessly independent" and "unbiased"

*EXAMINER–INVESTIGATES:
Famous premature babies include Albert Einstein, Isaac Newton, Mark Twain, Stevie Wonder, Johannes Kepler, and Sir Winston Churchill.

*EXAMINER–INVESTIGATES:
There are 86 LEGO bricks for every person on earth.

*EXAMINER–READER REVIEW:
"The reason I read and respect the LBN Examiner is because of it's "no bull-shit" independence. I am so sick of media that are endlessly biased and tell their stupid reader what to think and feel. F—k that! I will make up my own god-damn mind for myself. Examiner tells truths, often inconvenient truth. It is a true media treasure." —— Gloria Deaden, Chicago, Illinois.

*EXAMINER–SPOTLIGHT:
STEP INTO YOUR OWN POWER: The Ultimate Training Program to Help You Help Yourself and Others too
This unique program has been tailor-designed by a world renowned thinker and practitioner. Trained at Harvard as a psychiatrist and brain researcher, and practicing as an executive coach as well, Dr. Srini Pillay will work in an intimate setting with you on helping you transform your life. The program will integrate principles of psychology, brain science, executive coaching and spirituality. And it will be a rare combination of fun and deep personal work that will help you transform others as well. If you are stuck, looking to next-level your life, feeling anxious about where you life is going, or searching for meaning and purpose, this program will add to your life in unprecedented ways. To learn more, visit:https://nbgcorporate.com/transformational-leadership/

*EXAMINER–SPOTLIGHT:
Marina Edwards, Producer and Director, Explains Who the "Heroes" Are in Today's Society
Marina Edwards (co-writer, executive producer, director) and Jon Edwards (co-writer, executive producer) recently opened up their new Indiegogo campaign for "My Love in the Sky," a short film about a war veteran challenged by returning from Iraq to civilian life. The film is slated to be filmed in Los Angeles from February to March of 2019. Now, Marina Edwards opens up about her motivations for making the film, and who the "heroes" are in today's society.
"During the Second World War, the world was split into two parts – enemies and protectors. It was clear who is who. That's why warriors who came back were hailed as heroes," explains Edwards, "but it's not so simple in today's world. Coming back from conflict zones, returning veterans continuously lack the support they need. Each day in America, 22 war veterans end their lives by suicide. After experiencing war, simply coming home is the most challenging part of their lives. They feel lost."
The story for Edwards' newest film follows Jake, an Army veteran of 20 years who, while on a humanitarian mission in Iraq, suffers the ultimate defeat in the loss of his copilot & best friend along with his helicopter. In doing so, he shatters his vertebrae and is sentenced to a wheelchair.
The production budget for the short film is $30,000, and the budget will pay for things including equipment, transportation costs, festival fees, and cast and crew expenses. Although the creative team has grown up in Los Angeles and forged many relationships within the industry, they still need a budget to make this film as professional as possible. Their hope, after funding this short film, is to possibly turn it into a feature. They also want to hire veterans for the crew as well, to help spread the message of acceptance and respect they've been speaking of.
"It's great to see that there are many non–profit organizations who help and support war veterans; that there are many commercial companies and caring individuals who donate their time, money and resources for veterans," concludes Edwards, "I wish that we can bring more awareness to this subject and our social media, and the film industry would bring its power to put our warriors on the pedestal they deserve. Veterans must know that they are not alone, they are not forgotten, and we deeply appreciate what they've done for us."

*EXAMINER–VIDEO LINK: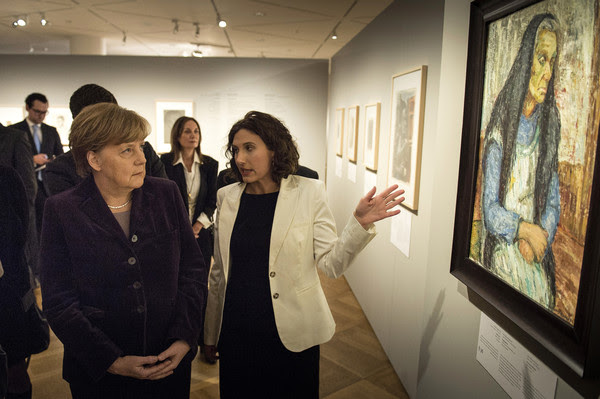 Welcome to Episode # 1 of the revealing TV show "Without Notes" with Eliad Moreh-Rosenberg, curator of the Holocaust Museum in Israel – Episode 1: The Early Years: https://youtu.be/U2TG3r2eF_c

*WHO READS LBN EXAMINER?
Actor Zack Norman along with 12 members of the White House staff, 3 Nobel Prize winners, over 100 Academy Award winners, 6 U.S. Senators, and over 300 Grammy Award winners.

*EXAMINER–COMMENTARY by Thomas L. Friedman:
In case you haven't noticed, long-established political parties across the democratic world are blowing up, with Britain's Labour Party just the latest to fracture. Could America's parties be next? Could we have our first four-party election in 2020 — with candidates from the Donald Trump far right, the old G.O.P. center right, the Joe Biden center left and the Alexandria Ocasio-Cortez far left all squaring off, as the deepening divides within our two big parties simply can't be papered over any longer? It's not impossible.
Indeed, two phrases recently in the news that touch on core principles of the Democratic and Republican Parties are like fuses that could ignite much larger explosions in the coming year. Those phrases are: "unwilling to work" and "national emergency." On Feb. 7, Ocasio-Cortez's congressional office sent out an F.A.Q. explainer of the Green New Deal that she's proposing. The initiative aims "to mobilize every aspect of American society … to achieve net-zero greenhouse gas emissions and create economic prosperity for all."

*EXAMINER–COMMENTARY by David Brooks:
Ideas drive history. But not just any ideas, magnetic ideas. Ideas so charismatic that people devote their lives to them. In his 1999 book, "The Real American Dream," Andrew Delbanco described the different ideas that, at different stages, drove American history. The first stage in our history was driven by a belief in God. The Pilgrims came because God called them to do so. God's plans for humanity were to be completed on this continent.
The second phase, through the 19th century, was organized around Nation. The pioneers were settling the West. It was the age of American exceptionalism. America was to be a universal nation, a home and model for all humankind, the last best hope of earth. The third phase, from 1960 to today, was organized around Self. Each individual should throw off constraints. The best life was the life of maximum self-expression, self-actualization and maximum personal freedom, economic as well as lifestyle.

*EXAMINER–A DIFFERENT VIEW:….