*America's Largest Cities Drowning in Debt, with Chicago Leading the Way, Study Finds: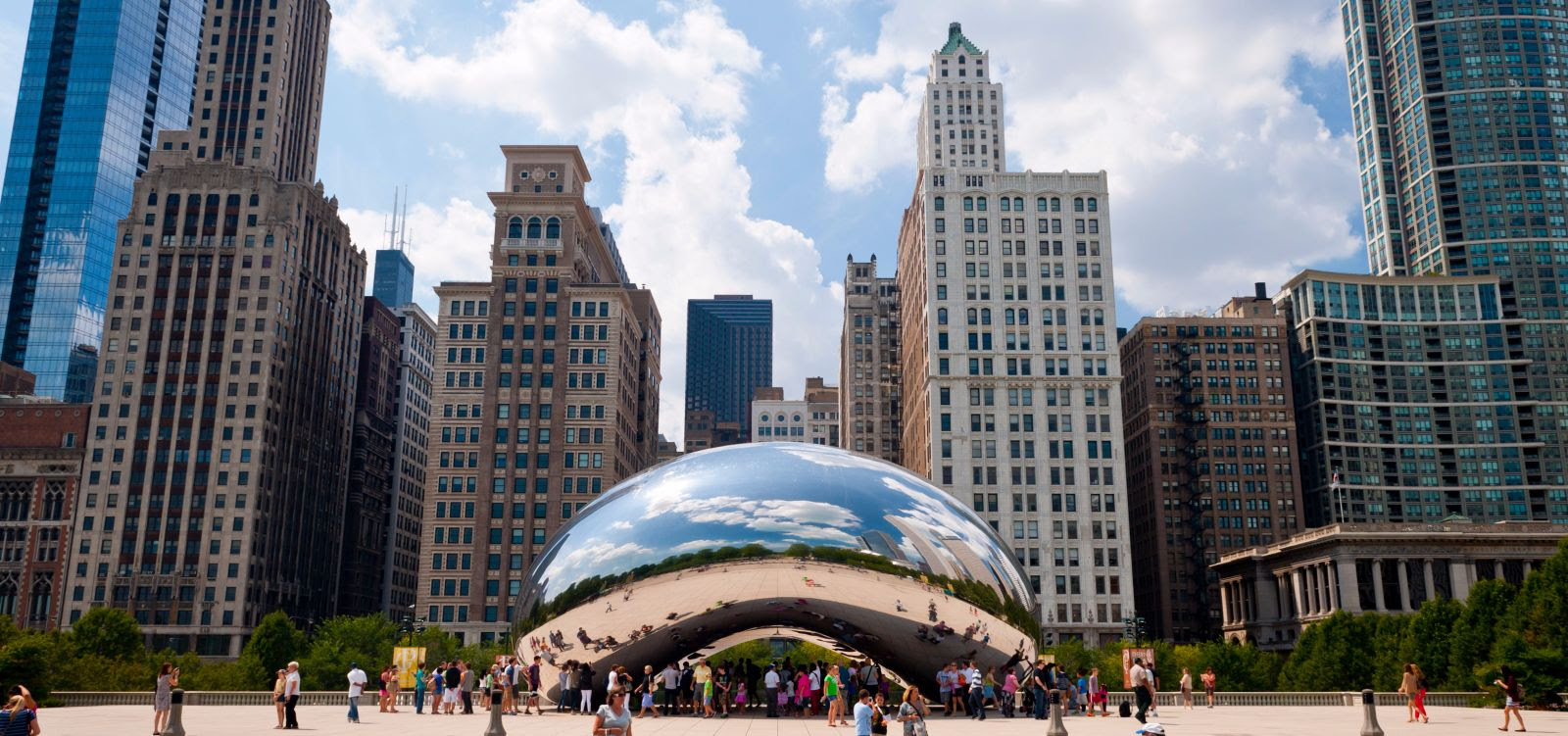 America's 10 largest cities, largely Democrat strongholds, are drowning in municipal debt, according to a new report from government watchdog Truth in Accounting. The report sought out "to determine what … overlapping financial entities mean for taxpayers' bottom line." Truth in Accounting said its purpose was to "calculate the various bills (and surpluses, when available) at the city government level and divide them out to determine a per-Taxpayer Burden."
The two cities with the highest burden: Chicago and New York City; Chicago's combined taxpayer burden: $119,110; New York City's combined taxpayer burden: $85,600.
The Chicago City Council approved $2.4 billion in tax subsidies for two major developments in early April. Protesters gathered at City Hall chanting against the deals. Critics said the projects are in prosperous parts of Chicago and developers should pay for infrastructure improvements, not taxpayers.
• Chicago's combined Taxpayer Burden: $119,110
• New York City's combined Taxpayer Burden: $85,600
• Los Angeles' combined Taxpayer Burden: $56,390
• Philadelphia's combined Taxpayer Burden: $50,120
• San Jose's combined Taxpayer Burden: $43,120
• San Diego's combined Taxpayer Burden: $35,410
• Dallas' combined Taxpayer Burden: $33,490
• Houston's combined Taxpayer Burden: $22,940
• San Antonio's combined Taxpayer Burden: $16,660
• Phoenix's combined Taxpayer Burden: $13,290

*REAL CRISES! 109,144 Apprehended/Inadmissible at SW Border in April, Up 113.3% From April '18:
Central Americans and other foreigners continue pouring into this country at an accelerating pace, as the latest number from U.S. Customs and Border Protection show. In April, 109,144 people were apprehended or deemed inadmissible at the Southwest border, by far the largest monthly number of either the Trump or Obama presidencies. And those are just the people encountered by the Border Patrol. No one knows how many people sneaked across the border without being detected.
The 109,144 people encountered last month compares with 103,719 in March; and it's a 113.3 percent increase from the 51,168 apprehended/deemed inadmissible in April 2018. So far in Fiscal 2019 – with five months left to go — 531,711 people have been apprehended or deemed inadmissible at the Southwest border, more than the total for all of Fiscal Years 2018 (521,090) and 2017 (415,517).
Breaking down the April number: 98,977 people were apprehended at the Southwest border last month, including 8,897 unaccompanied children; 58,474 family units; and 31,606 single adults. Another 10,167 foreigners were deemed inadmissible. The table below, taken straight from the CBPwebpage, shows the sharp decline in apprehensions/inadmissibles shortly after Donald Trump took office in January 2017, promising to build a "big, beautiful" wall.

*Over 1 Million Muslims in Chinese Concentration Camps – Most Muslim Govts Quiet:
Although more than one million Muslim Uighurs have been imprisoned in "reeducation" camps in Communist China over the last several years, the equivalent of 21st century concentration camps, most Islamic governments are not saying much in terms of protest. For comparison, the United States has been very vocal against the persecution. According to the U.S. State Department, "more than one million Uighurs, ethnic Kazakhs, and members of other Muslim minority groups [have been detained in] Chinese government … internment camps since April 2017."
The Islamic Republic of Iran, predominantly Shia, has said nothing about the imprisonment of the Uighers, who are predominantly Sunni. In a tweet in September, U.S. Secretary of State Mike Pompeo said, @khamenei_ir [Ali Khamenei] fancies himself the leader of the Islamic world, but his regime has been totally silent as China—the top buyer of #Iran's oil—has persecuted and detained hundreds of thousands of its Muslim citizens. رژیم_ریاکار#" . The Monarch of Saudi Arabia, Mohammed Bin Salman, actually defended the use of concentration camps. He currently is serving as the deputy prime minister of Saudi Arabia.

*D.C. Author Might Lose Her Book Deal After She Tweeted A Photo Of A Subway System Employee Eating On The Train:
A Washington, D.C.-based author may lose her book deal after she tweeted a photo of a Metro transit system employee defying the system's own rules, tucking into a huge breakfast while riding on the train.
"When you're on your morning commute & see @wmataemployee in UNIFORM eating on the train," Tynes wrote in the now-deleted missive. "I thought we were not allowed to eat on the train. This is unacceptable. Hope @wmata responds. When I asked the employee about this, her response was, 'worry about yourself.'"
WMATA eventually responded to Tynes and asked to add some pertinent details to her report: what train she was on, what direction she was going, and the exact time she witnessed the transgression. WMATA thanked her for her warning. But that wasn't the end of Tynes' experience, by far. Almost as soon as she posted the tweet, Tynes was accused of racism and of threatening the worker's employment for what social media users believed was a minor transgression.
"That's literally someone's life. That's their job you're messing with," one user responded, according to NBC News. "She was eating. Trying to live. She was commuting." "We all complain on social media but you… don't identify the person you're complaining about, in a photo no less, and try to get them fired. What on earth? For eating on the train?" said another, author and activist Roxanne Gay. Tynes, who is Jordanian-American herself, quickly apologized for her transgression and took her Twitter profile private, before completely deactivating it on Sunday afternoon. "I apologize for a tweet I posted earlier today, which I have since deleted," she wrote as her final tweet. "I am truly sorry."

*Man Falsely Accused Of Sexual Assault By Teen Girl Killed In Revenge-Beating By Accuser's Brother:
A false accusation of sexual assault turned deadly last month in Utah when a teen girl's brother sought vengeance over the claim of sexual assault that never was. According to Logan Police Department, reviewed surveillance footage from the bus revealed that the alleged assault never happened.
"On April 23, 2019, at approximately 3:30 pm a 16-year-old female reported being sexually assaulted by a 62-year-old male while on the CVTD bus. The man was later identified as Michael Fife. The female immediately called her 17-year-old brother and told him of the sexual assault. Minutes later, the female's 17-year-old brother located Mr. Fife getting off the bus near 300 South 100 West, in Logan," read a press release from the Logan City Police Department. "The brother ran towards Mr. Fife and assaulted him. Mr. Fife fell to the sidewalk and suffered head injuries. Mr. Fife was left unconscious, lying on the sidewalk, while his assailant fled the scene on foot." "Kind of a linebacker-type charge toward the gentleman, knocking him down," recalled Logan Department Chief Gary Jensen, according to Fox13Now. "This is an absolutely horrible event."
The press release continued: "At 6:15 pm the 16-year-old female called police to report the sexual assault on the bus. Logan Police detectives reviewed the video footage of the alleged sexual assault. The video showed Mr. Fife walking past the girl, but no sexual assault occurred." The police department noted that Fife succumbed to his injuries on April 27.

*Harvard Lampoon Apologizes for 'Deeply Offensive' Anne Frank
Bikini Image:
The Harvard Lampoon has apologized for printing a sexualized image of Anne Frank in its latest issue, insisting that it denounces "all forms" of anti-Semitism. The image was published over the weekend, and the student-run magazine only apologized after an uproar from those who said there was nothing funny about trivializing the Holocaust. "Gone Before Her Time: Virtual Aging Technology Shows Us What Anne Frank Would Have Looked Life if She Hadn't Died," read the text above the badly Photoshopped image. "Add this to your list of reasons the Holocaust sucked."
The magazine's co-presidents and issue editor said in a statement that they "realize the extent of offense" the image had inflicted and took responsibility for its publication. "We as individuals and we as an organization would like to apologize for our negligence in allowing this piece to be created for and printed in our latest issue," the statement reads. "We are sorry for any harm we have caused. Furthermore, we want to both affirm and emphasize that the Lampoon condemns any and all forms of anti-Semitism." Founded in 1876, the magazine — whose illustrious alumni include writers John Updike and George Plimpton as well as late-night host Conan O'Brien — will now approach its craft with "greater care" moving forward, according to the statement.
"We realize that our publishing process lacks sufficient editorial oversight, so we are going to restructure our review process for issues to prevent the publication of content like this," the statement continued. "These steps will be published on our website in the summer. However, they will constitute part of an ongoing process of change."

*SNOWFLAKE ALERT! – NFL's Baker Mayfield Rips School For Dropping Valedictorian: 'People Are Too Soft':
NFL star quarterback Baker Mayfield ripped into the administration at an Ohio high school for dropping valedictorian and salutatorian honors out of sensitivity to students who don't earn the awards and a concern for the overall "mental health" of students. "This is so dumb," said the Cleveland Brownsquarterback in a Saturday tweet captioning the news. "You're telling me competition doesn't bring out the best in people? If you want something bad enough, work for it."
"People are too soft," added Mayfield. The message went viral, racking up over 51,000 re-tweets and 242,000 likes.

*DON'T BE A CLOWN–READ LBN EXAMINER:
An incredible 84% of LBN Examiner readers in all 50 of the United States and 26 foreign countries find the news in LBN Examiner —- "fearlessly independent" and "unbiased".

*EXAMINER–INVESTIGATES:
The late U.S. President James Garfield could write Latin with one hand and Greek with the other hand simultaneously.

*EXAMINER–A LOOK BACK:
Not a hatless head in this crowd of New Yorkers in 1939.

*EXAMINER–VIDEO LINK:
Welcome to Episode #1 of the revealing TV show "Without Notes" with Judith Regan, an American editor, book publisher, and producer – Episode 1: The Early Years: https://www.youtube.com/watch?v=HWqjTWMCvvA&feature=youtu.be

*EXAMINER–SPOTLIGHT:
Nicole Brandon, CEO of Artistry in Motion, Receives "International Actress of the Year Award" by the USA Martial Arts Hall of Fame
Nicole Brandon (Actress, Humanitarian, Writer, Producer) is a 6-time inductee of the Hall of Fame for her Mastery of Motion and the Physical Arts in Television and Motion Pictures. Nicole has been awarded over one hundred National and International Titles in the world of Dance, Acrobatics, and Martial Arts. Nicole is noted as the youngest Physical Master in the World. Her books, videos, television shows and films can be found across the globe. She is recognized and synonymous with Physical Mastery in the Arts.
Nicole has also been Knighted for her humanitarian work and she has been titled Ratu Muda (Duchess) for her global outreach, in the Royal House of Kupang. Nicole is also a multiple recipient and inductee into the "Elite Black Belt Hall of Fame." This event will mark Nicole's 7th USA Martial Arts Hall of Fame induction. This year she will be awarded the prestigious "International Actress of the Year Award" by the USA Martial Arts Hall of Fame.

*WHO READS LBN EXAMINER?:
Film director John Waters along with 12 members of the White House staff, 3 Nobel Prize winners, over 100 Academy Award winners, 6 U.S. Senators, and over 300 Grammy Award winners.

*EXAMINER–COMMENTARY by Walter Williams
(Walter E. Williams is a professor of economics at George Mason University):
Presidential contenders are in a battle to out give one another. Senator Elizabeth Warren proposes a whopping $50,000 per student college loan forgiveness. Senator Bernie Sandersproposes free health care for all Americans plus illegal aliens. Most Democratic presidential candidates promise free stuff that includes free college, universal income, "Medicare for All" and debt forgiveness.
Their socialist predecessors made promises too. "Freedom and Bread" was the slogan used by Adolf Hitler during the National Socialist German Workers' Party (Nazi) campaign against president Paul von Hindenburg. Hitler even promised, "In the Third Reich every German girl will find a husband."Stalin promised a great socialist-Marxist society that included better food and better worker conditions. China's Mao Zedongpromised democratic constitutionalism and the dream that "farmers have land to till." These, and other promises, gave Mao the broad political support he needed to win leadership of the entire country in 1949.
Socialism promises a utopia that sounds good, but those promises are never realized. It most often results in massive human suffering. Capitalism fails miserably when compared with a heaven or utopia promised by socialism. But any earthly system is going to come up short in such a comparison. Mankind must make choices among alternative economic systems that actually exist. It turns out that for the common man capitalism, with all of its alleged shortcomings, is superior to any system yet devised to deal with his everyday needs and desires. By most any measure of human well-being, people who live in countries toward the capitalistic end of the economic spectrum are far better off than their fellow men who live in countries toward the socialist end. Why?
Capitalism, or what some call free markets, is relatively new in human history. Prior to capitalism, the way individuals amassed great wealth was by looting, plundering and enslaving their fellow man. With the rise of capitalism, it became possible to amass great wealth by serving and pleasing your fellow man. Capitalists seek to discover what people want and produce and market it as efficiently as possible as a means to profit. A historical example of this process would be John D. Rockefeller, whose successful marketing drove kerosene prices down from 58 cents a gallon in 1865 to 7 cents in 1900. Henry Ford became rich by producing cars for the common man. Both Ford's and Rockefeller's personal benefits pale in comparison to the benefits received by the common man who had cheaper kerosene and cheaper and more convenient transportation. There are literally thousands of examples of how mankind's life has been made better by those in the pursuit of profits. Here's my question to you: Are the people who, by their actions, created unprecedented convenience, longer life expectancy and a more pleasant life for the ordinary person — and became wealthy in the process — deserving of all the scorn and ridicule heaped upon them by intellectuals and political hustlers today?

*EXAMINER–A DIFFERENT VIEW:….