*LOOTERS RANSACK SAN FRANCISCO NEIMAN MARCUS IN BROAD DAYLIGHT: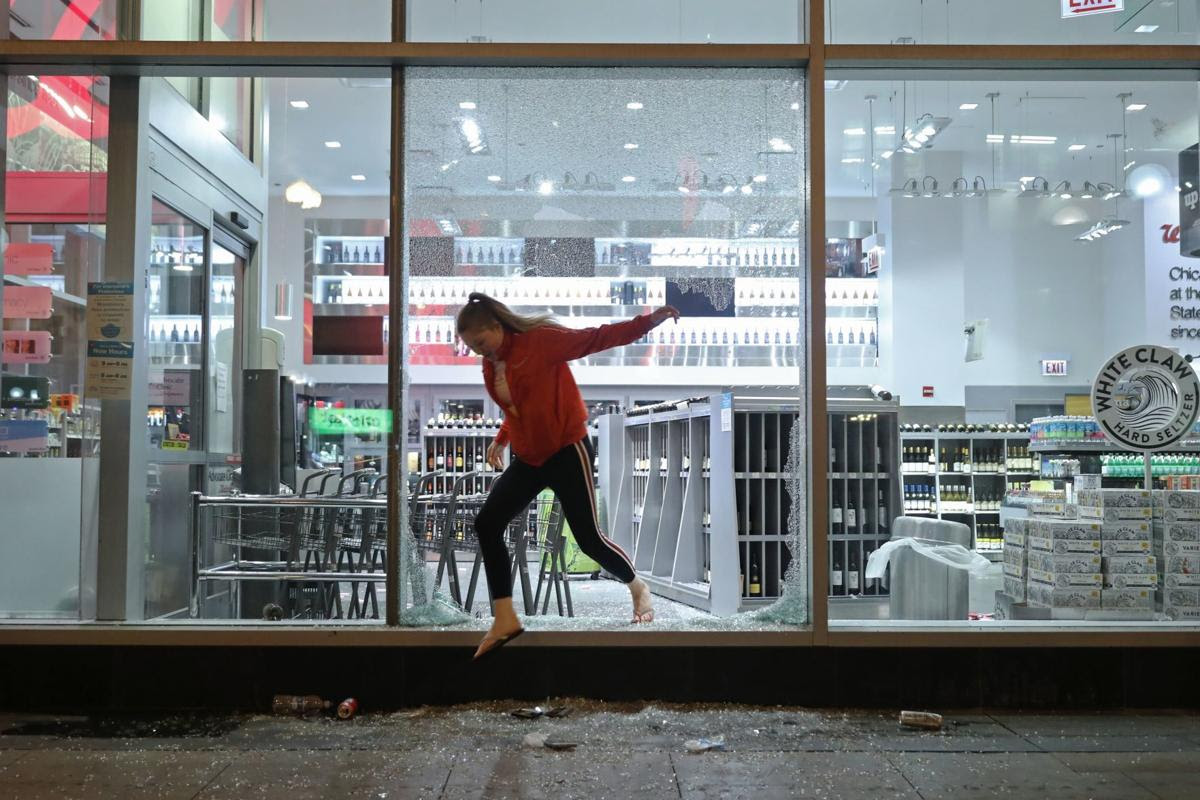 Looters were captured on video Monday ransacking a Neiman Marcus in San Francisco as thefts continue to plague businesses in the area. At least nine suspects smashed display cases, snatched handbags, and jetted out of the building before law enforcement arrived to the scene at about 6 p.m., according to footage. The suspects were seen running out of the store with their hands full of merchandise before entering an apparent getaway car that sped off down a busy intersection. The San Francisco Police Department has not made any arrests in connection to the incident, though it is "analyzing videos and speaking with witnesses" to identify the perpetrators, a spokesperson said. Neiman Marcus said that "no one was harmed" during the theft.

"The safety and welfare of our associates and customers is our top priority, and we're relieved to report that no one was harmed in the incident," a spokesperson for the company told the Washington Examiner. "We're cooperating with the San Francisco Police Department in their investigation." A man was caught on video in June filling a garbage bag with what appeared to be hair products before leaving the drugstore on his bicycle. A security guard, who was recording the incident, tried to grab the individual, though he eluded custody. Walgreens shuttered 17 of its stores in the San Francisco area in the past five years, and the company said thefts in the area are four times more likely than anywhere else in the country as executives budgeted 35 times more for security personnel to guard the chains. Target executives in the city also decided to limit business hours in response to an uptick in larceny.
*NOW THE STATUE OF LIBERTY IS CANCELLED! WASHINGTON POST WRITER CLAIMS FAMED FIGURE IS A 'MEANINGLESS SYMBOL OF HYPOCRISY' AND 'UNFULFILLED PROMISES:


The Statue of Liberty is a 'meaningless symbol of hypocrisy' because of America's history of racism, sexism and anti-immigrant sentiment, according to the Washington Post's art and architecture critic. Philip Kennicott, a Pulitzer Prize winner, argued in an essay Saturday that the monument – which has stood for a century as one of the most iconic examples of American freedom – represented 'unfulfilled promises'. He added that the statue was irrelevant to non-white Americans, using as evidence the absence of representations of the statue when he visited a Chicano art exhibit at the Smithsonian American Art Museum in Washington.
Many Twitter users disagreed vehemently with the attempt to drag Liberty into the culture wars, with one describing the piece as 'woke cr*p' and another calling Kennicott a 'snobbish little scold'. Kennicott's essay, entitled, 'Maybe it's time to admit that the Statue of Liberty has never quite measured up,' was accompanied by an illustration of Liberty resting on someone's fingertip. He claimed that although the statue is as 'familiar to some Americans as the flag, the statue is just as meaningless or foreign to others, a sign without significance, or worse, a symbol of hypocrisy or unfulfilled promises.'

Further on, he suggested that rather than representing freedom, the statue actually does the opposite due to America's history of racism and sexism. 'If the statue has had any kind of stable meaning over its lifetime, it is not as a symbol of liberty, but as a symbol of the misuse of liberty — as a hollow promise, unequally distributed and limited in its application to certain groups.' Continuing his argument, he noted that the statue's 'ironies' include it depicting a woman at a time when they did not have the right to vote.
*PETE DAVIDSON SAYS IT'LL TAKE '2 MORE YEARS' TO REMOVE THE LAST OF HIS TATTOOS:
Pete Davidson recently revealed that he's getting his tattoos removed, and said the process is not only incredibly painful, but embarrassing, thanks to some questionable designs he picked out when he was younger. Luckily, the Saturday Night Live star, 27, has found a way to capitalize on his tattoo regrets. The comedian, writer, actor and producer teamed up with smartwater to help launch the first-ever Rehydration Day — an entire day dedicated to getting Americans rehydrated and replenished after the highly-anticipated, post-COVID July 4th holiday weekend — on Monday, July 5. And for his commercial spot, he took to the tattoo removal chair to talk about other past regrets.
*ISRAELI BREAKTHROUGH MIGRAINE TREATMENT 'ZAPS' AWAY PAIN:
Breakthrough Israeli technology for treating acute migraine headaches has been found to be more effective than standard-care medications for adolescents, according to a new study published in the Oxford Journal of the American Academy of Pain Medicine.

Nine percent of children and adolescents worldwide suffer from migraines. The affliction has been associated with poor academic performance, reduced school attendance and as having a negative impact on social interaction and quality of life. Nerivio, a remote electrical neuromodulation (REN) device developed by Netanya-based Theranica, activates the body's native conditioned pain modulation mechanism to treat headache and other symptoms associated with migraine by stimulating the free nerve endings in the upper arm.

*'IT'S ABUSE TOWARD CHILDREN': MEGYN BLASTS CRITICAL RACE THEORY IN SCHOOLS:
Speaking on her podcast, former Fox News host Megyn Kelly ripped Critical Race Theory being inculcated in children in schools across the nation, blasting, "It's abuse toward children." Kelly was interviewing famed historian Victor Davis Hanson about various issues when they came to the subject of implementing Critical Race Theory issues into the military. Hanson stated:

They have really lost support of the very people in America that were the backbone of their military, and the backbone of the military support for the military. And I'm really afraid of it, because I talk with people, and they said, "You know what? If the Left wants to cut the military budget — and they do — maybe they'll cut Critical Race Theory training, ha ha." I said, "Well, they won't." But maybe that's what they need. That's what people are saying. And I think we're going to have families that served for three generations and four that are not going to volunteer to join the military. And I'm worried about it.

"It was bad enough when they were indoctrinating college students, right?" Kelly responded. "College students tend to be more left-leaning, and they're experimenting with ideas, and I think one's rationality sets in; they tend to make up their own minds, one way or the other. They don't all keep that indoctrination forever. At least, it used to be thus."

*BODY MODIFICATION FANATIC CUTS OFF FINGER IN EXTREME TRANSFORMATION:

For this Brazilian body modification enthusiast, the fewer limbs the better. Michel Faro do Prado just chopped off one of his ring fingers, revealing it in a gruesome photo of his father holding the missing digit. Known as Diabao Praddo on social media, and sometimes even called the "human Satan," the 44-year-old has garnered 59,000 followers who are intrigued by his interesting look and modification obsession. "Actually I have a good resistance to pain, I don't think anything is so painful, I suffer a lot more in the post-procedures than at the time," the São Paulo resident said. "And the truth is that there are changes that without anesthesia would be almost impossible to be done, I would love not to feel any pain." He added that he is willing to endure the pain to achieve the body he's always wanted, which seems to include being heavily tattooed and undergoing risky procedures.
*EXAMINER – LENS:
Last year, Brazilian big-wave surfer Maya Gabeira broke the record for the largest wave ever ridden by a woman. It was nearly 74 feet tall
*EXAMINER – INVESTIGATES: NATHAN'S HOT DOGS
Yes, a guy named Nathan did actually start this company. In 1916, Nathan Handwerker began selling hot dogs in New York's Coney Island for five cents. In fact, you can still visit the original location and order a hot dog and fried frog legs, a staple on the menu since the 1950s. According to wiener lore, the July 4th hot dog-eating contest that bears Nathan's name was unofficially founded the same year the restaurant was founded in 1916, but the first official records put the competition's start date at 1967. The contest, where competitors have 10 minutes to inhale as many hot dogs as they can, has aired live on ESPN since 2004.
The defending men's champ is Joey Chestnut, who ate 75 dogs in 10 minutes last year, and the reigning women's champ is Miki Sudo, who downed 48.5.
Nathan's trades on the NASDAQ under the ticker NATH, and while its symbol definitely should have been HDOG, you can't argue with a 30% year-to-date increase.


*EXAMINER – A LOOK BACK:
Michael Lewis published his first book, the Wall Street story Liar's Poker, in 1989.
*GROW UP! READ LBN EXAMINER: IT'S TIME TO GROW UP! STARE THE (FEARLESSLY INDEPENDENT AND UNBIASED) BRUTAL FACTS IN THE FACE.

The LBN Examiner is read in all 50 of the United States and in 26 foreign countries by influencers of all types — from Nobel Prize winners to billionaires from acclaimed journalists to professors at Harvard, Yale and Stanford from US Senators to winners of the Academy Award. 84% of our readers find the Examiner "fearlessly independent" and "unbiased: which is why it is so indispensable to read weekly – especially in the times in which we live.

*EXAMINER – SEE IT:
Soho House was supposed to be a "home for creative people to come together. "Many critics say it stopped being that a long time ago.


*(NOTABLE) REMARKS:

A few years ago, my friend Dan Ahdoot was auditioning for a sitcom on Fox. And things were looking good; he'd heard from his agent that he made it to the last round. Then, he got a call from one of the creators of the show, a friend of his who was calling to say sorry: Dan wasn't going to get the part. The reason, he said, was that he wasn't "diverse."  Dan is Iranian. He has photos of his parents in Tehran before the revolution and the eyebrows to prove it. (Don't worry, I asked Dan if I could objectify him.) But Fox apparently didn't see Iran as "diverse." Given that Dan is not just Jewish but also Persian and therefore in possession of more than the usual amount of chutzpah, he then thought to ask: What about Afghanistan? Was Iran's neighbor sufficiently diverse?

The showrunner said he'd find out and give him a call back.  In the meantime, Dan says he hopped onto his Wikipedia page and inserted a little edit: He was now an "Iranian Afghan Jew," despite the fact that nobody in Dan's lineage is from, nor has ever visited, Afghanistan. The showrunner called back and pronounced that, according to the poobahs over at Fox, Afghanistan was indeed diverse. 

I thought of this story when I read Amazon Studios' new inclusion policy, vaunted by stenographers in the mainstream media. It announces a goal, by 2024, of having 50% of creative roles in its movies and shows filled by women or people of color. In addition, the studio promises to try to cast actors whose identity — "gender, gender identity, nationality, race/ethnicity, sexual orientation, disability" — matches that of the characters they play. One wonders how Ariel from "The Little Mermaid" or the sea monster from "The Shape of Water" would be slotted. And God save the intern who has to racially code "Beauty and the Beast." By now, this is a familiar story: Amazon is turning the making of TV and film into the same woke numbers game played at every other elite institution. (Exhibit A: Sixty-eight percent of the students admitted to Princeton's class of 2025 self-identify as "people of color.") —– Bari Weiss

*THINK FREELY – BE INDEPENDENT – MAKE UP YOUR OWN (DAMN) MIND: READ LBN EXAMINER


*EXAMINER – TECH: MICROSOFT EXEC TARGETING OF AMERICANS' RECORDS 'ROUTINE'
Federal law enforcement agencies secretly seek the data of Microsoft customers thousands of times a year, according to congressional testimony being given Wednesday by a senior executive at the technology company. Tom Burt, Microsoft's corporate vice president for customer security and trust, will tell members of the House Judiciary Committee that federal law enforcement in recent years has been presenting the company with between 2,400 to 3,500 secrecy orders a year, or about seven to 10 a day. "The fact that law enforcement requested, and courts approved, clandestine surveillance of so many Americans represents a sea change from historical norms," Burt will say.

The relationship between law enforcement and Big Tech has attracted fresh scrutiny in recent weeks with the revelation that Justice Department prosecutors obtained as part of leak investigations phone records belonging not only to journalists but also to members of Congress and their staffers. Microsoft, for instance, was among the companies that turned over records under a court order, and because of a gag order, had to then wait more than two years before disclosing it.


*WHO READS LBN EXAMINER?:
Legendary podcast host Joe Rogan, along with 12 members of the White House staff, 3 Nobel Prize winners, over 100 Academy Award winners, 6 U.S. Senators, and over 300 Grammy Award winners.


*EXAMINER – LENS:



Liz O'Sullivan, the chief executive of the start-up Parity, said it had been a challenge to persuade some in the industry to be more concerned about bias in artificial intelligence.
*EXAMINER – A DIFFERENT VIEW:….
LBN Examiner Disclaimer: 1.) The LBN Examiner accepts no liability for the content of this email, or for the consequences of any actions taken on the basis of the information provided. The LBN Examiner is not associated with any commercial or political organization and is transmitted via the web for the sole benefit of its subscribers. 2.) Unfortunately, computer viruses can be transmitted via email. The recipient should check this mail and any attachments for the presence of viruses.