*P.C. GONE WILD! – San Francisco Board Rebrands 'Convicted Felon' as 'Justice-Involved Person,' Sanitizes Other Crime Lingo:
Crime-ridden San Francisco has introduced new sanitized language for criminals, getting rid of words such as "offender" and "addict" while changing "convicted felon" to "justice-involved person." The Board of Supervisors adopted the changes last month even as the city reels from one of the highest crime rates in the country and staggering inequality exemplified by pervasive homelessness alongside Silicon Valley wealth. The local officials say the new language will help change people's views about those who commit crimes.
According to the San Francisco Chronicle, from now on, a convicted felon or an offender released from custody will be known as a "formerly incarcerated person," or a "justice-involved" person or just a "returning resident." A juvenile "delinquent" will now be called a "young person with justice system involvement," or a "young person impacted by the juvenile justice system." And drug addicts or substance abusers, meanwhile, will become "a person with a history of substance use." "We don't want people to be forever labeled for the worst things that they have done," Supervisor Matt Haneytold the newspaper. "We want them ultimately to become contributing citizens, and referring to them as felons is like a scarlet letter that they can never get away from."

*SNOWFLAKE ALERT! – George Washington University Removed 'Colonial' From Building After Students Said 'Colonial' Meant Oppression:
At George Washington University, the powers that be are apparently capitulating to students who protested against the school's mascot, the "Colonial," as the student center, which used to be named "Colonial Central," is now called the "Student Services Hub."
As Kara Zupkus of Young American's Foundation reports, "While the official mascot remains the colonial, the university recently renamed 'Colonial Central,' the student center focused on registration and financial services, to the 'Student Services Hub.'" Zupkus adds, "The student group 'Colonial Army,' which draws students to attend sporting events for the school, rebranded itself 'George's Army.'".
Last spring, a referendum to change the mascot was passed, as 54% of students approved of a change. In May 2018, students launched a petition to change the mascot. The petition stated, "The use of 'Colonials,' no matter how innocent the intention, is received as extremely offensive by not only students of the university, but the nation and the world at large. The historically, negatively-charged figure of Colonials has too deep a connection to colonization and glorifies the act of systemic oppression. Alternative nickname recommendations are 'Hippos,' 'Revolutionaries,' or 'Riverhorses.'"
Campus Reform reported at the time, "Rachel Yakobashvili, a petition organizer, told Campus Reform that she started the petition because 'it was time for students to be able to voice their concerns and desires in a more public and organized manner.'" Another petition organizer, Andrew Hesbacher, told the GW Hatchet, "It's very wrong for us to call ourselves an open and welcoming university when the name means such demise and terror for students who could possibly come here."*

*Hasbro's 'Monopoly: Socialism' Melts The Internet -"Winning is for Capitalists":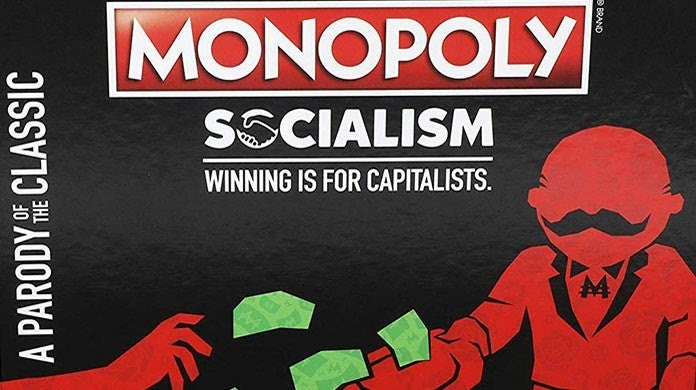 You may have heard rumors of a "Monopoly: Socialism" echoing in the halls of the Twitterverse last week. Well, folks, it's no joke. Hasbro has indeed created such an iteration of its iconic game, which mocks the economic system for its intellectual and moral bankruptcy. This adult party edition of the Monopoly game has players moving around the board contributing to community projects … unless they can steal projects to get ahead," reads the product description on Amazon. "Contribute to the Community Fund … unless you choose to deplete it. Consider the best interest of the group … unless you want to forget that and just do what you need to do."
"In the 'Monopoly: Socialism' game, players move around the board working together to make a better community by managing and contributing to projects such as a no-tip vegan restaurant, an all-winners school, or a museum of co-creation," the description continues. "But nobody said that cooperation is easy! You'll have issues with your neighbors, your DIY community projects go awry, you're constantly voting to shake things up, and there's always an emergency that requires dipping into the Community Fund! Contribute all 10 of your chips to win the game, unless the Community Fund runs out of money and everyone loses. So much for a socialist utopia." According to CNN, players who pass go are given a $50 "living wage" instead of the standard $200.

*Amazon Has Ceded Control of Its Site. The Result: Thousands of Banned, Unsafe or Mislabeled Products:
Many of the millions of people who shop on Amazon.com see it as if it were an American big-box store, a retailer with goods deemed safe enough for customers. In practice, Amazon has increasingly evolved like a flea market. It exercises limited oversight over items listed by millions of third-party sellers, many of them anonymous, many in China, some offering scant information. A Wall Street Journal investigation found 4,152 items for sale on Amazon.com Inc.'s site that have been declared unsafe by federal agencies, are deceptively labeled or are banned by federal regulators—items that big-box retailers' policies would bar from their shelves. Among those items, at least 2,000 listings for toys and medications lacked warnings about health risks to children.
The Journal identified at least 157 items for sale that Amazon had said it banned, including sleeping mats the Food and Drug Administration warns can suffocate infants. The Journal commissioned tests of 10 children's products it bought on Amazon, many promoted as "Amazon's Choice." Four failed tests based on federal safety standards, according to the testing company, including one with lead levels that exceeded federal limits. Of the 4,152 products the Journal identified, 46% were listed as shipping from Amazon warehouses.

*World Health Organization: Microplastics in Drinking Water Aren't Bad for Humans:
A new assessment report by the World Health Organizationsays there is no evidence that microplastics found in most drinking water are harmful to humans. The WHO did warn against complacency, though, saying that more study was needed on the matter. The report also said larger microplastics, about the size of the diameter of human hair, are of least concern because "they pass straight through the human body." The smaller particles could possibly get stuck in human digestive tracts, but researchers are confident they are "unlikely to accumulate in harmful quantities."

*FACTS ARE STUBBORN THINGS! – Medieval Diseases Are Present In
Los Angeles:
Homelessness has skyrocketed in the state of California. Los Angeles in particular has witnessed a massive increase. Between 2018-2019 the county's homeless population grew by 16%. The city of Los Angeles experienced a similar phenomenon as its population grew at a slightly slower rate. The thousands of new people calling the streets their home has far surpassed the city's sanitary capabilities. The sheer amount of people now eating and defecating in the California heat has allowed previously rare diseases to proliferate. It has reached the point where there is a real threat of a bubonic plague outbreak occurring in Los Angeles.

*For Coaches, Anger More Effective Than Positivity When It Comes To Halftime Speeches:
The coach's halftime speech is long known to be a motivational tool in the sports world. Many sports movies, such as Hoosiers, Remember the Titans, or Friday Night Lightsinclude a pivotal scene in which the coach makes an impassioned speech to his team, igniting a furious comeback. But what makes an effective halftime speech in real life? A new study finds that anger is actually more effective during halftime speeches than inspiration.
Researchers at the University of California, Berkeley's Haas School of Business analyzed hundreds of halftime speeches and final scores from high school and college basketball games, and found that players seem to perform better after a harsh, more negative halftime speech from their coach. In fact, researchers discovered a significant relationship between the level of negativity a coach projects during a halftime speech and second-half scoring outcomes. The more negativity, the more the team outscored their opponents, that is at least up to a certain threshold point.

*THINK FREELY–READ LBN EXAMINER:
An incredible 84% of LBN Examiner readers in all 50 of the United States and 26 foreign countries find the news in LBN Examiner —- "fearlessly independent" and "unbiased".

*EXAMINER–INVESTIGATES:
The 2008 U.S. financial bailout cost more than the Marshall Plan, Louisiana Purchase, Race to the Moon, S&L bailout, Korean War, New Deal, Iraq War, Vietnam War, and NASA's lifetime budget-combined. The bailout total was $4.62 trillion.

*EXAMINER–SEE IT:
"I rarely feel feelings like smugness," Lana Del Rey said of her success after her early days as an internet punching bag.

*EXAMINER–A LOOK BACK:
Nicole Kidman, Hollywood, 1988

*EXAMINER–VIDEO LINK:
Welcome to Episode #2 of the "Best of Without Notes," with Susan Estrich, an American lawyer, professor, and author  – Episode 2: https://www.youtube.com/watch?v=IQXPvgxeX8g

*EXAMINER–SPOTLIGHT:

Summer Spectacular!

Has your summer been spectacular? We always end summer spectacularly with our annual Summer Spectacular. This year's event will be held on Saturday, September 21, at the Beverly Hilton. We'll be celebrating the 14th year of our foundation, which has raised more than $12 million for drug awareness and prevention, focused on high-risk communities.
At the Summer Spectacular, prominent entertainment industry leaders and celebrities will gather to recognize advances in the fight against addiction and rally around the growing movement to end the disease. The Summer Spectacular gala raises money for the heart of the foundation, Brent's Club. Brent's Club was created as a drug prevention program working in conjunction with The Boys & Girls Club of America. Brent's Club programs educate pre-teens and teens about the consequences of drug use and works to prevent the formation of dangerous habits, actively showing children how to lead drug-free lives.
Visit our website www.brentshapiro.org/donations to make a donation.

*EXAMINER–SPOTLIGHT:
Elizabeth Stanton, Popular Host of The CW's Big Stage, Explains the Benefits of Travelling
Elizabeth Stanton has been a world traveler her entire life, experiencing the culture of Europe, the wonders of the Far East, and the natural beauty of remote destinations. She started hosting "Elizabeth Stanton's Great Big World" at the age of 15, and it was watched in 90% of the United States at its peak. The show featured several well-known stars and was filmed in places all over the world. Now, the talented television host explains just what it is about travel that brings about such a positive influence in her life.
"I have been so lucky to have had travel be such a significant part of my life," explains Elizabeth Stanton, "Not only is travel therapeutic, it creates purpose and adventure in our everyday life."
It's true. Many people use travel as a form of therapy, and can be used consciously as a way for self-discovery and transformation.

*WHO READS LBN EXAMINER?:
Former film executive and philanthropist Sherry Lansing along with 12 members of the White House staff, 3 Nobel Prizewinners, over 100 Academy Award winners, 6 U.S. Senators, and over 300 Grammy Award winners.

*EXAMINER–A DIFFERENT VIEW:….